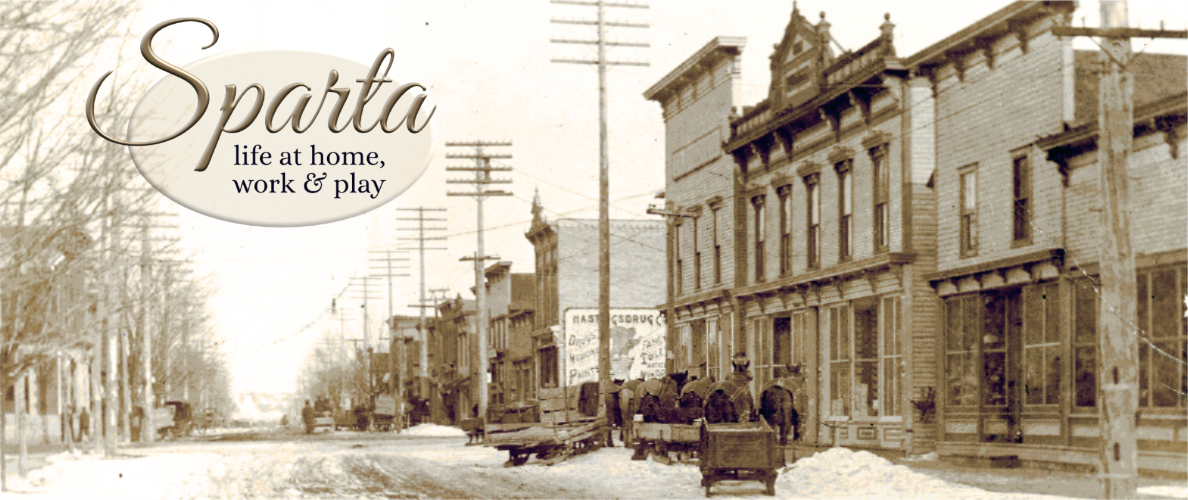 The Heart of
the Village
After the first seeds of community were planted in Sparta's early days, the landscape of buildings, businesses, faces, and names began to evolve. Change is an ever continuing process yet Sparta's downtown has always been - and still is - The Heart of the Village. It's more than just the buildings. Our history is the story of the People.
Editor's note: The banner photo is courtesy of the Karl Nickolai Collection.
Among Sparta's early settlers was blacksmith Peter A. Sleeper and his wife, the former Emily Sawyer, who arrived in 1860 or 1861 from Concord, New Hampshire. The parents of five children, only two survived to adulthood: Emily Henrietta (Sleeper) Seaman and the youngest, Henry Milton Sleeper.
Henry was just a boy of eleven years when he first laid eyes on Sparta; a place where he would be educated, married to Fidelia C. Snyder, and support his family on their farm.
As a young man of thirty-three in 1882, Henry was one of the local "big boys" Principal A. Hamlin Smith drafted to help plant the iconic maple trees at the white brick high school on the north end of town. By 1886, Henry had been elected to the office of Sparta Township Clerk. In about 1897, Henry moved to Grand Rapids with his wife where a few months later their daughter, Augusta, was born. Henry took a variety of positions: as a driver, a conductor, a bookkeeper, a laborer in the manufacture of refrigerators, and eventually became a machinist at a furniture factory. Later in life, after Henry suffered the loss of his wife, fond hometown memories tugged at his heart. Henry reflected on his boyhood years and put pen to paper.
Former Sparta Pioneer Describes Historical Background of Village in Interesting Letter
by H.M. Sleeper
From the Sentinel-Leader Letter Box, January 3, 1935
Editor of the Sentinel-Leader:
In looking over the village on my last visit to your office it called my attention to the growth and present position the village occupies.
I was forcibly reminded of my first visit to Nashville, now Sparta. In 1860 I stood in the road, it had not attained the dignity of a street, in front of where your present office now stands, and looking west I pictured the outlook. I can describe my feelings very nearly by quoting the exclamation of an Englishman on his first visit to America, "A country of magnificent distances."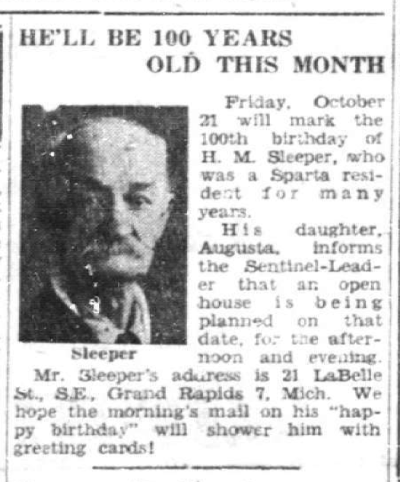 I stood there and could count the total number of residences on my fingers and thumbs by using two toes to complete the count.
A little old shack, standing where the Dr. Zudzense house now stands and occupied by Sam Mapes. Sam had some of the habits of the wandering Jew, only he was Irish. Later his place came into the hands of Pa Sleeper, a blacksmith. Still west and on the left, J.E. Nash and his family lived in a small brown house.
Still farther west and across the road Mr. Swan and his son, Eben, lived in a little old building as devoid of paint as a saloon keeper is of morals. Later that building was bought by James Teeple, but more of that later.
Next west, now the residence of Mrs. Cheney, owned at that time by Volney Bloss who lived there with his family, Sarah, Frankie and George. Bloss owned and ran a threshing machine. Later he sold and moved on a farm northwest of the village.
At that time the Methodists had a parsonage and a small church next west of Bloss's. Across the road stood a small wooden building. Its style would not remind you of the shades of Barrister Blackstone but he was there. Jared Chapel. Attorney-at-Law. Jared is worthy of more comment but we will pass his now.
The next lot west held the little one-story schoolhouse where those puzzling questions were so ably handled by Thurston, Leggett and later A.H. Smith. Then west to the old rambling farmhouse of Rodney Hastings who lived there with his family. Just west of his orchard he gave to the village two acres for a cemetery.
North and east of his place was the old mill pond fed by Nash Creek. It flooded about forty acres. Summertime it proved a treasure ground for us boys even equal to Mark Twain's swimming hole.
Hastings was confined to his wheelchair caused by exposure when he and Nash dammed the creek, this forming the pond. This creek furnished power for the old saw mill with its upright saw with its leisure movements giving convincing proof that the race is not always to the swift. R.H. Woodin was operator. He was living in a little house north of the mill in the woods and, by the way, it was all woods that side of the pond to Balcom's farm. Later the mill was taken over by the Lowe brothers who converted it into a stream mill, after awhile selling out to W.I. Olmstead with Jack Dyer from Canada to run it.
On the corner north of where the Baptist Church now stands, a solitary house held the corner. Farther south a little house was occupied by the Reynolds family. Next stood Horace Snow's place. Next came the Fulsom farm, at the time occupied by the Powers family. One boy, George, became active in the police force and was killed arresting a criminal.
Lest we forget, at the corner later known as Division and Mill stood the timber frame of a cellar. This lot was given by Nash to Balcom to build a hotel. Either the deacon's faith, ambition or money failed, and the foundation stood for years as a decaying reminder of man's delay. Later the deacon built the hotel which was known for years as the Balcom house. Good old Deacon, he should be wearing a golden crown. The filling into this ground is mostly lacking. The first clerk of the Incorporation has kindly promised me some interesting facts of business and people.
H.M. Sleeper, Grand Rapids
Milo Bolender's
Pharmacy
Fortitude. Determination. Kindness. These are words which described the character of one of Sparta's early pharmacist businessmen. A man, who in spite of disastrous events, picked himself up by the boot straps and pressed on until he achieved his goals. A man who lived by the Golden Rule and demonstrated a spirit of genuine goodwill and compassion towards his fellow man. Someone whose presence made Sparta a better place for all to call "home".
Milo Bolender
October 31st, 1853, marked the birth of Milo Bolender in Stark County, Ohio. At various times, his father George toiled as a saddler, a carpenter, and a farmer to provide for his family. Milo's mother was Harriet Keziah Frank. The boy learned the value of hard work while growing up on the farm, however, he had been a sickly child and aspired to have an indoor career. George moved his family north to a dairy farm in Clinton County, Michigan. After high school, Milo worked at a machine shop for seven years then managed the family dairy farm with his father for the next three.
Springtime of 1880 arrived. Milo bid his parents and family "good-bye" as he left home to seek opportunities at Hubbardston in Ionia County, Michigan. Quickly, he found work on a farm until a job opening to clerk for Dr J.J. Robbins at his drug store presented itself. Hired, Milo found he was well-suited to the work and once established he married in 1883 to a local girl, Clara Alice Mitchell. On the 21st of October in 1885, Milo became a partner when he purchased a half share in the business, thereafter known as "Robbins & Bolender". Four years later, Milo bought out the doctor's interests upon his retirement.
A savvy, prosperous, well-respected businessman, Milo was elected to serve in various capacities as Hubbardston's village treasurer, on the board of trustees, the township clerk, and village president.
A daughter, Mary, was born to Milo and Clara in 1884, but she only lived for one day. The couple welcomed the birth of a son in 1886 whom they named John Edson. In 1892, a daughter, Elva, joined the family and in 1897, youngest son George Karl arrived. Never married, Nora Irene Mitchell who was Clara's sister, lived with the family for most of her life and worked at Milo's pharmacies.
Milo operated the drug store with great success until a fateful night in May of 1900. Events were described in Representative Retailers: Milo Bolender, Dealer in Drugs and Medicines at Sparta published in the February 13, 1901 issue of Michigan Tradesman:
On the night of May 1, of that year, a fire burned up almost the entire stock. That was a setback. A man does not watch with perfect composure the destruction of years of his industry; but disaster had come and it remained for the druggist to grapple with it.



The last flickering flame had hardly been put out when Mr. Bolender had rented the only available room in the village, fitted it up as a drug store, moved in what little had been rescued from the fire, and, at the end of a month, was ready to begin life again where he had left off.

It had been a month of unremitting work, discouragement and worry. There had been no end of the troubles that always follow in the path of a fire. Annoyance stepped upon the heels of annoyance and perplexity after perplexity insisted on making its presence known. They all only hindered. That quiet, determined way of doing things, germinated down there in Ohio, was on hand and ready to assert itself. It was hard work from beginning to end, but every stroke told and every day scored it, and one who has had trouble and finally overcome it can easily understand Mr. Bolender's satisfaction when he and his wife went down to the store together on the evening before the opening next morning to look it all over and to add those final touches which every enterprise is sure to need. These were given and, pronouncing the whole good, they turned the key in the lock and went home to sleep the sleep of the just.

The next morning an ash heap was all that was left of that drug store!

...All that the man had was gone and, with a heart heavier than he will, in all probability, ever have again, he made up his mind that that was the last of Hubbardston for him. The lights of Sparta glimmered upon him through the gloom and to Sparta he made his way. He found there the Hastings Drug Co ready to dispose of its stock and, buying it, he started in once more.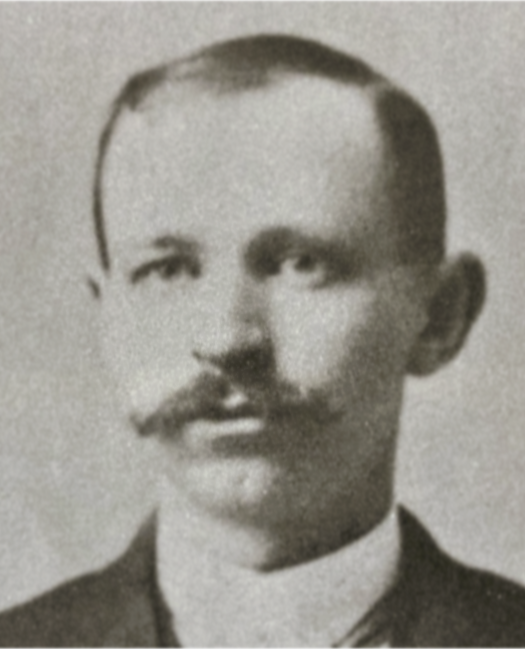 Rodney Hastings
Hastings Drug Store occupied the southeast corner of what is now East Division and Union Streets. During the decades in the latter half of the 1900s, the location was widely known as Wolf's Drugs. The west-facing exterior of the brick building was painted in bill board fashion (as can be seen at the top of this page) with an eagle upon a pharmacist's mixing container surrounded by words to describe the products stocked: "Drugs, Medicines, Paints & Oils, Wall Paper, Fancy Toilet Articles, Window Shades, Stationery."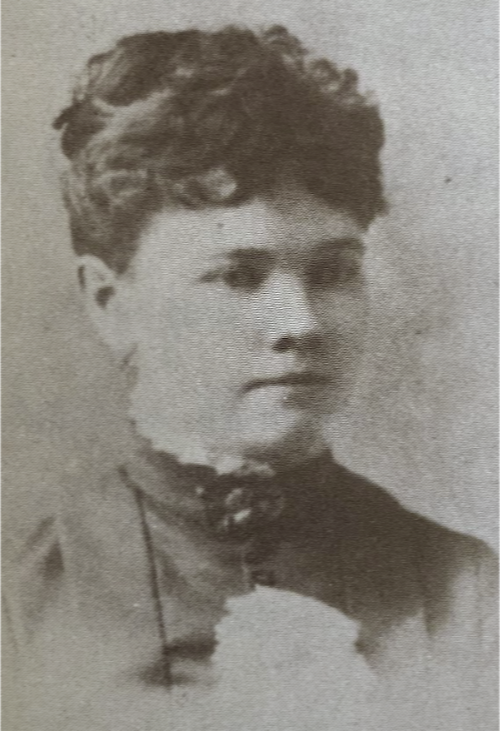 Rodney A Hastings was born at Sparta on August 31, 1863, the son of a farmer, Rodney Durkey and Susan F (Nippress) Hastings, the widow of Hiram Doty. The father was born in 1821 at Swanzey, Cheshire, New Hampshire. He migrated west to Sparta with a sister, Susan, and in 1850, they resided with Jonathan Nash. Rodney married a lady named Fanny Theresa (last name unknown) who died in 1860. The following year, he wed Susan Doty.
The senior Rodney was said by Arzie Pinckney, "to have dabbled in real estate by the looks of some of the abstracts of the houses in Sparta". One of his earliest investments was a joint venture with David Martindale on November 28, 1845, that consisted of a lot on the north side of Division Street just east of the building where the Post Office would later be located.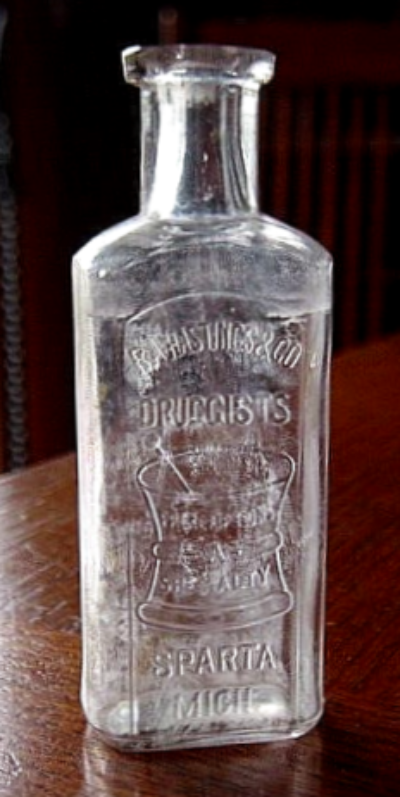 A promise of bounty land was offered to soldiers of the Revolutionary War, War of 1812, Mexican War, and Indian wars between 1775 and 1855 by the federal government. It also served as an enticement to settle wilderness areas. Either the soldier or his heirs could claim the land and upon approval of an application, would be given a "warrant". Some which remained unclaimed were surrendered and others who sought to obtain a land "patent" could. Most soldiers never lived on their claim, but instead, chose to sell it. On June 1, 1850, Mr. Hastings along with C.A. Harper went to the Ionia Land Office where they became patentees for a military land warrant awarded to William K Revere. It consisted of two parcels which amounted to 169.48 acres in Sparta Township. The virgin land was situated between what we now know as Indian Lakes and 16 Mile Roads with the western corner clipped by M-37 while the midsection is dissected by the railroad and Ball Creek Avenue.
By the 1860 Agricultural Census, Rodney D Hastings was recorded with 240 acres of farm land holdings, livestock, and farming equipment valued at $6,750, which in 2023 dollars is worth $241,371.05.
Over the next dozen years, his land holdings increased to include tracts elsewhere in the township. Tragically, the father, who was severely injured while he worked with his neighbor, Jonathan Nash, to dam the creek (as H.M. Sleeper described above) died the same year as his only son's birth.
At eighteen, Rodney boarded at Balcom's Hotel while he attended school in Sparta when the 1880 Federal Census was enumerated. During the late 1800s and early 1900s, it was a common practice of families who lived a distance from the village to arrange for older children to stay in Sparta through the week in order to gain an education. Other guests recorded at the hotel included D.J. Wallace, Physician, and W.P. Sessions, a "Man of Leisure".
Young Mr Hastings completed his education and became a druggist then, on April 11, 1882, he married Hattie E Thurston. Prior to the establishment of his own pharmacy, he was employed by E.W. Norton & Co as a drugist at Sparta. This was the Reverend Erastus W. Norton, a Freewill Baptist minister with a business investment in the local pharmacy. In August of 1887, he passed away. Frank Holmes married the minister's daughter, Lulah Norton, in 1891 when the marriage record provided his occupation as that of a "druggist". During the 1920s, Frank Holmes sat at the editor's desk of the Sentinel-Leader.
According to The Druggists' Circular and Chemical Gazette the R.A. Hastings Drug Co of Sparta was incorporated with a capital stock of $12,000 and 1,200 shares in 1896. The major stockholders were Rodney A Hastings with 566 shares, Ann Norton at 194 shares, and Frank M Holmes with 125 shares. Ann Norton was the widow of Rev Erastus W Norton and Holmes' mother-in-law. Rodney likely had a considerable sum of money as an inheritance from his father's estate.
An untimely death took Rodney on April 22, 1899, after at least three months of illness caused by the Grip, now commonly known as Influenza. In the settlement of his estate, an advertisement was placed in the Michigan Tradesman on June 27th, 1900, which stated: "FOR SALE--THE HASTINGS DRUG STORE at Sparta. One of the best known drug stores in Kent county; established twenty-six years; doing a prosperous business; brick building; central corner location; reasonable rent; long lease; belongs to an estate; must be sold. M.N. Ballard, Administrator, Sparta, or M.H. Walker, Houseman Building, Grand Rapids, Mich."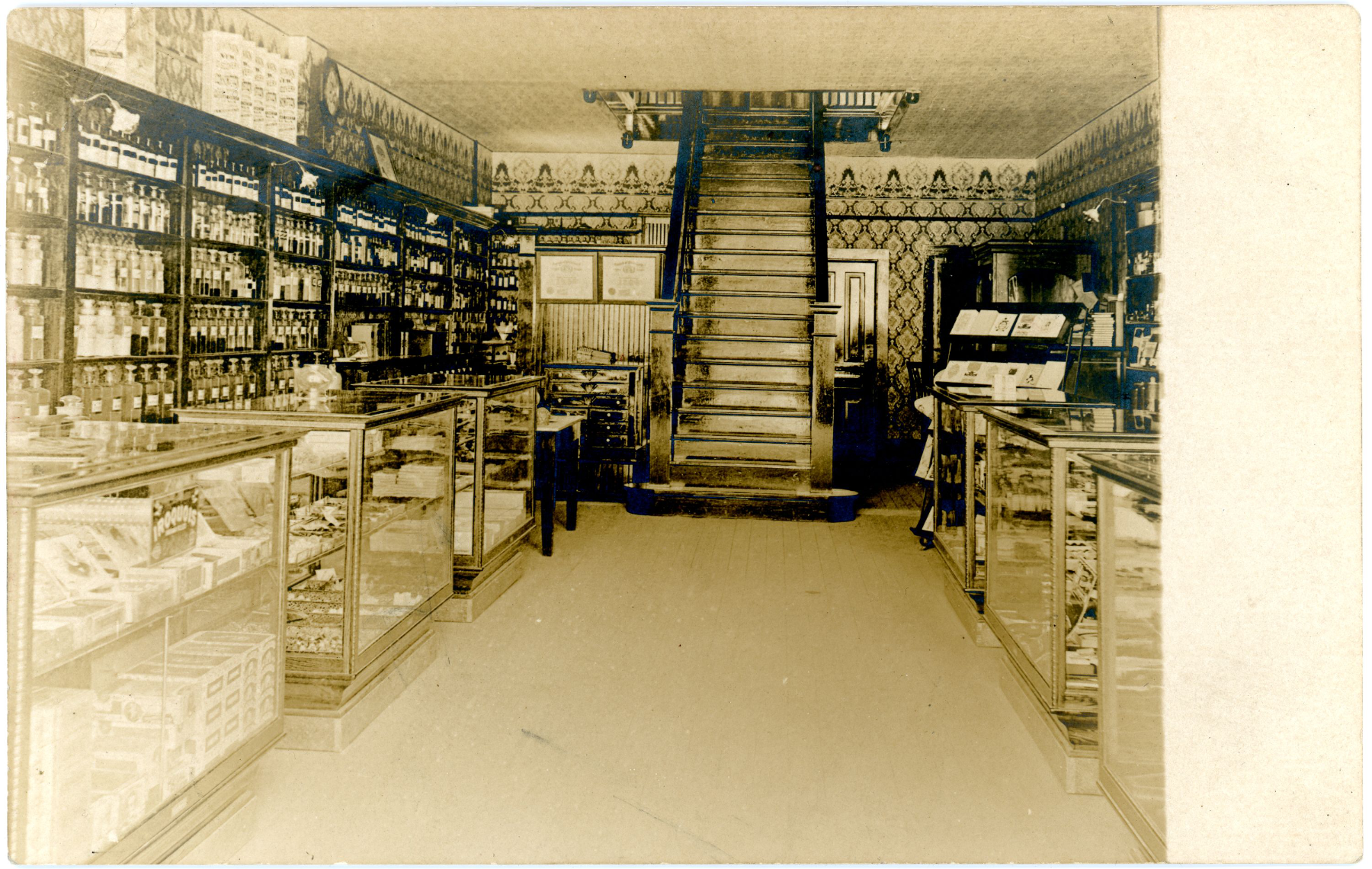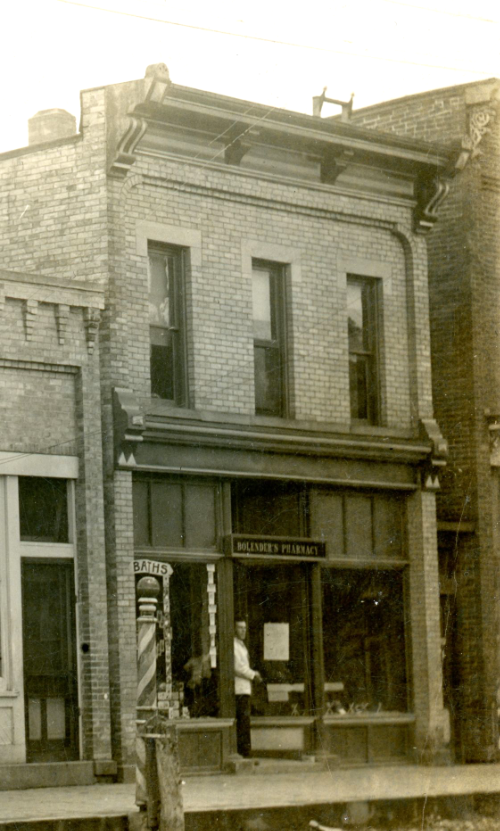 Bolender's Pharmacy
The timing of the availability of the drug store presented an opportunity for a fresh start for Milo Bolender at Sparta. Although he purchased the business and stock, Milo's arrangement was as a tenant in the former Hastings Drug Store building on the corner. The fact that the building was constructed of brick appealed to Milo and he stated so in his early advertisements.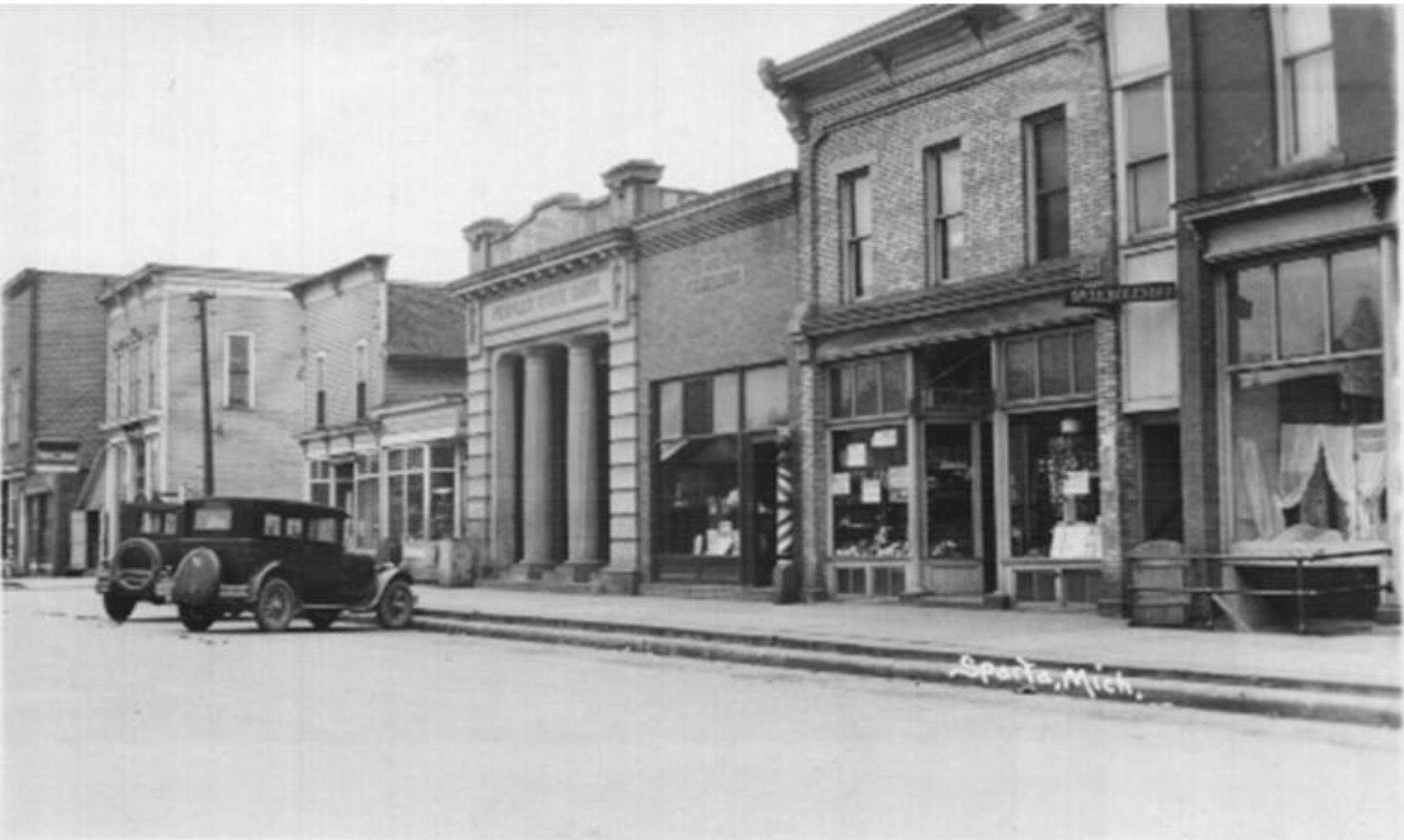 Business was brisk. A few years later, an opportunity to own a storefront in Sparta's downtown presented itself when, in 1905, a two-story brick building just one door west of Frank Kellogg's Palace Barber Shop became available. It had previously been a candy and ice cream parlor with telegraph service operated for a short period of time by William Kensel. Milo outfitted it with built-in oak cabinets along both side walls, craftsman style wallpaper, and several glass display cases which flanked a handsome open oak stairway to the second floor he had constructed. This allowed for additional product displays upstairs, which expanded the versatility of the building.
The space was ideal for Mr. Bolender's use.
A variety of general merchandise was sold in additional to pharmaceuticals. Once settled at his new location next to the barber shop, Milo's 1906 postal-card Christmastime promotion included the message: "Buy your drugs and oils, toilet articles, soaps, etc.. here. Wall paper, stationery, school books, and rubber goods up stairs" which varied a bit between the beautifully handwritten cards. In addition to these products, the entrepreneur was the manager of Citizens Telephone Co Exchange, had the contract to provide telegraph service, and later rented out extra office space on the second floor of his business establishment. Responsive to customer requests, he added to the variety of his stock. For instance, in 1914, he advertised the addition of sheet music.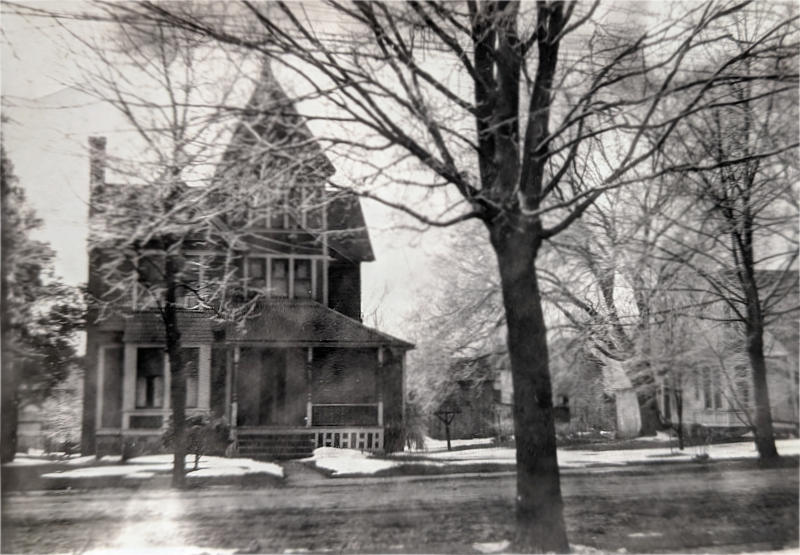 Both of the Bolender sons graduated from the University of Michigan with medical degrees. Dr J Edson Bolender specialized in ear, nose, throat, and eye diseases with his medical practice located at Sparta in an office above his father's pharmacy. Dr G Karl Bolender became a dentist in Detroit. Daughter, Elva, went to college and taught school. She wed Neal Spangenberg. Early in their marriage Neal and Elva lived at the Spangenberg farm southwest of Sparta, which is still in the family today. All three of the Bolender children were blessed with musical talent: J Edson played violin, Karl on the cello and vocally, while Elva was a pianist and performed as a professional singer.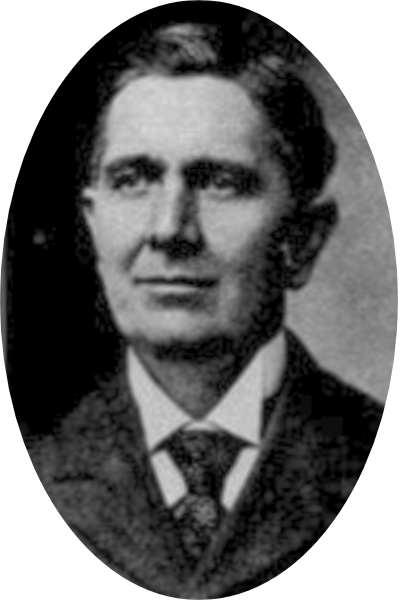 Elected as a Trustee on the local school board shortly after his arrival at Sparta, Milo served for many years. His support for good education extended beyond the board room to tangible actions as he encouraged youth to remain in school, earn a diploma, go on to college, and even provided material assistance or employment, if needed.
Milo's sister-in-law, Nora Mitchell, continued to live with the Bolender family as she worked at the pharmacy in the capacity of a saleslady and as a pharmacist. She was one of the earliest female pharmacist in Sparta, if not the first. After Milo's retirement, she found employment as a pharmacist at the Michigan Soldier's Home in Grand Rapids where, in 1942, she died.
Milo served the Sparta community as a trusted pharmacist for twenty-six years before he decided to retire, at which time he sold his business to the Perry Drug Co and Bert Perry, formerly of Ludington, took over the operations.
As he reminisced over the forty-one combined years as a druggist at Hubbardston and Sparta, the genuine care and concern Milo had for others earned him the highest respect. An August 1926 retirement article in Michigan Tradesman expressed his guiding philosophy. "It is a great thing for a merchant to know how to buy goods and it is a great thing, too, for a merchant to know how to sell goods, but it is a more wonderful thing for a merchant to know how to lay hold of the heart strings of the people about him--how to cultivate the friendship of customers in such a way as to build them up... There is more in life than the making of money."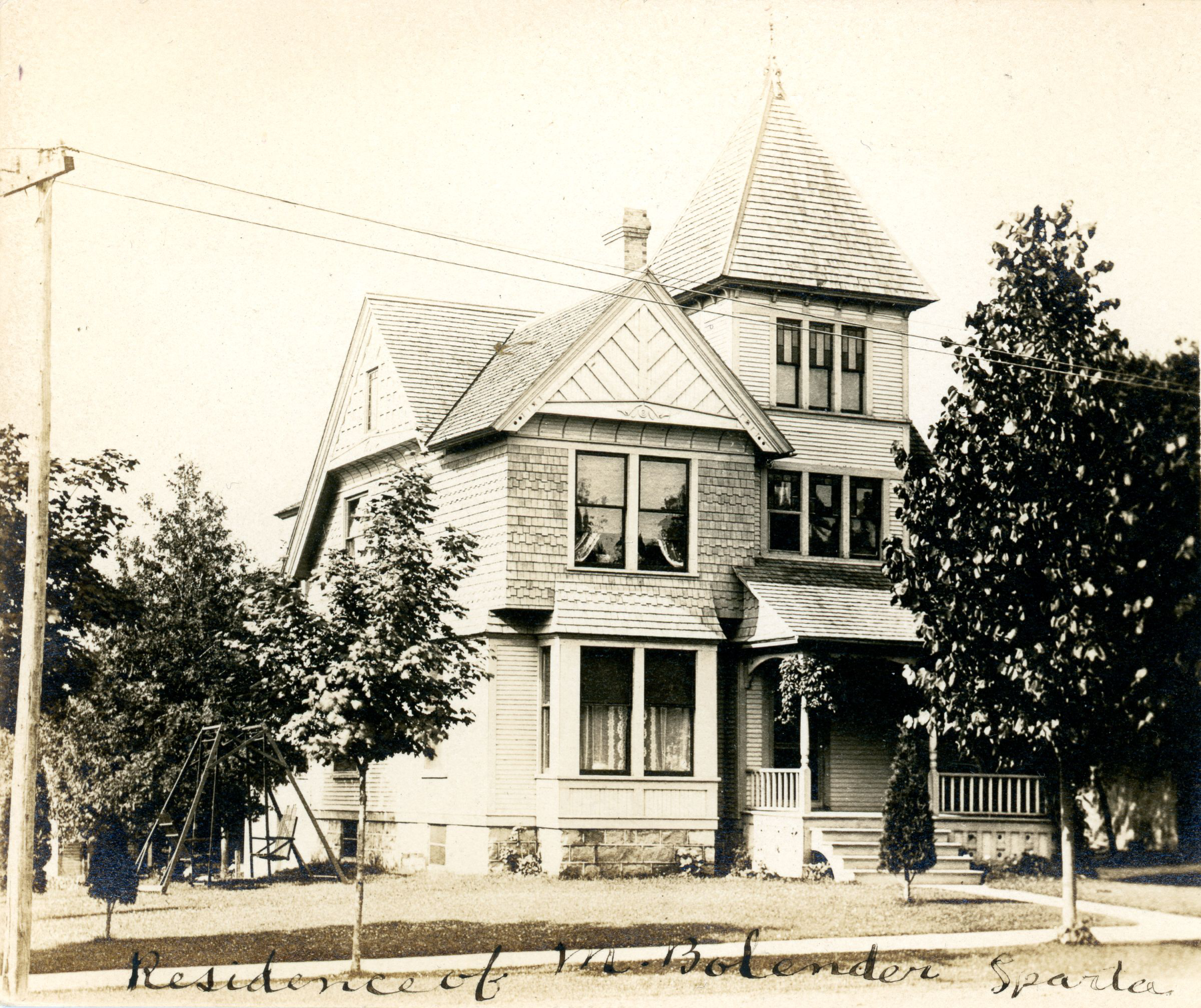 Dr Benjamin Zudzense
and his Monkeys
If you think "nothing exciting ever happens in Sparta" then, my friend, you have not heard the incredible story of Dr Benjamin Zudzense and his Monkeys. Yes, that's right... monkeys! Pour yourself a cup of your favorite beverage, pull up a seat, and we'll start at the beginning.
It was the first of December of 1850 when Benjamin and Elizabeth (Thurling) Sussens' infant son, Benjamin James, was christened at the Church of All Saints in East Tuddenham, Norfolk, England. The gothic-styled stone church is said to date back to as early as the 13th century in a village of less than 600 souls. The boy was their youngest child with three older sisters: Elizabeth, Martha, and Emma--along with a brother--John Joseph.
Mr Sussens had a 70 acre farm with three hired men and a "house servant" at the time of the 1851 English census. Ten years later, the farm amounted to 60 acres while the father had two laborers plus a "daily maid" in his employ. Although little is known of Benjamin's youth, it was noted at ten years of age he was a "Scholar" as he attended school. The father died on September 25, 1870, and in 1871, Benjamin was a "lodger" at the nearby village of Hackford with the occupation of an "Organist" as he was counted in the household of Charles and Rebecka Cullum.
Eager to find a new path in life, the young man embarked on a grand adventure onboard a ship bound for North America. The 1900 US Federal Census stated his immigration took place in 1871, however, nothing else has been located as confirmation. Precisely how, why, or when he found his way to Kent County, Michigan, is uncertain. What is known, is as early as 1874, Benjamin James Sussens, a student from Courtland, Michigan, was enrolled to study medicine and surgery at the University of Michigan.
Benjamin's eldest sister, Elizabeth, lived with their widowed mother and aunt, Judith Thurling, who was a nurse, until the Sussens family matriarch passed away at the end of June in 1875. Three months later, on September 15th, Benjamin and Elizabeth boarded the SS Sardinian at Liverpool and sailed to the destination of Quebec, Canada. They arrived on the 5th of October. The ship manifest listed "Eliz Sussens" as a "Spinster" and Ben, a "Laborer", and both as "Steerage Passengers", the lowest classification under which a vast number of immigrants sailed.
Richard Coleman, also of Norfolk, was a traveling companion. He was the son of a veterinarian surgeon and was trained to assist the father. His older brother, Timothy Edward Coleman, was already a resident of Grand Rapids, Michigan, and worked as a lumberman and surveyor. In January of 1879, Timothy and Elizabeth were wed at Grand Rapids. The couple had no children and sadly she passed away on December 20, 1886, from cancer at Sparta.
Richard Samuel Coleman purchased a farm in Algoma township, married Nancy Christy, and they started a family. Soon he relocated into the village of Sparta where he became a veterinary surgeon. The Coleman family made their home near the intersection of South Union Street and Centennial Avenue.
From Sussens to Zudzense

Studies at the University of Michigan were resumed and Benjamin was listed among the students in 1876, 1877, 1879, and 1880, as a "non-graduate". He then took a sabbatical. While enrolled, he continued to use the last name Sussens. At around 1880, he began to use "Zudzense" as he was said to have determined his ancestors, who originated from the Netherlands, were known by the surname. The rest of the family stuck with "Sussens".
While on a Christmas trip to visit his family in England, The Bury and Norwich Post reported on Benjamin's activities on 21 Dec 1880:
ENTERTAINMENT.--On Friday evening (the 10th) Mr. Zudzense gave a most interesting entertainment in the Boys' School-room, including views of various places in Europe, with an account of them. In the second part the numerous animalculae in a single drop of water were shown and described. A capital oxy-hydrogen light used by the exhibiter gave great distinctness of outline to the various scenes, and enabled the observer to follow up to the minute description given by Mr. Zudzense. The third part of the entertainment consisted of the exhibition of Edison's phonograph, which repeated sentences and songs, and caused intense amusement. Mr. Zudzense was voiciferously applauded on the termination of the entertainment.
In addition to possessing a passion for music, Ben had a keen interest in the cutting edge technology of the day. The first portion of his presentation sounds like an early travelogue and suggests he had toured the European continent and photographed the sights. The second topic related to his collegiate studies with a microscope. Thirdly, Edison invented the phonograph in 1877 and toured the United States with in the next year. It was the very first machine able to record and reproduce sound. Ben bought one of these primitive-looking devices and brought it with him to England. Amazing!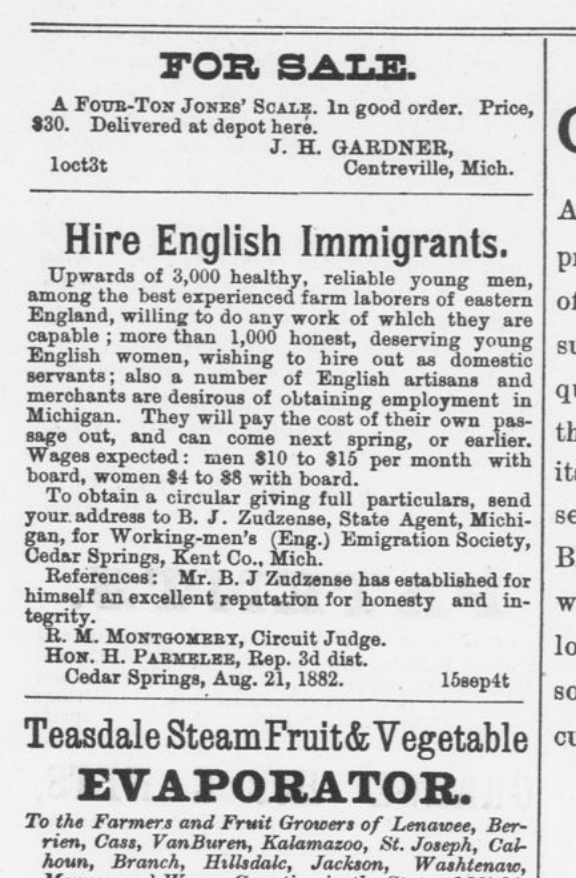 Benjamin said he had made the journey between America and England five times by 1882. He lectured on both sides of the pond primarily at grange meetings in Michigan and for various groups in Norfolk, England. His presentations encouraged listeners to emigrate to Michigan as farm or domestic workers to achieve a better life while they met the needs of farmers with a labor shortage. Ben worked as an "Emigration Agent" for the "Agricultural Association of Michigan".
A letter dated 11 Nov 1882 directed to a "Mr Rix" signed by B J Zudzense stated he would arrive soon with "...orders from many rich farmers and business men to solicit honest, reliable English men and women to come out to Michigan and work for them. Farm laborers and female servants are treated here as though they belonged to their employer's family; get good board-eating at the same table as their employers-and obtain high wages. Single men are paid £4 per month. Women, general servants, with little or not experience, get £20 per year; while good cooks, housemaids, parlormaid, &c. easily obtain as much as £60 per year. Single men and women servants are provided with board, lodging and washing in addition to their wages. Married men, farm laborers, are provided with a house, garden, and all the apples they would want for their family use, and obtain £6 per month..." (published in British Immigration to the United States, 1776-1914 by William E Van Vugt)
A few days after he mailed his letter, Ben married Alvira Elizabeth Dean on November 23rd at Cedar Springs in Kent County, Michigan. She was the daughter of Courtland Township pioneer settlers, Alexander and Orra (Johnson) Dean, who came in 1839, just before Alvira's birth. The Dean family migrated to Kent County, Michigan, from Stony Creek in Warren County, New York, a small settlement in the Adirondack Mountains wilderness after a family tragedy which involved "...the mysterious disappearance of their six-year-old daughter, Lucy Dean, who was lost in the woods and of whom no trace was ever found." About seventy five years later, a local newspaper published an article, Lost little girl remembered, in August of 1910. This was revisited a century later in the Adirondack-Journal with the editor's comment, "When Lucy Dean walked into the woods near her home and vanished, she became an Adirondack legend."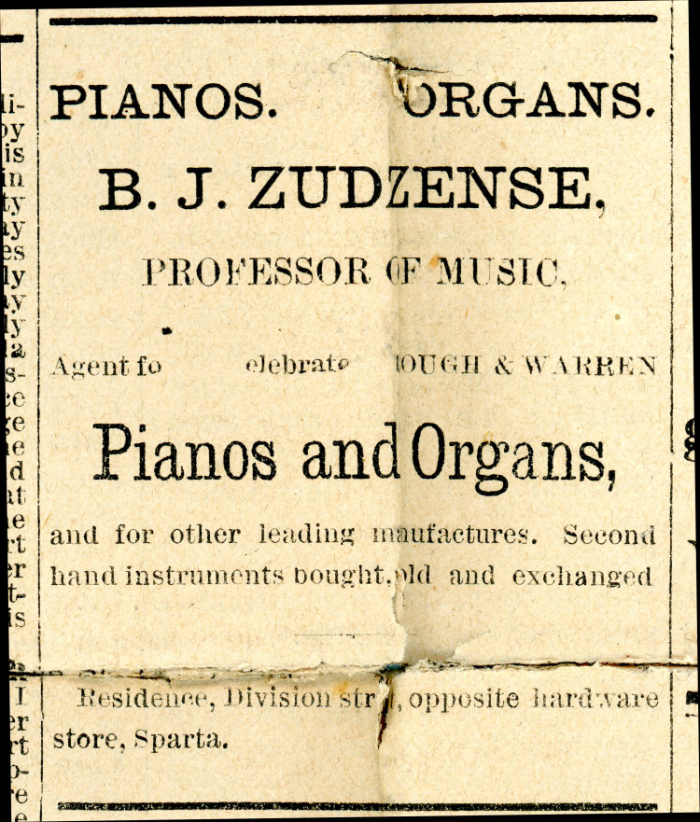 The marriage record for Ben and Alvira gave their ages as 31 and 42, respectively, both resided at Nelson township, and his profession was listed as a "Professor of Music".
What brought the newlyweds to Sparta?
Alvira's older sister, Eliva Sophia Dean, married Richard "Alex" Coster in 1857 and by 1871, they and their children: Hattie, Orra, Alex, Elmer, Edith, Jay, and Forest lived on a farm near Sparta. In addition to farming, Mr Coster was elected to office to serve as Constable for eight years and in the capacity of Deputy-Sheriff for four.
The Zudzenses settled nearby in the village and, in 1885, Ben resumed his studies, this time at Rush Medical College affiliated with Lake Forest University in Chicago. He graduated with his medical degree and honors on March 31, 1891. During this period, he worked as a music teacher to support his family and put himself through college. Additionally, Benjamin was listed in an 1890 issue of The Mercantile Agency Reference Book as a merchant who sold organs and pianos. One of the brands he sold, was the prestigious Clough & Warren. Their organs were known as the most ornate and expensive in America. These patented reed organs were manufactured in Detroit, Michigan, and sold worldwide. Listen to an 1879 Clough & Warren reed organ, close your eyes, and imagine the sweet music on a summer evening heard along the boardwalks near the Zudzense home.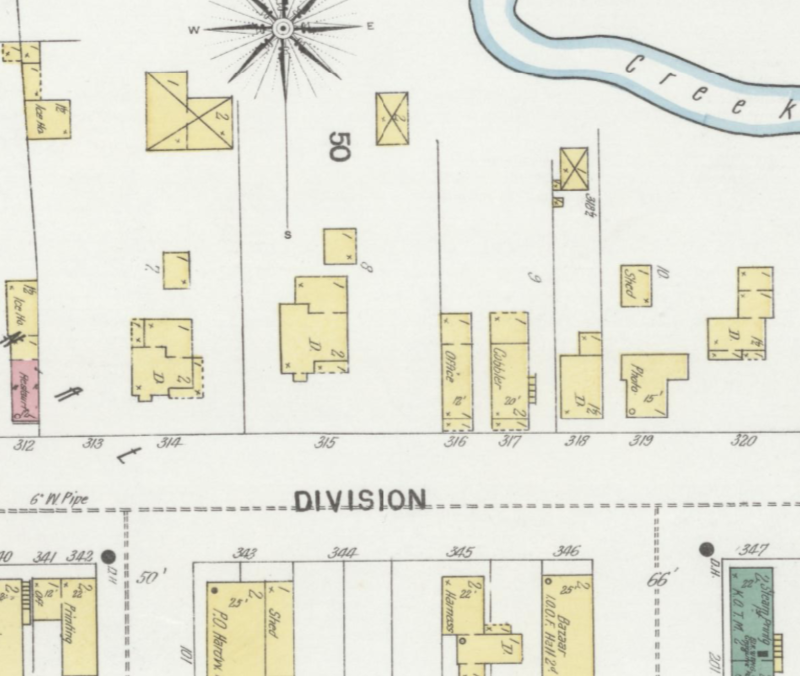 The Doctor is in the House
Dr Zudzense's home and medical office was on the north side of East Division in Sparta between Washington and Maple Streets, across from Charles Loomis' hardware store. Back in the day, it was common for doctors to work from their homes especially since they were generally "on duty" around the clock. Today, the Zudzense's property has become the village parking lot.
After he achieved his goal to become a medical doctor and surgeon, Dr Zudzense enthusiastically began his practice. By 1892, his name appeared in directories to promote his business and he served many patients.
A nephew, William Ernest Sussens, the son of Ben's deceased brother, John, became a sergeant in the British Army. For several years, he was stationed in the East Indies. His duty took him to Burma, the Himalayans, and India. Meanwhile, a sister provided Ben with his mail address and he wrote William a letter to encourage him to come to America, suggested William might become a physician, also, and join Benjamin's practice. In the nephew's diary, which was kindly provided to me by Jenny Nebe, a great-grandniece of Ben's who lives in Australia's outback, he wrote, "How wonderful it is, what a change in a man's life can be made by such simple things; that letter altered the whole course of my life, as you will see."
Transferred from British military service with permission to reside in Canada, the soldier was provided with orders to report to Halifax and Winnipeg. William promptly made arrangements to sail by steamship to Canada. After a frigid winter crossing, he reported to the fort at Halifax then left by immigrant train. On the 3rd of February, 1898, he arrived at Essex, Ontario. He wrote to his uncle, who by return mail advised him how to "cross the river at Detroit then take the Michigan Central Rail Road to Sparta Centre," William wrote. "I finally did so and reached my uncle's home. He met me at the station and gave me a scare by trying to pretend that he was a fort official watching for me. But after the first shock I soon regained my composure."
William began his studies in March, but performed poorly. "My uncle soon became discouraged and told me plainly I could never be a doctor so we began to plan something else. Now about this time there was an American battle ship blown up called the 'Maine' in Santiago Harbour, Cuba, and great excitement and talk of war." William reflected, "I finally proposed to go and enlist at Detroit for the American Army. My uncle approved of that and got me recommendations from the clergyman at Sparta and also wrote one himself." It was April when William said his "good byes" and left Sparta.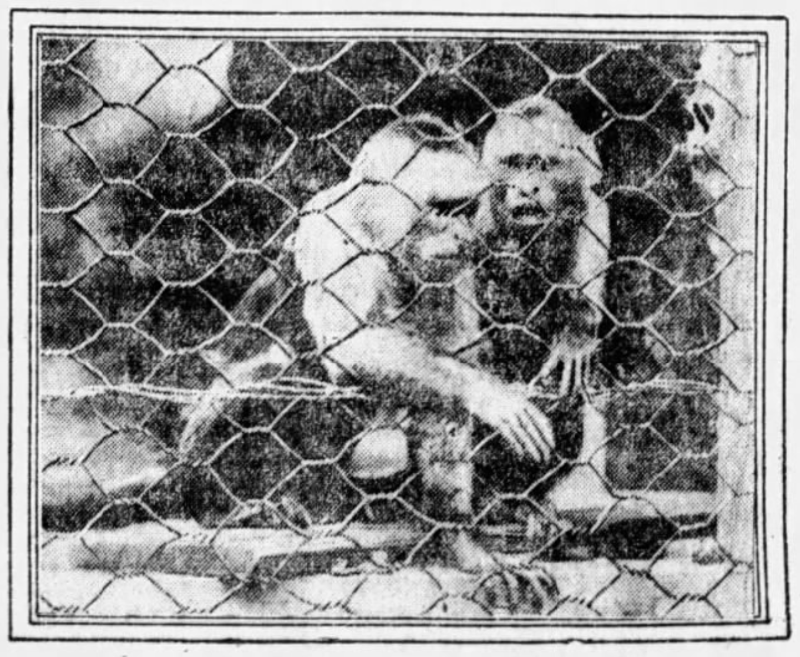 Monkey Business
Music, sound, and language intrigued Benjamin. Travel. Science. The study of animals. He had an inquisitive mind and a fascination with discovery. At some point before the turn of the century, he acquired a pair of monkeys. The how and where are not known, but from all accounts of those who personally saw them, they were described as being small. Based on a photo published by a Grand Rapids newspaper, Stacey Snyder, the Registrar at John Ball Zoo suggests they were "some species of Capuchin monkey, a New World monkey that was often kept as a pet or helper."
Native to tropical forest regions of Central America extending south to Argentina, a Capuchin was often seen as an organ grinder monkey. During the turn of the century, an organ grinder was a street musician with a barrel or street organ who performed with a dancing monkey, often dressed in a little red coat. The tethered monkey collected change from the audience in a tin cup.
The mischievous "Dexter" from the Night at the Museum movie is another example of a Capuchin.
It was the doctor's intention to use them as study subjects since he sought to understand how they interacted with each other, communicate with them, and to write a book based on his observations.
A cage was built on the front lawn with a second enclosure inside the home in front of the bay window. There was a swinging door and connecting tunnel between the two so the monkeys could move freely. Ben kept them as pets, provided them with the best of care, and they became like family. Their number increased, but it seemed apparent his favorites were those named 'Jennie' and 'Jocko'. A third, called 'Petie', became notoriously well known.
---
I Remember
by Arzie L Pinckney
MORE ABOUT DR ZUDENZEE & HIS MONKEYS
"The monkeys would watch them (the ladies) coming down the street, and just as the women got under the tree, they would swing down and try to grab some of the things off their hats."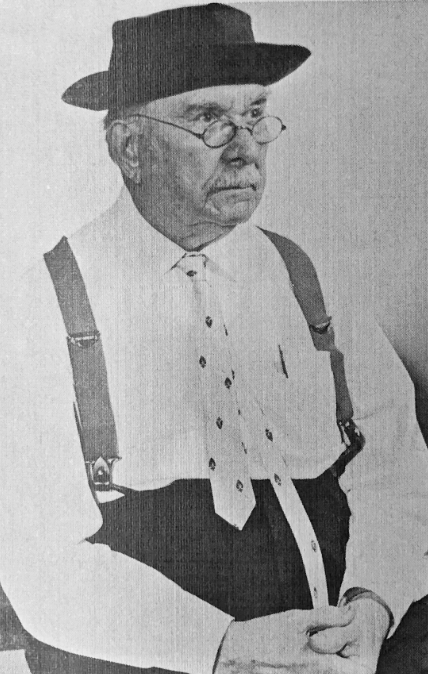 I suppose that the stories about the good doctor's monkeys are legend. When they were young, the doctor would let them out-of-doors and run loose if he were at home.
I remember the row of beautiful maple trees that lined that side of the street. The monkeys loved to climb them and drop things on the folks going by, especially on the ladies. In those days, women wore big hats and usually decorated them with flowers, and sometimes, fruit. Well, that was "duck soup" for those monkeys. They would watch them coming down the street, and just as the women got under the tree, they would swing down and try their best to grab some of the things on the hat. If they did get hold of anything, it was their property for if the doctor wasn't right there to make them give it up, there wasn't much left of that hat, for it didn't last long.
I do not remember who it was but one time a woman was passing by and she had what looked like a bird on her hat. Well, you can guess what must have happened then, for the monkeys were up in the trees and she never thought of that possibility.
Some of the young fellows who had the nerve would stop and feed them with peanuts and they soon got to know them well enough and would sit on the fence posts and wait for them.
Such was the case one day when our brother, Clarence, and his friend, George Neal, came along. They stopped to talk to the monkeys and George took out a cigarette and lit it. The monkey watched him as he scratched the match on the side of the post. The monkey wanted that match, so not heeding Clarence's advice, he gave the lighted match to the monkey. As might be expected, the monkey burned his hand. Of course that was funny to everyone but the monkey. I believe the doctor called him Peter. Then the boys went on up the street.
Later as they were coming back, the monkey saw them and jumped back upon the post. George said, "I wonder what he would do with a match that was not burned." Clarence told him that he would eat it and it might make him sick. So he gave the monkey the match, and before the boys saw what the monkey was doing, he scratched the match on the post and stuck it on George's hand. Of course, it burned his hand. I suppose that George always wondered just who got the most fun from that prank.--published on 26 Feb 1969 in The Sentinel Leader
Continued the next week...
I do remember one time when the housekeeper came home from the store with some groceries including a five pound sack of sugar. She didn't know that the monkeys were loose in the house so she left the groceries on the kitchen table and went up to her room to change her dress. Mrs. Zudzenzee heard a riot going on in the kitchen and called the maid who rushed downstairs and into the kitchen only to find that one of the monkeys had grabbed the sack of sugar and was chasing the others around the room hitting them with the top end of the sugar sack. Naturally, the sugar was all over the floor. And that was just an ordinary day with the monkeys.--published on 12 Mar 1969 in The Sentinel Leader
---
Ben's sister-in-law Eliva (Dean) Coster became afflicted with Tuberculosis and the disease took her life. She passed away on May 1st, 1901. A few months later in October, Alvira suffered a fall that resulted in a fracture of her left hip and left her an invalid. Relatives remarked that Ben always treated his wife with loving kindness. The devoted husband tenderly carried her across their sloping back yard down to the banks of Nash Creek, which flowed behind their home, to take her for boat rides. The couple cherished their private time spent with one another.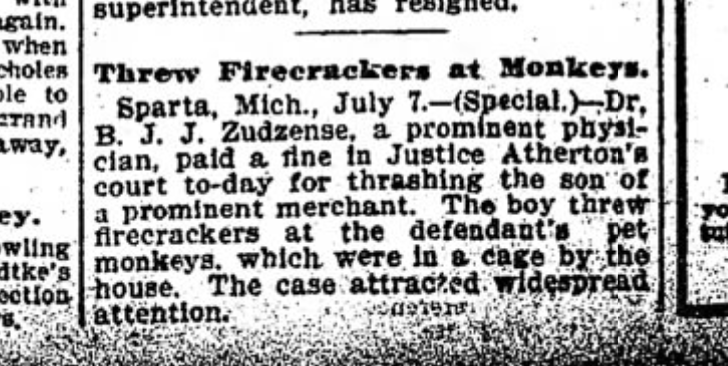 The monkeys attracted plenty of attention. Sometimes, too much.
Threw Firecrackers at Monkeys.
Sparta, Mich, July 7--(Special.)--Dr B J Zudzense, a prominent physician, paid a fine in Justice Atherton's court to-day for thrashing the son of a prominent merchant. The boy threw firecrackers at the defendant's pet monkeys, which were in a cage by the house. The case attracted widespread attention.--The Detroit Free Press
Terrible Times
At the start of May in 1906, the doctor arrived to stay at a home at 340 Lyon street in Grand Rapids. It was between Lafayette and Prospect, just a couple of blocks away from the U.E.A. Hospital where he sometimes saw patients. He set up a room for two of his monkeys, Jocko and Petie, who accompanied Ben to the city. Somehow, their glass window was broken in the early morning hours of the 16th and the furry pair escaped.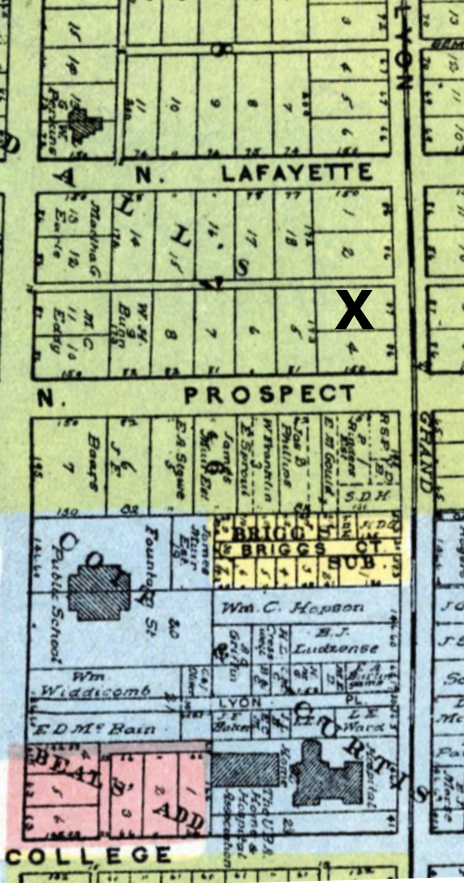 The primates made their way east a very short distance to 53 Briggs Court. There, they entered an open bedroom window where a five-year-old boy, Riford Worth, was asleep. A news account from the hometown of the boy's uncle, in the St Joseph Evening Herald, described what happened: "The boy will recover from the terrifying attack made upon him Wednesday morning by the two monkeys, which broke into his bedroom, and, after waking him from sleep, scratched his face and head, bruised his arm, and threatened him with a knife they had captured from an adjoining residence. His face shows the plain marks of the vicious claws of the simians, and he may bear a scar over his right eye for some time. His parents had some fear he might have sustained a nervous shock as a result of his fright, but he seems to have borne the exciting experience without harm."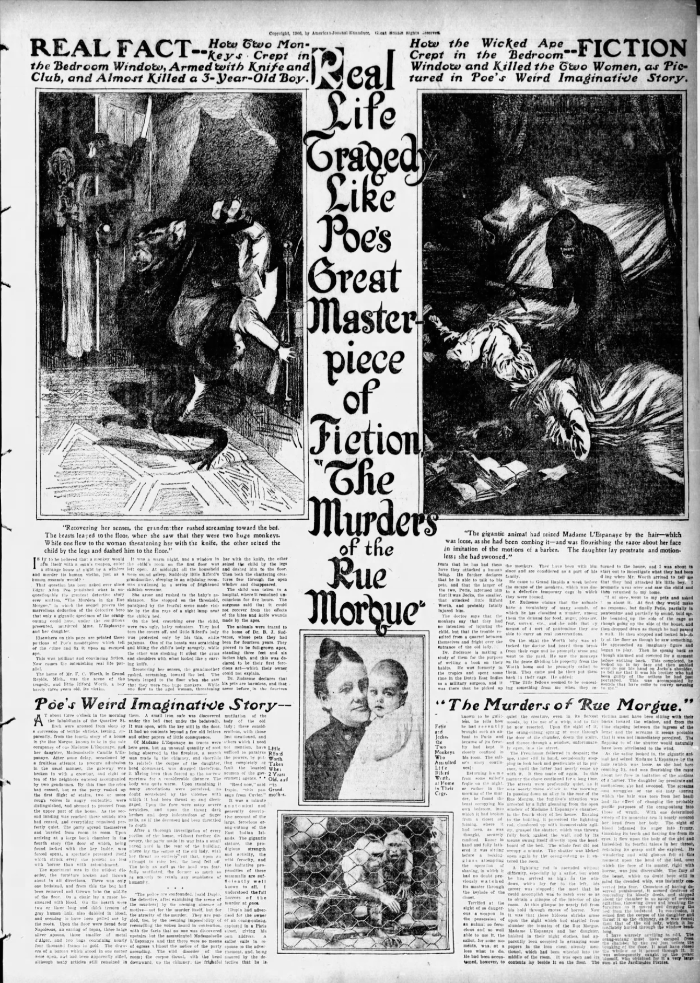 Other local articles stated it was a jackknife from a nearby home where carpenters worked which was found in the room after the monkeys fled through a window. It was not believed the knife was used to cut the boy. The child's grandmother, Hattie Riford, interrupted the attack and rescued the lad. Dr Zudzense "captured the monkeys without any trouble", made apologies, and said he had had his pets for fourteen years. If accurate, he obtained them about 1892.
Newspapers across the country eagerly printed the story, often with embellished details. Exploitive headlines declared the child was murdered. Most assuredly he was not. Riford grew to manhood, married, served in WWII, and lived out his life in Grand Rapids, Michigan.
Quite possibly the most brazen example of tabloid journalism was committed by The San Francisco Examiner with a full-page spread that compared the incident to the gory fiction of Edgar Allen Poe's The Murders of the Rue Morgue, complete with ghastly artist renderings. A drawing depicted one sinister monkey hidden behind the door with "what looked like a large carving knife" clutched in his hand as grandma peered into the room while the larger muscular monkey held the boy upside down by his ankles and dangled the child's head above the floor. The monkeys were falsely described as "full-grown apes standing three foot and six inches high". They outlandishly claimed the monkeys brought a knife and a club, to suggest that the act was somehow premeditated. They conveniently reduced the boy's age to three years and openly lied as they wrote the hospitalized child "remained unconscious for five hours" with surgeons who stated he "could not recover from the effects of the bites and knife wounds made by the apes."
I won't comment on the specifics of the rest of the article other than to say the doctor's character was assassinated by the sleazy newspaper as he was ridiculed with conjecture and boldface lies. Lies which were clearly and deliberately designed to sell their rag and put profit in their pockets at the expense of truth.
A Heart of Gold
The benevolent Sparta doctor generously provided entertainment for benefit concerts. One such event, held in 1907 at the request of the Epworth League, raised money for the Methodist church's organ fund. "Dr B J Zudzense will give a concert by means of his new $400 Auxetophone January 10. This apparatus, with records costing from $4 to $6 each, reproduces accurately and beautifully the voices of the world's greatest singers," reported the Sentinel Leader.
At another concert arranged to benefit Rev Levi W Caulkins at the Methodist Church and scheduled for March 11, 1908, the doctor brought his Auxetophone to play eighteen selections. Admission was 25¢ per couple or 15¢ for a single person, with an extra 5¢ to reserve a seat. Seats sales were available at Bolender's drug store. All proceeds were given to the minister.
An Auxetophone was invented by an Englishman in 1904 as an early type of phonograph which used compressed air and a large horn on top of a wooden cabinet to amplify the sound. The Victor Talking Machine Co of Camden, New Jersey, manufactured them from 1906-1918. Only about 500 were sold during production because they were quite expensive. Benjamin had bought his at a very good price as they usually sold for about $500 in 1906, which in today's money (2023) would be $16,620.56! Consequently, these machines were purchased by business establishments such as dancehalls, restaurants, or hotels. So when the kind doctor brought his to an event, it generated public enthusiasm, and the crowds came, too.
Benjamin kept in touch with his nephew as he served in the Army. As with many soldiers sent to tropical jungles, William contracted malaria. Over the years, he suffered recurring bouts of the disease. The uncle extended an invitation to him provided he would assist with the housekeeping. William accepted the offer and upon his discharge, took the train and arrived at Sparta on November 6th, 1908.
"November 26th - Thanksgiving day and wrote this diary in my room. Am in better health and getting along alright, like it very much after Army life. I hope I've finished soldiering. Aunt Vera Zudzense (is) very sick, Uncle in poor health, glad to see me again, he is expecting to return to England in 1909 shall perhaps go with him." Two months later, William left for England on his own. A young man who struggled with conflict, the nephew's hasty departure was timed precisely as his uncle entered the eye of the storm.
SUES VILLAGE PRESIDENT
DR B J ZUDZENSE ASKS $5000 FROM SPARTA'S EXECUTIVE
Alleges He Was Arrested upon Wallace's Order and Later was Discharged by the Justice
A New Publication
Other Items of More Less Interest
Alleging false imprisonment, Benjamin Zudzense, a doctor at Sparta, has begun suit in the Circuit court for $5,000 damages against Daniel J Wallace, the village president. The suit is brought through Attorneys Kleinhans and Knappen. Dr Zudzense charges that the defendant caused Albert H Meeker, village marshal, to arrest him and place him in jail. That by this act he was taken through the public streets and to the jail, all of which was done unlawfully and resulted in an injury to his reputation and loss of practice.

According to the bill of complaint Meeker went to Marvin E Caukin, justice of the peace, and falsely charged the plaintiff with resisting the officer who was executing an alleged order purporting to have been made by the president and village council prohibiting the interference on the part of the physician with the grade of Division street. A warrant was issued, the plaintiff avers, and he was taken to jail, where he remained for six days. He says that at the expiration of his sentence the case against him was dismissed by the justice.--Grand Rapids Press, Jan 5.

All Hail Our Competitor
Below we reproduce verbatum a copy of a circular posted in some of the business places about the village the latter part of last week--too late for us to handle in our last issue--but we believe in justice to the "Press" and public in general should be commented upon (rather than commended) in so far as the author states we "either through fear or through favor fail to discuss or open our columns for discussion of important questions." Our columns are always open for matters of public interest, but not for petty strife or black-mailing purposes. It is our object to give our readers a neat and clean up-to-date local paper in every sense of the word, excluding only that which lowers the dignity of the paper, our readers and the beautiful and quiet village which we represent:

To the inhabitants of Sparta, Kent Co, Mich.
"That whereas for some time past various irregularities and unjust discriminations have developed in the course of the public business of our village; a scheme for street paving, etc., involving an outlay of some thousands of dollars is projected; the matter of the franchise of the Sparta Water Co. must be taken up in the near future; also, it appearing that our local press, either through fear or favor, fails to discuss, or to open its columns for discussing these important questions, a committee of citizens have decided that a paper in which free expression of opinion can find place, would be a desirable object.
"This is to give notice that a paper entitled, "Observer and Critic," B J Zudzense, editor, price 2¢ per copy, to be issued monthly, or oftener if found desirable, will be published early in the new year. Letters for publication, or otherwise, upon matters of public interest are cordially invited.
"Orders for the "Observer and Critic" may be left at the stores of C G Loase and M Bolender or with the editor."--Sparta Sentinel-Leader on 7 Jan 1909
---
Death's shadow fell upon the Zudzense home. On March 17, 1909, Tuberculosis claimed Alvira's life.
"It is with sorrow that we note the departure of one of our number, Mrs Zudzense, who was promoted to higher life March 17, after an illness of more than a year. Sister Zudzense had been an earnest, interested member of the W.C.T.U. for many years. She had a gentle, loving disposition, and bore her sufferings with great fortitude, and a cheerful spirit. She was a faithful Christian, and for a long time had been patiently watching and waiting for her Saviour to beckon her home. The sorrowing husband, who is bereft of a loving companion, has the sympathy of a large circle of friends. The funeral services were held at the house Saturday, March 20, in charge of Rev M W Duffey, pastor of the Methodist church. The many floral offerings were fine, especially a beautiful floral piece by Dr Zudzense, with the very appropriate words, "At Rest".--Sentinel Leader
A Showdown at the Ballot Box
No doubt the street paving controversy, his false arrest, and imprisonment inspired Dr Zudzense to toss his hat into the ring in an effort to bring about what he viewed as needed change. The public agreed. The board president was replaced, as were four of the trustees. Ben, a member of the Law and Order party, was among the newly elected trustees. The March 18, 1910, issue of the local newspaper described his jubilation: "The Doctor was so elated over his success that he forgot his loyalty to dear old England (don't yer know?) and permitted the stars and stripes to float from his residence all of the following day, while the remainder of the household ("Jocko" and "Pete") danced the "can-can" in celebration of the event."
"No more use for the sign, "Keep away from these monkeys," The doctor has erected a 6-foot wire fence to prevent further annoyance," the Sentinel Leader reported. The fence provided the doctor with peace of mind while he made a trip to England. He left right away on the steamship Teutonic and docked at Southampton on June 16th. Ben only stayed for thirteen days then made his return trip on board the Oceanic and came into port at New York on July 6th.
Rest in Peace
On a furlough from duty, William returned to Sparta and saw his uncle, who "had just returned from England, looking well." The visit was brief. William returned to duty and transferred to a recruiting service position at Grand Rapids. On August 3rd, Benjamin's heart gave out and he passed away. William arrived in Grand Rapids on the 14th, unaware of his uncle's death until September 5th, when he received a letter from his brother, Fred.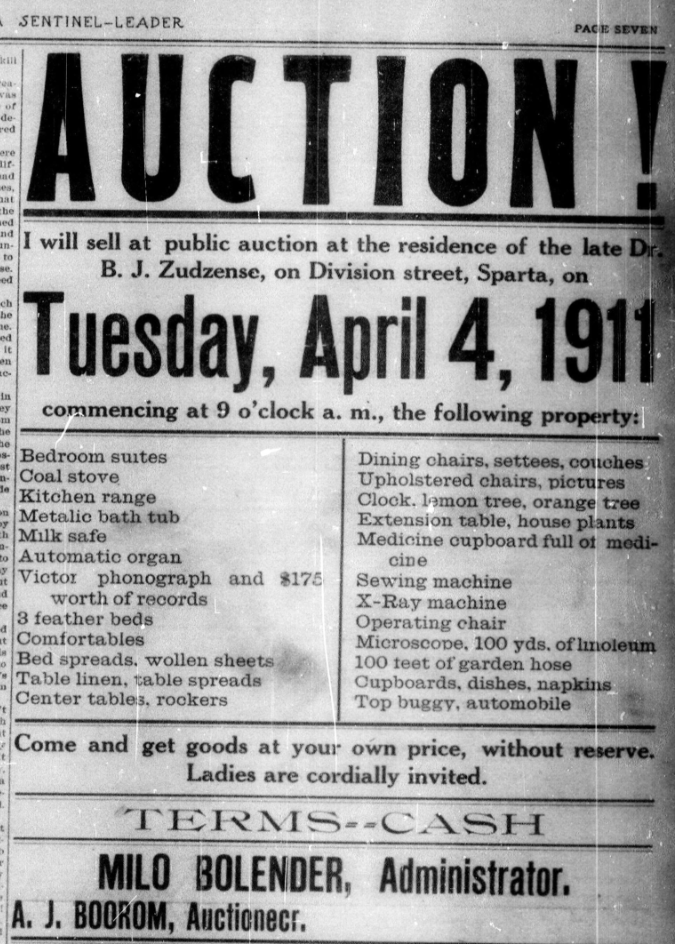 The Evening Press declared:
HEIRS ARE FOUND
Administrator of Zudzense Estate Succeeds in England.
NAME IS DIFFERENT
Nephews and Nieces Are Known as Sussens Family.
Probate Court is Asked to Allow Bolender to Sell Property at Sparta.
Further information concerning the life of Dr Benjamin J Zudzense, Sparta's eccentric citizen who died some time ago, was made public today by the filing of a petition in Probate court asking the right to dispose of about $3,700 worth of real estate now in the hands of Milo Bolender, the administrator. The Zudzense six heirs who were discovered recently by the administrator are members of a family by the name of Sussens.
Bolender was appointed by the court after the will supposed to have been left by Dr Zudzense could not be found and but recently returned from a trip to England where he went to get track of the heirs. The trip was taken at the expense of the estate. That his mission was successful is attested by the fact that waivers allowing the realty sale were secured from the hitherto undiscovered heirs. It is also said that Bolender recovered about $5,000 in securities belonging to the estate from the Bank of England. The heirs signing the waivers are: Martha Pitcher (who was actually Ben's last surviving sibling), Castle Acre, England; Frederick A Sussens, now a resident of Australia; Harriet E Sessions, London, England; Ellen K Sussens and John J Sussens of Gillingham, England; and William E Sussens of Washington DC. The heirs are nephews and nieces of the deceased.
The real estate to be disposed of consists of property located on the banks of Nash creek in Spaarta, valued at $2,000; a lot in Sparta worth $900 and equity in real estate here valued at about $800.
Probably a complete unraveling of the mystery concerning the life of Zudzense will take place when Bolender files his first annual accounting as administrator of the estate.
During his life Dr Zudzense was best known for his attachment to two pet monkeys. Shortly after the death of the doctor one of the animals died. The other is now a stuffed inmate of Kent Scientific museum. The doctor asserted he was able to talk in monkey language to his pets.--The Evening Press was a publication of the Grand Rapids Press, dated 24 Jun 1911
"When he (Dr Zudzense) passed away," Arzie Pinckney wrote, "the property was sold to Mr and Mrs Ed Roberts. He was a carpenter. They had a daughter, Rose, who was a milliner and set up shop in the front of the house. Later the Federal government bought the property and razed the buildings with the intention of building a post office there." Mr Pinckney added, "On July 29, 1959, the Village bought the lots and made it into the present parking lot."
---
DO YOU REMEMBER WAY BACK WHEN...
JOCKO AND JENNIE WERE RESIDENTS OF SPARTA?
Jocko and Jennie were the pets of Dr B J Zudzenzie. There may have been other monkeys in the group but Jocko and Jennie were undoubtedly the favorites.
Spartans of today will recall how they used to run screaming when Jocko and Jennie would get out of their domicile and go wandering or possibly one should say scampering about the town. That was some 30 or 35 years ago.
Dr Zudzenie, a good doctor but an unusual character and sometimes seeming to border on the eccentric, owned the house now occupied by Noble Gaut. In addition to the large screened in outside cage there was a smaller inside cage occupying the front bay window.
The doctor and his monkeys were great pals and the children of the community liked the simians too--when they stayed in their cages. But when they got out, as they frequently did, it was different for the monkeys took a particular delight chasing anyone who would run and with their shrill screams added to that of the youngster it was thrilling indeed.
The monkeys chose any time that was opportune for their wanderings. One Sunday afternoon they made a break and Jocko, or possibly it was Jennie, who was cornered in Rev Caulkins, the Methodist minister's woodpile. The children who got a great thrill in following the doctor at a safe distance, gathered around and watched the doctor entice the monk with a raw egg.
Although it created considerably more than a desirable amount of commotion for a Methodist minister's Sunday afternoon, Rev Caulkins was ver generous and not only contributed the egg to tempt the little monkey from his hiding place in the woodpile but seemed to get considerable amusement from the situation.
With the passing of Dr Zudzenzie, the monkeys passed out of the life of Sparta. Just what became of them I do not recall. Possibly someone will remember whether they were sent to monkey heaven by the sleep route or were given to some one.--by an anonymous "Sparta Sr." published in the Sparta Sentinel-Leader on 15 May 1931
---
Jumanji Sparta Style!
A response was written by pharmacist and a former resident of Sparta, Nora Mitchell. She was the sister of Clara Bolender, Milo's wife.
Over the Pharmacy Counter - Michigan Soldiers Home
By Nora I Mitchell
"THE MONKEYS DIDN'T COME"
Am back "On Duty" behind the Pharmacy counter after a week's vacation in the Northland where the Christmas trees grow in abundance. We traveled miles and miles through a dense forest of evergreen trees on both sides of the road. Spent one day at Sault Ste. Marie and watched six big boats come through the locks. Two of these boats were 600 feet long--big ore boats. These locks are the longest in the world--learned that in the Sparta Monday Evening Club. One night there was quite an argument about it, so it was remembered.
The day we visited Mackinaw Island my sister, niece and I were seated at a table in a cafe on the main street of the city of Mackinaw, eating our dinner when a little lad of not more than six years, in a khaki-colored cowboy suit came in. He strode past us, holding his close cropped tow head high. He walked straight to the counter upon which the big coffee urn was sitting. Evidently, it was his mother who was serving coffee and pouring it, for the waiters to carry to the waiting patrons. Anyway he called out so everyone in the room must hear unless they were deaf. "You told a lie." Then raising his voice still louder, he said, "You told a lie, Mother. You said the monkeys would come and they didn't. And I wanted to see them. You told me a lie." She took the lad into an adjoining room and probably had a conference with him; but he left unconvinced for he sang out over his shoulder as he passed our table on his way to the door, "You told a lie, and you'll go where the devil lives." We were old fashioned enough to cringe at that--a youngster of that age talking thus to his mother. I remarked, "Well, that lad had remembered some good orthodox teaching some one has given him."
The incident brought to my mind what an attraction those two little monkeys in a cage--a part of Dr B J Zudenzense's home--were to the children of Sparta. They were unusual pets, named Jocko and Jennie, belonging to the old doctor. When they escaped from their cage, as they did occasionally, what a scampering of little feet--yes, and older ones too--when the cry went forth, "Old Zud's monkeys are out."
Every new child coming into town was taken down to that end of Main street to see the monkeys; but when they were out no one wanted to get very near them.
I will not forget how frightened the children of our neighborhood were one morning when the monkeys were out and one had bitten a little Johnson girl on the arm. Her home was down on the street where the old Holm plant was built later. She had been to the post office and had stopped for one more look at the monkeys, when they squeezed through the door and attacked her.
What became of Zud's monkeys? Jennie died and was buried by her master. Jocko lived a little over a year after Dr Zudzense died. Then the administrator of the estate finally gave him to the Grand Rapids Museum, and was very glad to be rid of the nuisance. Anyone caring to see Jocko can do so by going into the Grand Rapids Museum, for they made two mounts of him--one of his skin is as natural as life--and also one of the skeleton.--published in The Sentinel-Leader on 21 Aug 1931
---
Good question... what became of the Doctor's Monkeys?
Of course, Nora Mitchell being the sister-in-law of the administrator of the good doctor's estate, Milo Bolender, would be in the know.
SIMIAN DIED FROM GRIEF
One of the Late Dr Zudzense's Pets Leaves Comrade.
Milo Bolender, special administrator of the estate of Dr Benjamin J Zudzense of Sparta, has filed his final account and has been granted permission by the probate court to visit England for the purpose of ascertaining whether or not certain money of the doctor's estate is in the Bank of England, as has been reported.

The doctor was somewhat eccentric and before his death derived much pleasure and companionship from two small monkeys. One of them, following a long period of depression, has died since its owner's death, but whether through loneliness or otherwise is not known. There is now much conjecture in Sparta as to just what effect the two deaths will have on the remaining simian.--The Grand Rapids Herald published 14 Dec 1910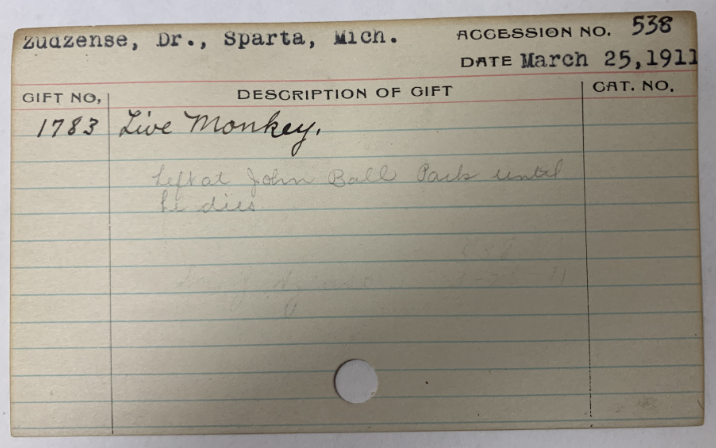 Six months after the doctor's passing and with just one monkey remaining, Milo was eager to place the last little buggar into someone else's care. He tasked Attorney Anderson with writing a letter to Judge Jewell seeking his advice regarding the "disposal of the animal that has become a burden". The Evening Press, a publication of the Grand Rapids Press splashed the headline "GIVE MONKEY AWAY--Administrator of Zudzense Estate Wants to Do It." across the top of an article in their Feb 24th, 1911, issue. It went on to ask, "Who wants a monkey? Not an ordinary one of the common variety, but one which has achieved some fame as one of the collection of the late Dr J B Zudzense of Sparta." With no takers, a month later, the little monkey's ownership was officially transferred to the museum. A penciled notation on the donation card indicated it was "Left at John Ball Park until it dies."
Once in the possession of the John Ball Park Zoo, surprisingly it was only a matter of days before the sole surviving Zudzense monkey made headlines. Although some Sparta residents thought it was Jocko, a news item stated it was Pete. Either way, it was the only one left.
ADDS TO ITS RECORD
Zudzense Monkey Bites Youth at Y.M.C.A. Circus
LACERATES HIS HAND
Simian Puts Up Big Fight Against Ben Fishman.
Amateur Animal Keeper Triumphs After Beast Sinks Its Teeth in His Flesh.
Pete, the only surviving monkey of the pair owned by the late Dr J B Zudzense, once of Grand Rapids, but more recently of Sparta, and which monkey, by his conduct of a few years ago, caused the name of his owner to be published far and wide all over the country and in this part of Michigan in particular, added another to his list of ferocious acts yesterday when he attacked Benjamin Fishman, a young man at the Y.M.C.A. building.

It all began with a dish of water. "You can lead a horse to water, but you can't make him drink," says the old saying, and it also proved true in the case of the powerful simian. He went farther than refuse to drink. He even went so far as to balk at being in a cage in which a pretty saucer competed for honors. Pete was being placed on exhibition as a part of the menagerie of the pet animal show. When young Fishman, assuming the logical and humane conclusion that the honored guest must have something to drink, attempted to insert a dish of water through the door of the wire cage Pete objected and when the young man persisted Pete became real angry and made a ferocious lunge for the attendant. They clinched. The young man grasped the muscular beast by the throat, but Pete got the half-Nelson hold or something like that on his opponent and it began to look like mortal combat.

Pictures of what would happen were the animal to run about at liberty through the otherwise placid quarters of the association building began to present themselves in the mind of Fishman while girl typists, nearly hysterical, shuddered at the sight of the battle. Pete clung like a bulldog. His adversary, impressed with the great responsibility in his keeping, did his best to keep the beast from biting and at the same time preventing his escape.

Lacerates Fishman's Hands.

It was a question of human strength over brute force and the contest was hard. The hero was beginning to suffer excruciating pain and blood streamed from his lacerated hands. The prowess and agile movements of the lithe Pete were tiring the young man. Finally he summoned all the strength and force he had acquired through many hours of practice on the gymnasium floor and managed to hoist the beast before the door of the cage. In another powerful effort he pushed Pete into the cage. Young men barred the door and once more Pete was safe in captivity.

Physical Director F A DuBridge, with the skill of much training, knew what to do for the patient. It was found his hands were painfully gashed. Pete carried off a small portion of flesh of the left hand, and there were numer(?)-of both hands and there were cuts in one wrist. Mr DuBridge treated bandages, and it is not expected and serious complications will develop. Mr Fishman has a consolation: Pete lost a big molar tooth in the combat. But he has another reason for rejoicing, Pete's days in the land are numbered. He is to be chloroformed, according to the will of his old owner, if suitable care could not be given him, and if it became necessary as a last resort. Pette is now the property of Kent Scientific museum, to which he was presented by the administrator of Prof. Zudzense's estate. The animal will be mounted and placed on exhibition at the museum.--printed in the Grand Rapids Press as The Evening Press on 31 Mar 1911, pg 19
Where to begin? This was entirely preventable. The monkey should never have been sent to such an event. It is unclear whether Fishman was associated with the Y.M.C.A. or was just a bystander. Regardless, he had no business opening the cage for any reason whatsoever and his ineptitude was directly responsible for his own injuries. Shame on whoever wrote this piece of yellow journalism, as they sensationalized the story and demonized the monkey.
"Poor Petie," commented John Ball Zoo's Stacey Snyder, "it looks like he was euthanized for behaving like a monkey."
Sparta Builders
A few years ago, someone left an envelope on the doorstep of the Myers School House Museum. Among the items included in the envelope was a certificate from the State of Michigan incorporating "Sparta Builders" on the 7th day of September, 1945. Also included are stock certificates issued to the original members of the corporation. This interested me because while doing research for the book Sparta Township, I found a photocopy of an article written about this group of men and not only their desire to build homes for one another, but to address the need for affordable housing in post WWII Sparta.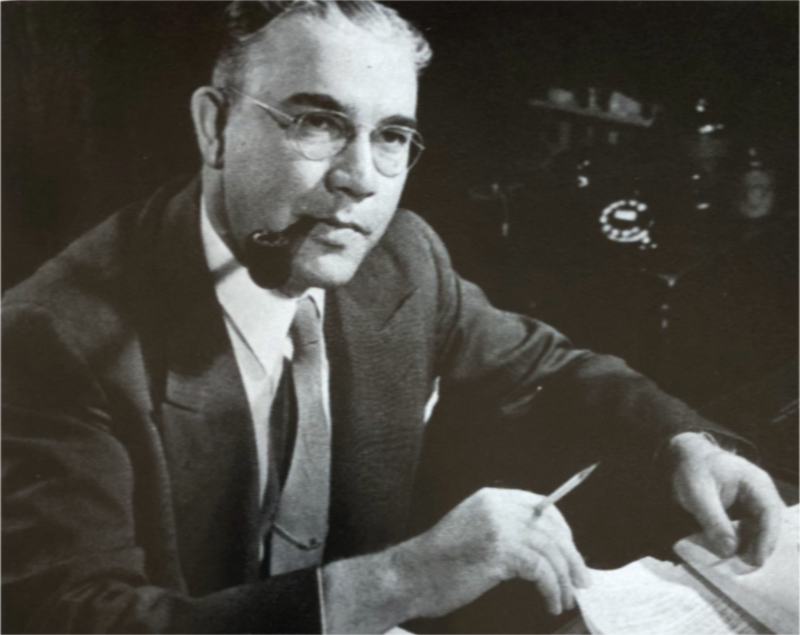 This article is dated Friday, June 6, 1947. By now, according to the article, "Plugging away Saturdays and every night except Sundays, eight Sparta men are helping each other build new homes at low cost in a cooperative project that is unusual in western Michigan in these times."
Although not experienced builders, these men had two things in common: a housing problem and the will to work. These were all men who lived, worked, and raised their families in Sparta. They had a stake in Sparta's growth and all worked at the Muskegon Piston Ring or the foundry as it was called by most. They were: O.C. Hansen, Carl Rowe, Ed Armock, D.J. Moore, Forrest Burgess, Chester Amburgey, P.W. Gibbs, and Lewis Chapman. Each contributed $300.00. This money was used to purchase building materials. One of the difficulties during the war was obtaining cement, but by the time the men began building homes, cement was plentiful again. Additional capital was furnished by a local bank although the construction was largely financed by one of the founders of MPR, Harold Vaughn. The men repaid him when they were able. The estimated cost for each home was $4,800.00 to $5,000.00, not including the lot. As the homes were finished, each owner obtained a mortgage and paid the corporation.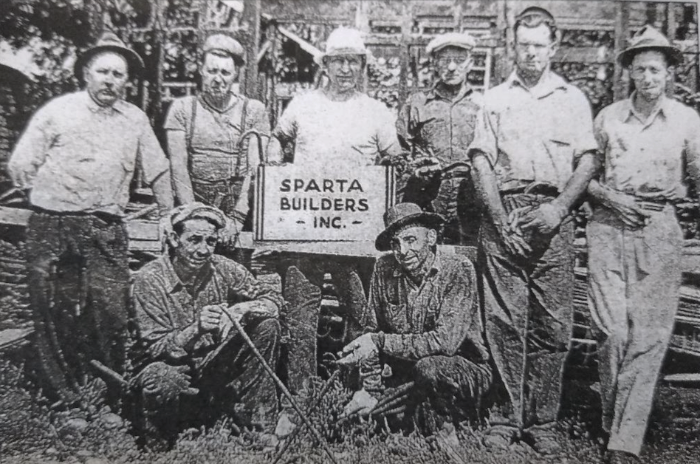 Eventually, three of the original eight men dropped out: two for health reasons and one moved out of the area. The remaining five bought their shares in the corporation.
According to Ric Gibbs, son of P.W. Gibbs, "None of the men would have been able to build a home for their families without Vaughn's help. Mr. Vaughn was a saint. It was unbelievable what he did for those guys." The Sparta Builders each owned shares in the business with Ed Armock and O.C. Hansen owning slightly more than the others. Rules of the company gave the President and the Secretary the power to mortgage the properties.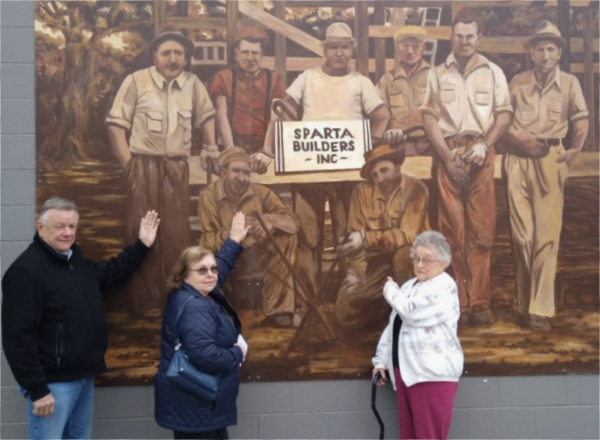 Paul Swanson, nephew of O.C. Hansen, says, "Uncle O.C. came from Denmark. The story I remember was that, growing up in Denmark, he had an apprenticeship, perhaps as a blacksmith. When he came over here, he was an engineer at the foundry and I think that position grew from the apprenticeship. He'd always tell my dad-you can learn anything from a book-and that's what he would do. That's what I think when I think about them (the builders) going about this construction. I think a lot of that was just book learning. If he needed to know what was what, he went out and found out. He probably looked in the library-he researched it."
Donna Lister, daughter of Chester Amburgery (born in 1918), recalls, "I don't think mom would let my dad do much after work because they had three girls a year apart. My mother did all her canning after 7pm when we girls had gone to bed. And so I think he was more into helping her when he got home from work."
Marsha Reister, daughter of Lewis Chapman (born in 1913), "My dad always had a second job because he had to be doing something. And he worked for the village for a lot of years. He'd get done at the foundry, then go to work for the village. We also had a number of kids, I think that was half the reason… kids made him nervous, so I think that's why he found other jobs to do all the time."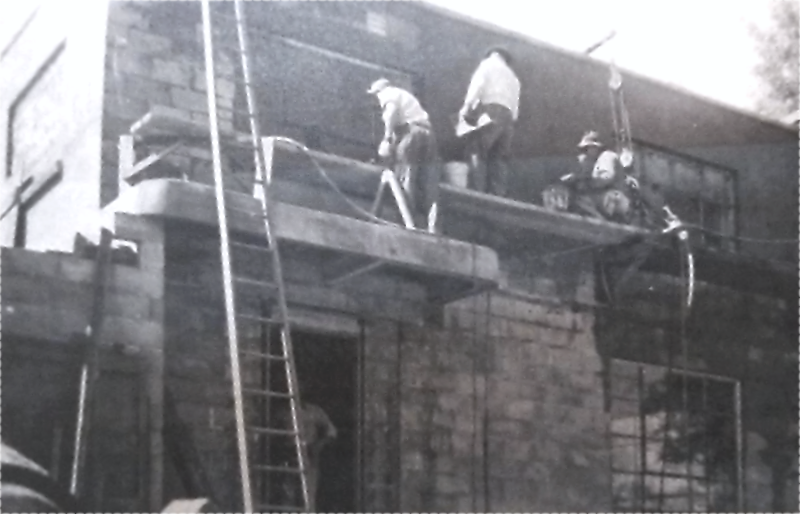 Geri West, daughter of Ed Armock, remembers when she was a young girl going to the Depot on Elm Street (West Railroad), to salvage wood for projects of the Sparta Builders.
Jim Lyals remembers that O.C. Hansen was the engineer, Carl Rowe handled the finances. Each member had shares, some more than others. As the business moved along, things were still tough and some sold their shares. Carl Rowe eventually left the foundry and moved to Wisconsin. Jim got to know some of these people because his mother cleaned homes. Jim remembers Carl Rowe was quite a guy and Oswald Hansen was very smart.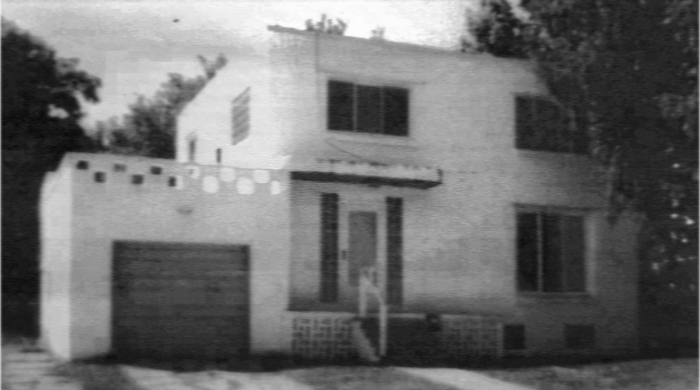 When the men finished their homes, they went on to build several additional homes around the village. One at 36 East Gardner Street, was the home of O.C. Hansen and is typical of some of the concrete homes built in 1947. The home still stands on East Gardner, two houses behind what was once the site of Badergow's Store (now the Admiral Station). Built at the cost of $5,000.00, the house features a flat roof and glass block windows. Originally it had a fireplace, dining room, kitchen and lavatory on the first floor. The second floor had three bedrooms and a bath. A recreation room, fireplace, laundry and refrigeration room were in the basement.
Toward the end of my research, I asked my parents if they remembered these men and the homes they built. I was surprised to learn that not only did they remember, they eventually bought one of the homes. The house were I grew up, 148 Pine Street is one of three homes on that street built by men with a vision for the future. For their work and dedication to their hometown, we can be grateful.
Submitted by
Jim Lyals
Larry Carter
Jayne Heath
JoAnne VanderWerff
Sparta's Easter
Bunny Helper
Leading up to Easter in the 50's and 60's, Sparta's Lillian Bradford spent many hours at the Ben Franklin store basement. She had the task of creating special Easter baskets for sale in the store. She took her "Easter Bunny helper" job very seriously for about twenty years.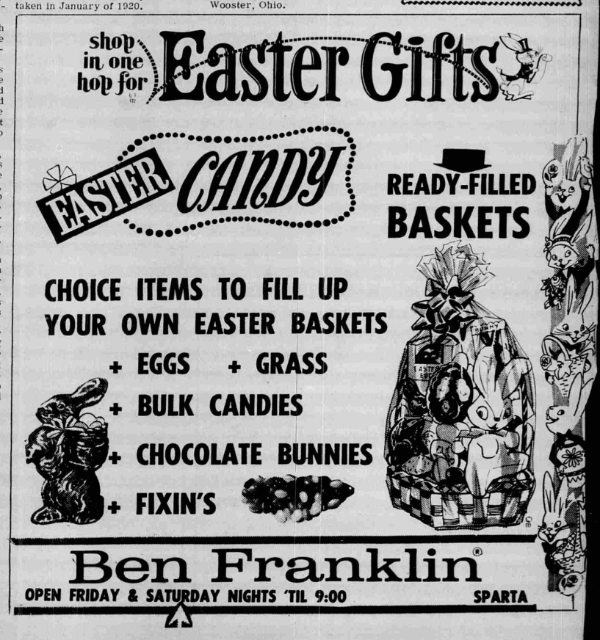 Typically, she would start with a bright multicolored basket which she filled with green stringy grass. Each basket was created individually. Sometimes a sand pail and shovel or plastic dump truck were used in place of the basket. A small toy would be in each one like a stuffed bunny for a girl and toy truck or boat for a boy. For a special surprise, Lillian might have included a jump rope, bubbles to blow, wood paddle with a ball, yo-yo, or a bag of marbles. Often, the featured item was a tall mouthwatering chocolate bunny. Marshmallow eggs, yellow peeps, and colorful jelly beans would be lying in the grass. Cellophane wrap would finish the basket gathered at the top with bright colored ribbon in bows and curlycues. Lillian's creations lined the store shelves just waiting to delight Sparta area children on any Easter Bunny's list!--by Adele Jones
Lillian Bradford
In 1931, at the age of 19 and as a new bride, I moved to Sparta. The only person I knew was my husband, LD Bradford. We purchased the house where I still reside on Centennial Street. The house had also belonged to LD's father, Harry Bradford, grandfather Perry Bradford, and great-grandfather Moses Bradford. There were many relatives to the Bradfords including the Colbys and the Penningtons. There were Sunday dinners at each others homes and reunions at Camp Lake. I soon got acquainted and made friends.
Sparta was a busy town for its size. The Sparta Foundry, Carnation Milk Plant, and Welch Manufacturing were the industries. One thing that fascinated me about Sparta was that in my home town the only store close by was a small grocery store. For anything else, we took the bus downtown. In Sparta, within two blocks there were two churches, a post office, a dime store, two grocery stores, two meat markets, a hardware store, and a large clothing store. The countryside was beautiful with its cherry, peach, and apple orchards and lots of lakes.
I fell in love with Sparta and we raised our five children here. During those years, I was involved in Girl Scouts, Boy Scouts, PTA, and other school activities. Also, a quilting club. I worked at Finches Meat Market and the Ben Franklin dime store. For many years, I was the village Easter Bunny providing the baskets full of goodies sold at the variety store. I have never had a desire to live elsewhere.--by Lillian Bradford, 6/19/1996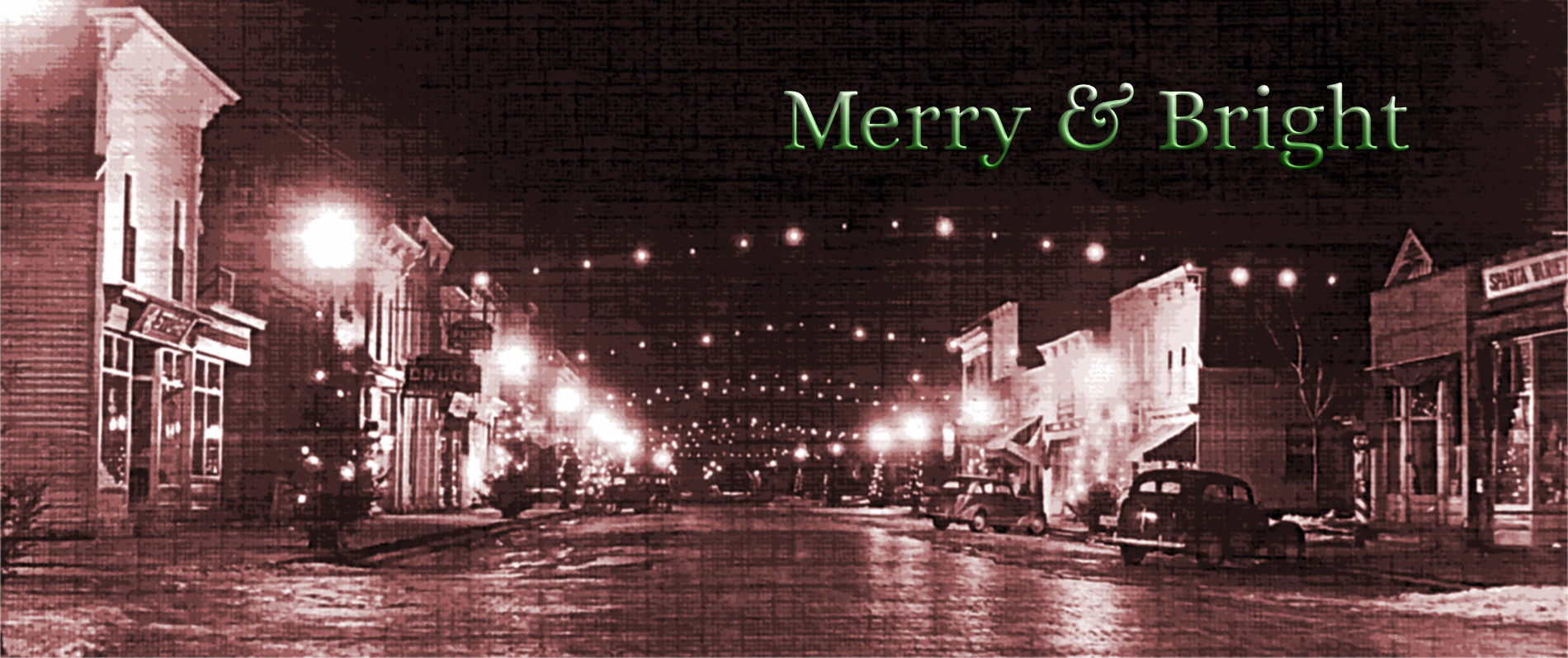 A Very Sparta
Christmas
Christmas in Sparta is a time of merrymaking and reflection for people of all ages. In good times and bad, the community has always made an effort to spread joy of the season with a message of peace and goodwill to all.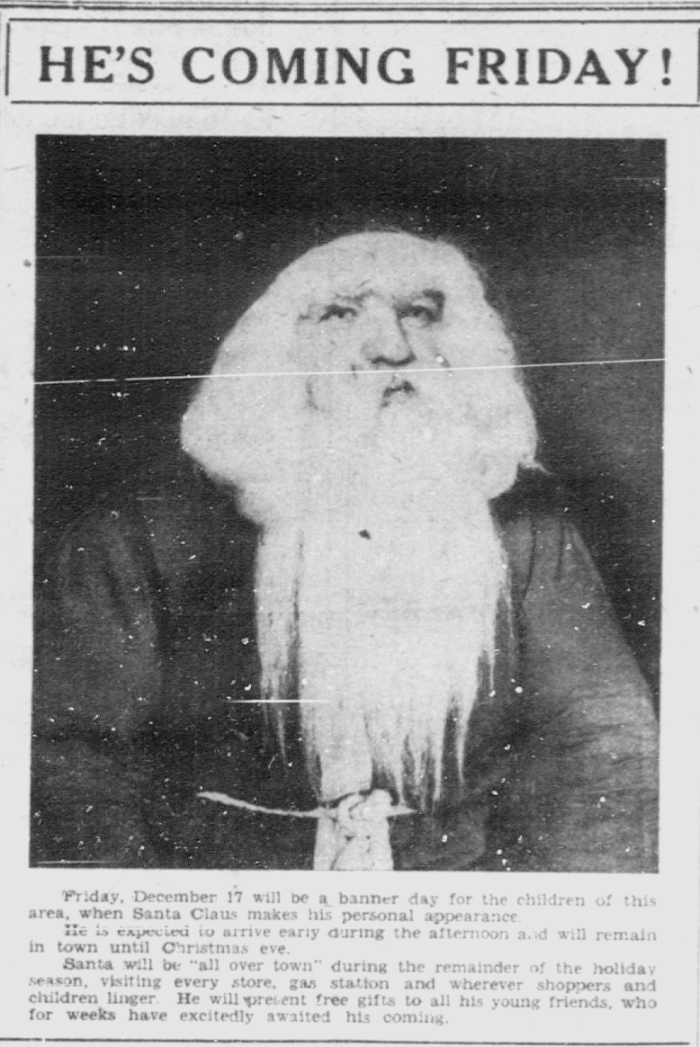 I Remember: Santa Claus is Coming to Town
by Arzie Pinckney
published in The Sentinel-Leader
When Santa came to Sparta the first time was around 1925-26 and was a one day event. Santa and his wife with 2 little helpers. Arzie Pinckney was Santa, Mrs. Claus was Bill Axford, and Don Warren & Merlin Robinson were helpers.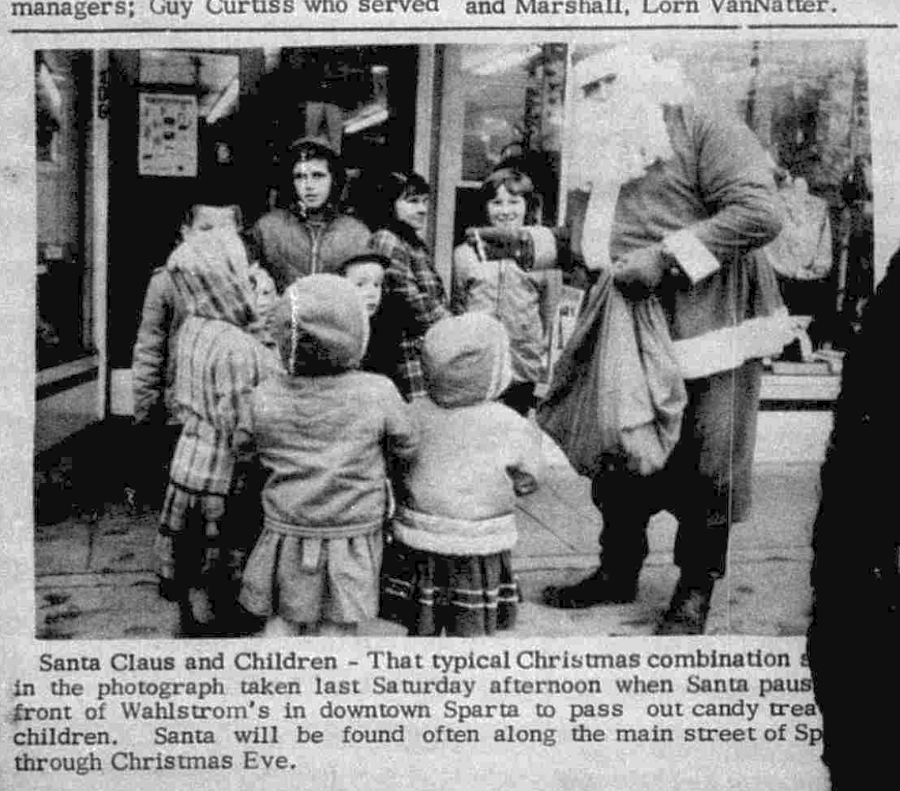 The idea was from the American Legion & Sparta Chamber of Commerce. Adrian Finch's little grocery store was where the Bow Tie is at 10 Mile & Alpine and they all dressed up there and waited for the afternoon Greyhound coming from Grand Rapids and loaded on to Union Street and Division at the bus stop. A truck met them and drove them around the Village and came back to the corner and handed out candy and nuts, went back to Finch's to change clothes.
Next year, Santa came for one day and George Bettes took the job of Santa but there was no snow so he flew in on an airplane. West of South State Street and South Street there were very few homes and a lot of open land to set the plane down and take off.
The next year the committee decided to have Santa come for a week before Christmas and be on the street each night. That caused a problem in finding a Santa to work that schedule. Ivan Walcott was Sparta's next Santa for two years.
Some of the other Santas were Bert A.C. Nokes for a number of years. Others: Warner (Pops) Sigel, Lenys Straight, Pete Prenger, Bill Fitzgerald, Jim Fales, and Dudley Planter. Dudley was from Conklin so he came with a pair of ponies.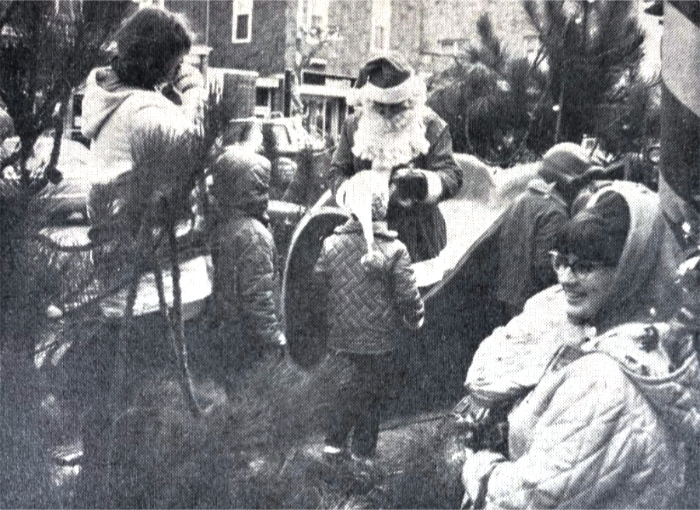 Editor's note: Nearly a century has passed since our first Santa, Arzie Pinckney, came to town. Over the years, local men and women took on the role of Sparta's jolly old St. Nick and Mrs. Claus as they brought candy canes, gifts, and joy to thousands of area children. some of the others who carried on the tradition, wore Kris Kringle's boots, and put on the red suit were Lowell Heath and Bill Traxler.
I can still hear the sound of bells around town as Santa exclaimed, "Ho-ho-ho! Merry Christmas!" (If you know of another Sparta Santa, please let us know.)
Currently, Sparta's official Mr & Mrs Claus are Skip & Mary-Ann Meyers. Paul Rogers asked Skip to take on the role about fifteen or twenty years ago when Santa's house was a wagon parked outside of Choice One Bank. These North Pole visitors arrive for Sparta's parade and make special appearances around town during the Christmas season.
Ned Rouse, brought Santa Claus to children since the mid-1980s in many venues around the state, often singing and performing. His wife, Sara, accompanied him for several years and the jolly couple have been seen at local home visits. Both are Sparta graduates.
A Letter from Santa Claus
Hi Boys and Girls:
Do you believe in Santa Claus? Well, if you don't, you will be next Saturday because I am coming to Sparta in person that day and you will see me in my red suit with my white whiskers, and do I look swell! O, boy!
I am coming a whole week before Christmas because I happen to be near Sparta on business and will be glad to stop off and see all my little friends that day. But don't worry, I'll be back again Christmas eve, only perhaps you won't see me because you will be sound asleep.
The most exciting part about this trip is that I am coming by airplane and will arrive about 2 o'clock Saturday afternoon in the landing field near the Lone Elm.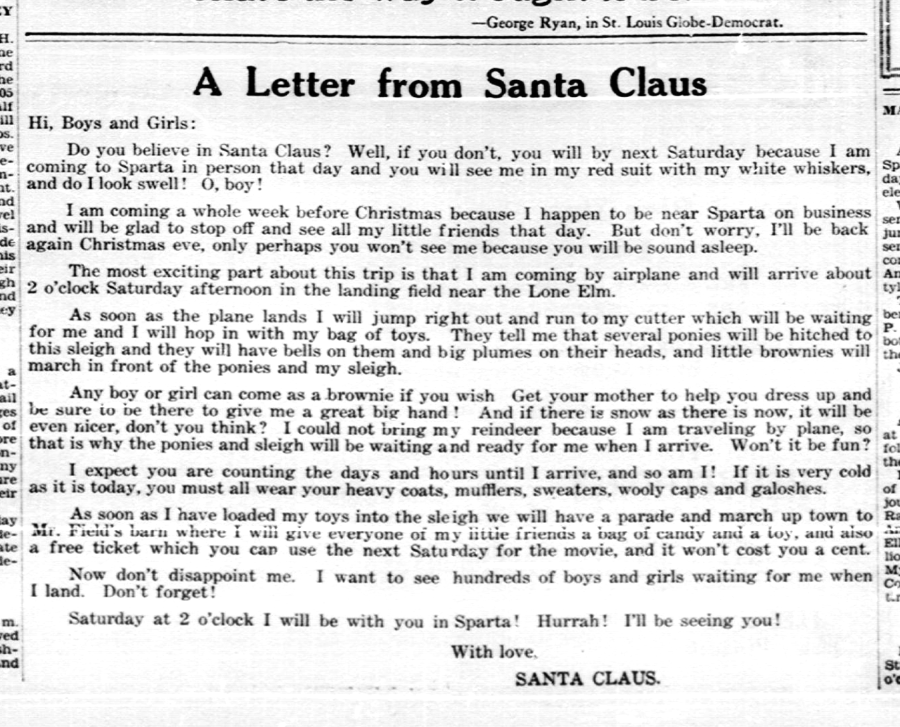 As soon as the plane lands I will jump right out and run to my cutter which will be waiting for me and I will hop in with my bag of toys. They tell me that several ponies will be hitched to this sleigh and they will have bells on them and big plumes on their heads, and little brownies will march in front of the ponies and my sleigh.
Any boy or girl can come as a brownie if you wish. Get your mother to help you dress up and be sure to be there to give me a great big hand! And if there is snow as there is now, it will be even nicer, don't you think? I could not bring my reindeer because I am traveling by plane, so that is why the ponies and sleigh will be waiting and ready when I arrive. Won't it be fun?
I expect you are counting the days and hours until I arrive, and so am I! If it is very cold as it is today, you must all wear your heavy coats, mufflers, sweaters, wooly caps and galoshes.
As soon as I have loaded my toys into the sleigh we will have a parade and march up town to Mr. Field's barn where I will give everyone of my little friends a bag of candy and a toy, and also a free ticket which you can use the next Saturday for the movie, and it won't cost you a cent.
Now don't disappoint me. I want to see hundreds of boys and girls waiting for me when I land. Don't forget!
Saturday at 2 o'clock I will be with you in Sparta! Hurrah! I'll be seeing you!
With love,
SANTA CLAUS
Big Santa Claus Parade
Sparta
Saturday, December 22, at 2 o'clock
Highlights of the Parade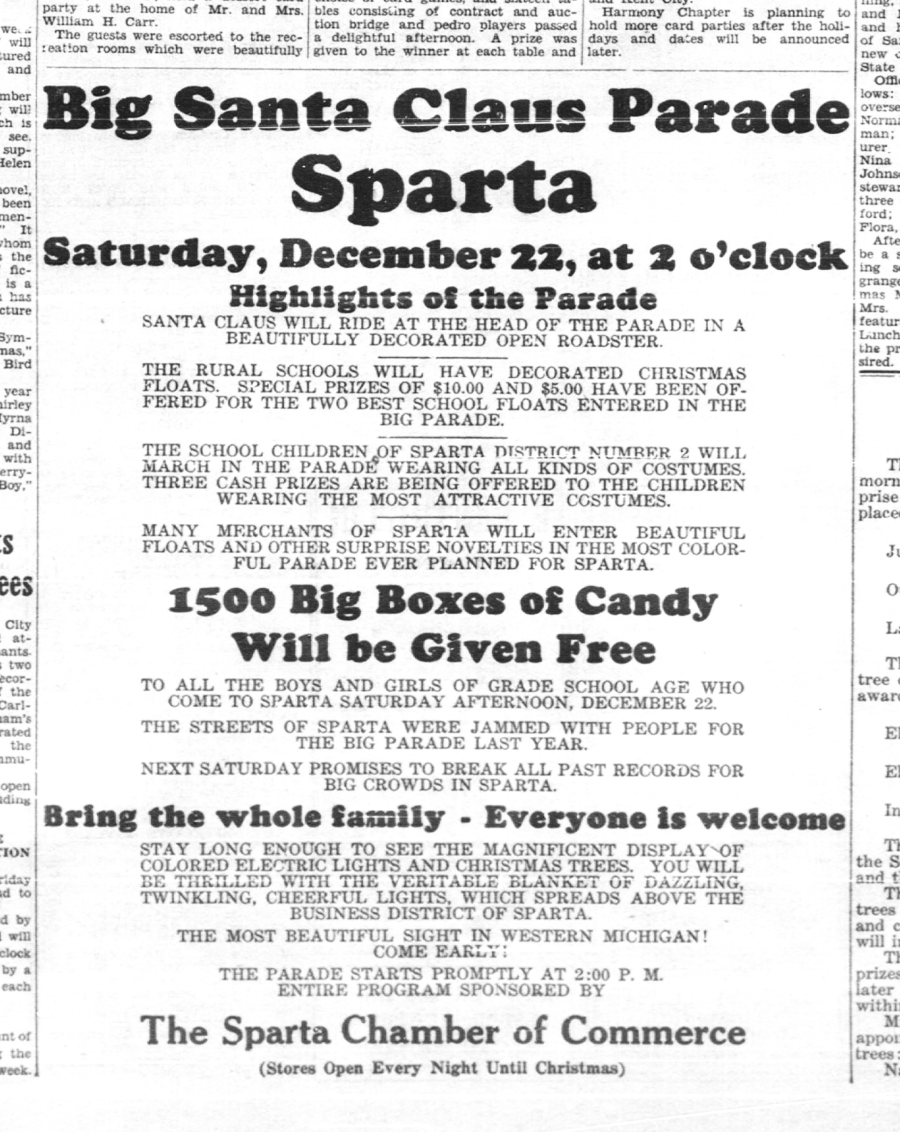 Santa Claus will ride at the head of the parade in a beautifully decorated open roadster. The rural schools will have decorated Christmas floats. Special prizes of $10.00 and $5.00 have been offered for the two best school floats entered in the big parade. The school children of Sparta District Number 2 will march in the parade wearing all kinds of costumes. Three cash prizes are being offered to the children wearing the most attractive costumes. Many merchants of Sparta will enter beautiful floats and other surprise novelties in the most colorful parade ever planned for Sparta.
1500 Big Boxes of Candy Will be Given Free to all of the boys and girls of grade school age who come to Sparta Saturday afternoon, December 22.
The streets of Sparta were jammed with people for the big parade last year. Next Saturday promises to break all past records for big crowds in Sparta.
Bring the whole family - Everyone is welcome
Stay long enough to see the magnificent display of colored electric lights and Christmas trees. You will be thrilled with the veritable blanket of dazzling, twinkling, cheerful lights, which spreads above the business district of Sparta.
The most beautiful sight in western Michigan! Come early!
The parade starts promptly at 2:00 P.M. Entire program sponsored by The Sparta Chamber of Commerce (Stores open every night until Christmas)
How successful was the Santa Claus event in 1933? It was a resounding success. The Chamber of Commerce's promotion of their 1934 extravaganza described expectations it would top the ginormous turn out from the year before. Keep in mind, these efforts took place during the Great Depression, a time when the average national unemployment rate was at 26%, but the hardest hit state was Michigan with a 34% jobless rate. In spite of these circumstances, the people and businesses of Sparta created a memorable celebration and brought the priceless gift of joy to the area children.
My Christmas
Memories
by Adele Bradford Jones
He sees you when you're sleeping,
He knows when you're awake,
He knows when you've been bad or good,
So be good for goodness sake!
Sparta has always been a very special place to live and grow up. Christmas was especially so. The holidays brought colored lights strung across main street downtown. The Sparta Theater had a Santa and sleigh above its doors. Store windows were decorated and full of ideas for Christmas gifts. There was an automated Santa that waved from the window at Sherry's Furniture and Gifts. In fact, there is an exciting rumor that Santa may appear again soon in a window at the Sparta Township Historical Commission Research Center across from the Sparta Library.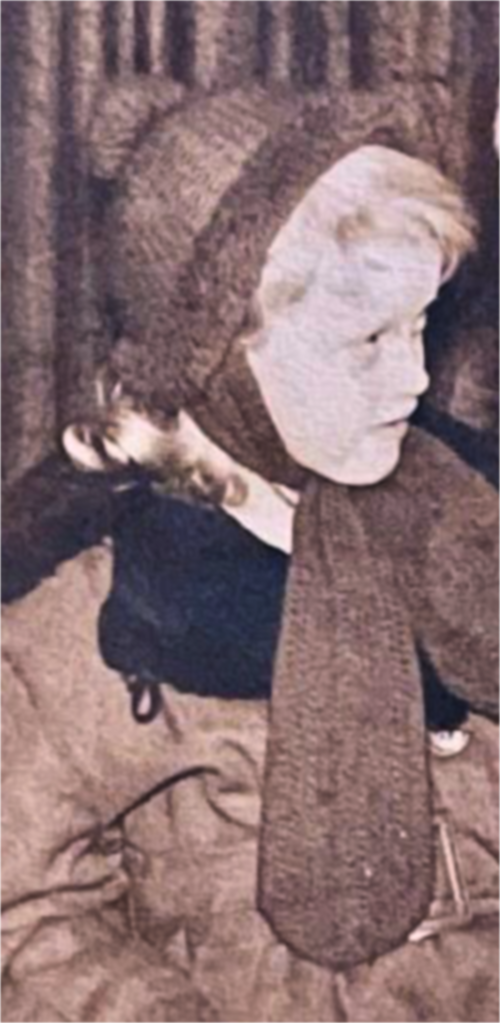 One of my reasons for writing this story is in response to the song lyrics I started with. When I was about five, I remember feeling Santa was keeping an eye on us during the Christmas season. After all, he was spotted occasionally downtown walking the sidewalks of Sparta and glancing in our windows after dark to see if we've "been bad or good so be good for goodness sake"! We were probably listening to Christmas music on the radio or watching a Christmas special on our little 9" TV after we got it in 1950. That little TV is now on display at the Sparta Meyers Schoolhouse Museum. It just might appear in the window with Santa this holiday.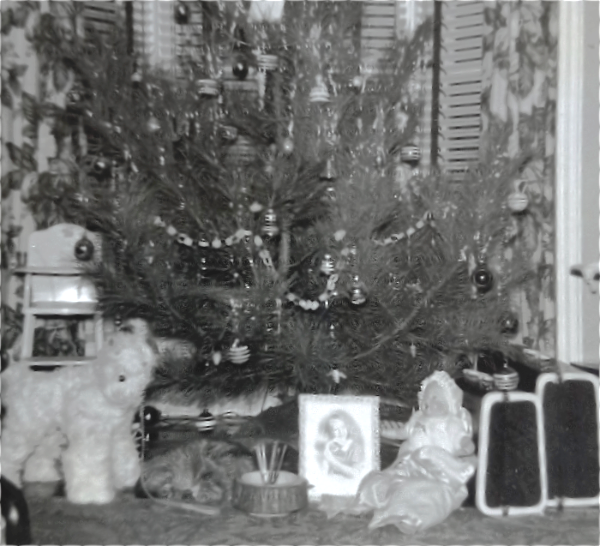 Back in the 50s, we always had a real Christmas tree with colored lights including some bubble lights. We likely picked out our fresh tree at Montgomery's tree lot behind Badgerow's store (a favorite hangout for kids to get their candy and ice cream treats). Dad would let us get our tree one week before Christmas and it stayed up in our front bay window until New Years. Going to bed on Christmas Eve, I remembered being concerned Santa would try slipping down our chimney, which would land him right into our coal furnace in the basement! Dad would always comfort us by saying Santa knows when to use the front door that would be unlocked.
Christmas mornings, we could first check our stockings that Santa had carefully filled. There was always an orange in the toe and a candy cane. One of my favorite mornings, I received a 1950s style Ginger doll with clothes. Christmas dinner might include some Swedish potato sausage from Finch's Meat Market, our decorated cut-out cookies, homemade mincemeat pie, and Grandma Bradford's whipped cream cake.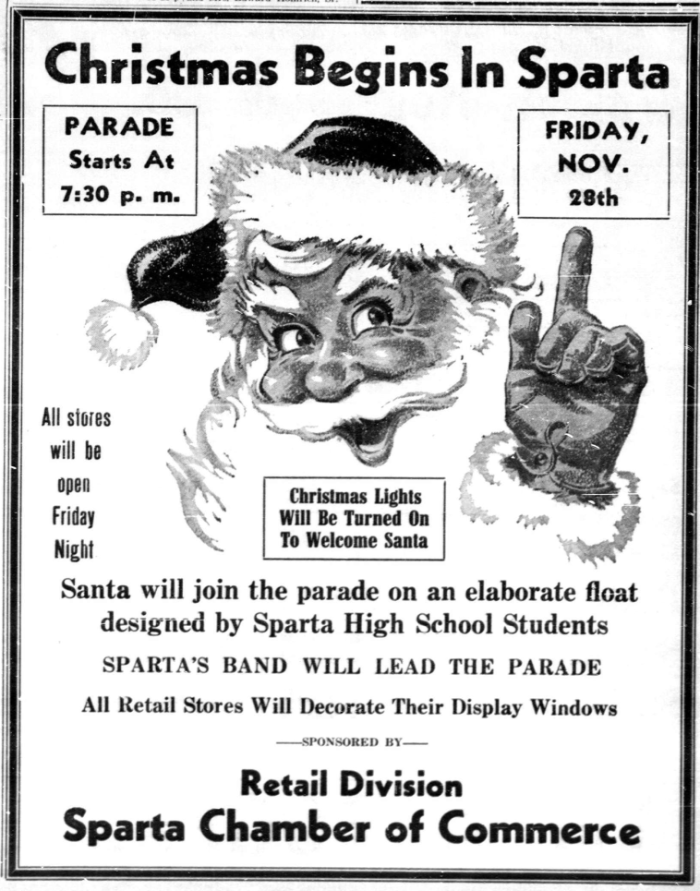 In my early teens, my best friend Marilyn Miller and I enrolled in a Christmas Club at the Sparta State Bank. Fifty cents a week led to getting a $25 dollar check about Thanksgiving. At that time, there was a Greyhound bus that came to Sparta mornings and traveled to downtown Grand Rapids, coming back to Sparta around 6:00 pm. We would take our $25 and catch the bus next to Wolf's Drugs (maybe fifty cents round trip). The department stores like Wurzburg's and Herpolsheimer's had automated holiday window scenes, but we especially loved the old dime stores like Kresge's and Woolworth's! We would shop for family Christmas gifts and catch the bus home. Looking back, that $25 sure could go a long way. These were such great adventures years ago!
Shopping in Sparta might include Christmas cards from Momber's, perfume from Wolf's Drugs, a poinsettia from Ostman Floral, rolls and bread from Paris Bakery, maybe something special for dad from Western Auto or Roger's Hardward, and something sparkly from Paul Lawrence or Hammer Jewelry for mom. Lunch might have been burger, fries, and cherry coke at the B & T or Bob's Lunch. There were gifts for everyone at Carl Wahlstrom Federated or the Ben Franklin 5 & 10. Wouldn't it be delightful to be able to visit that Ben Franklin store one more time! These are only a few of our favorite places in Sparta in the '50s.
My dad's last Christmas in 1994, we had the Sparta Santa visit to Mom and Dad's house. Dad said, "Santa, I haven't seen you in a long time." We had him bring a box of Russell Stover chocolates just like Dad would bring home every Christmas from the Muskegon Piston Ring in Sparta for many years.
I still remember those feelings of security and love right here in our little town of Sparta. I am so blessed, that in my seventies, I still have these wonderful memories.
Contact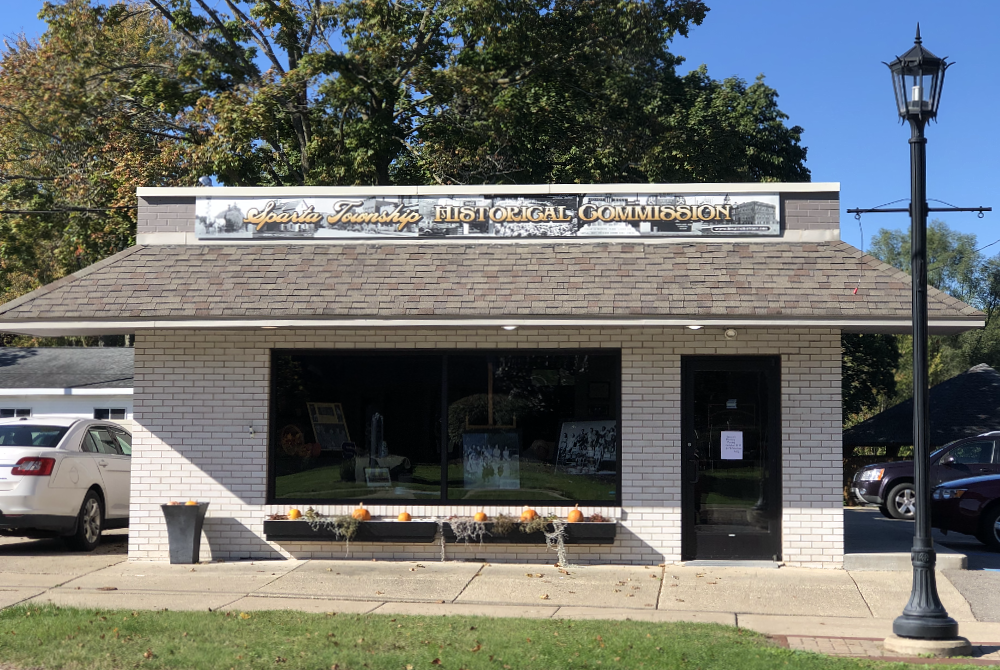 Our History Center is conveniently located at 71 North Union Street in downtown Sparta. Please join us for coffee and lively conversation on Monday mornings. Visits to the History Center can also be scheduled by appointment, for your convenience.
We do not receive mail at the History Center, instead, please use our mailing address, which is:

attn: Sparta Township Historical Commission
Sparta Township
160 E. Division St.
Sparta MI 49345
For inquiries of all types, the Sparta Township Historical Commission can be reached by phone at: 616.606-0765 or via email at the following address: