The Camp Boys Come to Town
Frank Edward Camp was born in 1894 at Grand Rapids, Michigan, the eldest son of Alpine Township farmer, Elihu Faxon & Rebecca (Knowlton) Camp. At sixteen, the family resided in Grand Rapids where the father was a mail carrier and the son drove a wagon for a bakery. Later, Elihu left the hustle of the city and moved to Lisbon, in the southwest corner of Sparta Township.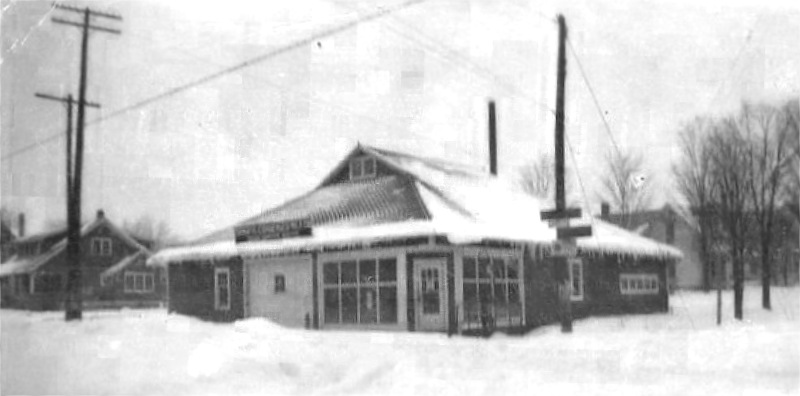 At twenty-two, Frank married Luella Hall, daughter of Alfred & Anna (Lawson) Hall. Less than a year later, on June 5, 1917, Frank Camp completed his World War I draft card and indicated his occupation was "auto repair". Before long an opportunity transported the young mechanic to Sparta.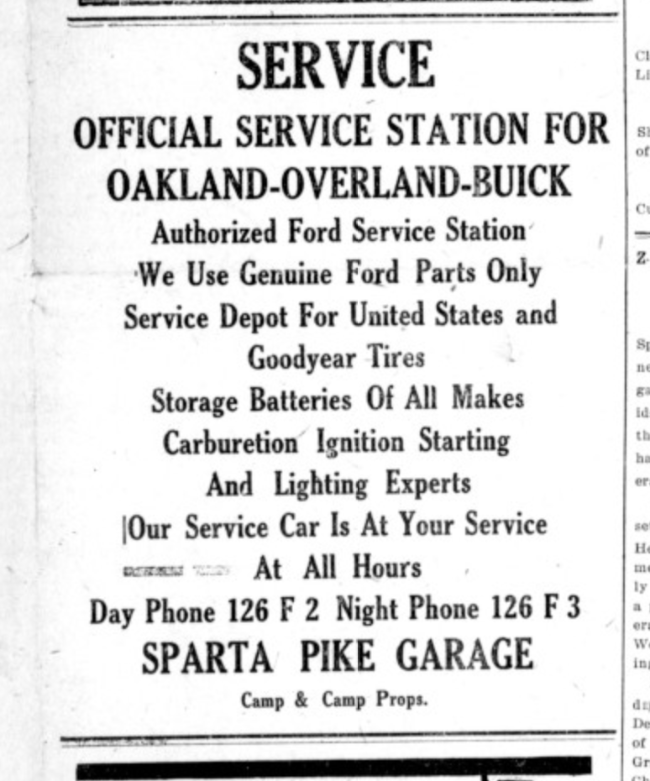 In 1919, the local paper reported that Lester and Frank Camp had bought the Sparta Pike Garage. The full service auto repair business was ideally located at a busy crossroads; the northwest corner of the intersection of what is now State and Division Streets. The pair of proprietors purchased their new venture from Charles Lafayette Meek, an automobile dealer who most notably sold the awesome Willys-Knight touring car.
As the 1920 Federal Census was enumerated on January 10th, Frank, Louella, and one-year-old Frank Jr. lived in a duplex on Gardner Street while he worked on his "own account" at his "Garage". Just the day before, the Camps bought a large advertisement on the front page of the Sparta Sentinel-Leader. Directed at "MR. CAR OWNER" it asked: Is there anything that sounds nicer than a smooth-running motor? And what is nicer than to know that when you come to a hill that it is going to speak right up when you step on it and not cough and sputter and miss when you need all the power you've got. Besides a car that is running smooth and nice will save you money on gasoline and oil and that is a big item today in the operation of a motor car. The ad went on to solicit business to "let us overhaul your car this winter", it stated they used "genuine Ford parts only", and also promoted the sale of new 4-volt, 6-volt, and 12-volt batteries complete with "a written guarantee".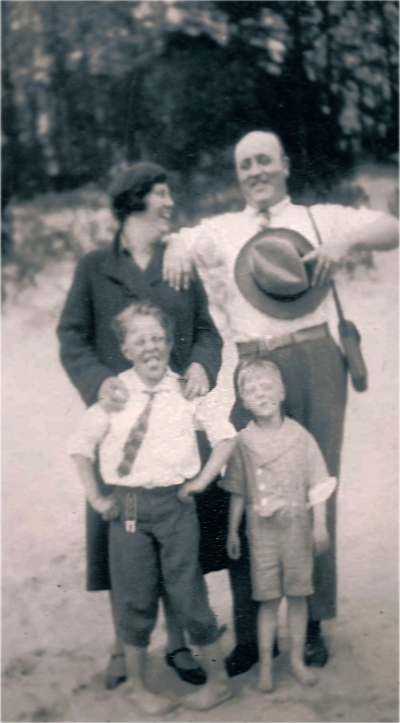 Coincidentally--or maybe not so coincidentally, on the very same day, said newspaper published an eyebrow raising top-of-the-front-page story, above the Camps' ad. Whether in jest--or not, surely it was the talk of the town. The shocking headline read:
FRANK CAMP'S GUARANTEE NOT ALWAYS GOOD

"Lester, what was that tube of stuff you put out there along of my toothbrush?" gasped Melissa as she choked and sputtered over the kitchen sink.



"Guess that must have been my tire cement," said Lester as he edged nearer to the outside door.

"Tire cement, tire cement" gurgled Melissa. "Lester, for all these years I've tried to bring you up in a Christian and civilized way. I've done your washin' and mendin' and scrubbin' and cleanin' and looked after you like a faithful wife an' you promised to cherish an' to be tender of me, an' now you get more distrustful every day you live. Do you want to drive me to an untimely grave and make this house a hell to live in an' bring on premature gray hairs to my head? Say Lester !!!! ****?"

But Lester had gone.

"Say Frank," challenged Lester to the junior partner at the Sparta Pike Garage, "thought you said that tire cement would stick anything together. Now I'm tellin' ye it won't--I've been tryin' it. An' say can I sleep in your office tonight?"
Old Lester was indeed a slippery one! Search as I may, I can't locate a trace of him or his wife, Melissa, in any old records. How or even if the two Camp business partners may have been related and what became of Lester remains a mystery.
As is the case with many businesses--and life in general, the Camps moved on. In 1930, Frank lived over the line in Ottawa County at Chester where he continued to support his family as an auto mechanic. Later, he became the service manager for Decker Chevrolet at Holland. Frank and his family often paid visits to their Sparta friends, which were noteworthy enough to be mentioned in the newspaper.
Sparta Builders
A few years ago, someone left an envelope on the doorstep of the Myers School House Museum. Among the items included in the envelope was a certificate from the State of Michigan incorporating "Sparta Builders" on the 7th day of September, 1945. Also included are stock certificates issued to the original members of the corporation. This interested me because while doing research for the book Sparta Township, I found a photocopy of an article written about this group of men and not only their desire to build homes for one another, but to address the need for affordable housing in post WWII Sparta.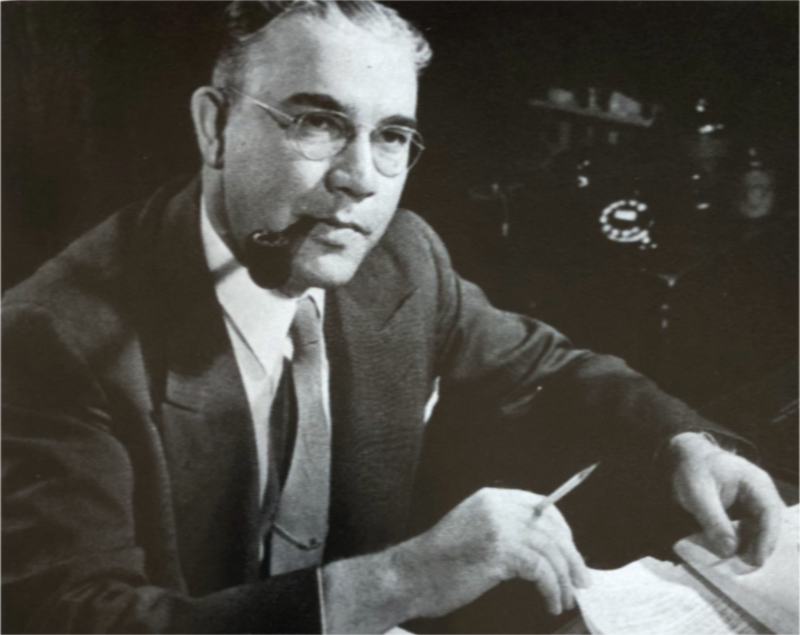 This article is dated Friday, June 6, 1947. By now, according to the article, "Plugging away Saturdays and every night except Sundays, eight Sparta men are helping each other build new homes at low cost in a cooperative project that is unusual in western Michigan in these times."
Although not experienced builders, these men had two things in common: a housing problem and the will to work. These were all men who lived, worked, and raised their families in Sparta. They had a stake in Sparta's growth and all worked at the Muskegon Piston Ring or the foundry as it was called by most. They were: O.C. Hansen, Carl Rowe, Ed Armock, D.J. Moore, Forrest Burgess, Chester Amburgey, P.W. Gibbs, and Lewis Chapman. Each contributed $300.00. This money was used to purchase building materials. One of the difficulties during the war was obtaining cement, but by the time the men began building homes, cement was plentiful again. Additional capital was furnished by a local bank although the construction was largely financed by one of the founders of MPR, Harold Vaughn. The men repaid him when they were able. The estimated cost for each home was $4,800.00 to $5,000.00, not including the lot. As the homes were finished, each owner obtained a mortgage and paid the corporation.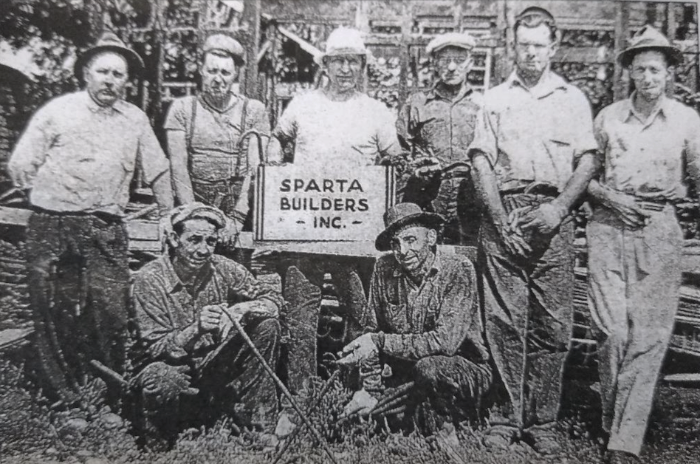 Eventually, three of the original eight men dropped out: two for health reasons and one moved out of the area. The remaining five bought their shares in the corporation.
According to Ric Gibbs, son of P.W. Gibbs, "None of the men would have been able to build a home for their families without Vaughn's help. Mr. Vaughn was a saint. It was unbelievable what he did for those guys." The Sparta Builders each owned shares in the business with Ed Armock and O.C. Hansen owning slightly more than the others. Rules of the company gave the President and the Secretary the power to mortgage the properties.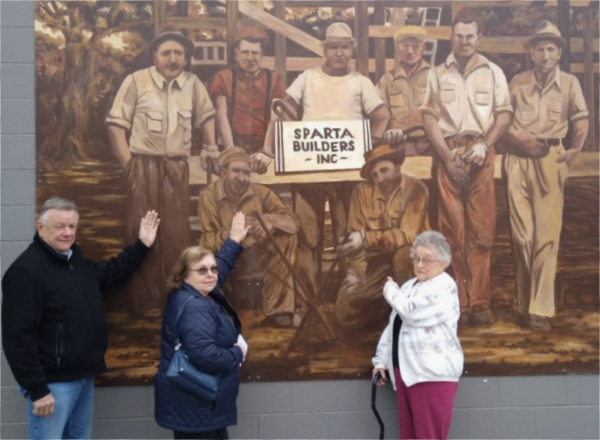 Paul Swanson, nephew of O.C. Hansen, says, "Uncle O.C. came from Denmark. The story I remember was that, growing up in Denmark, he had an apprenticeship, perhaps as a blacksmith. When he came over here, he was an engineer at the foundry and I think that position grew from the apprenticeship. He'd always tell my dad-you can learn anything from a book-and that's what he would do. That's what I think when I think about them (the builders) going about this construction. I think a lot of that was just book learning. If he needed to know what was what, he went out and found out. He probably looked in the library-he researched it."
Donna Lister, daughter of Chester Amburgery (born in 1918), recalls, "I don't think mom would let my dad do much after work because they had three girls a year apart. My mother did all her canning after 7pm when we girls had gone to bed. And so I think he was more into helping her when he got home from work."
Marsha Reister, daughter of Lewis Chapman (born in 1913), "My dad always had a second job because he had to be doing something. And he worked for the village for a lot of years. He'd get done at the foundry, then go to work for the village. We also had a number of kids, I think that was half the reason… kids made him nervous, so I think that's why he found other jobs to do all the time."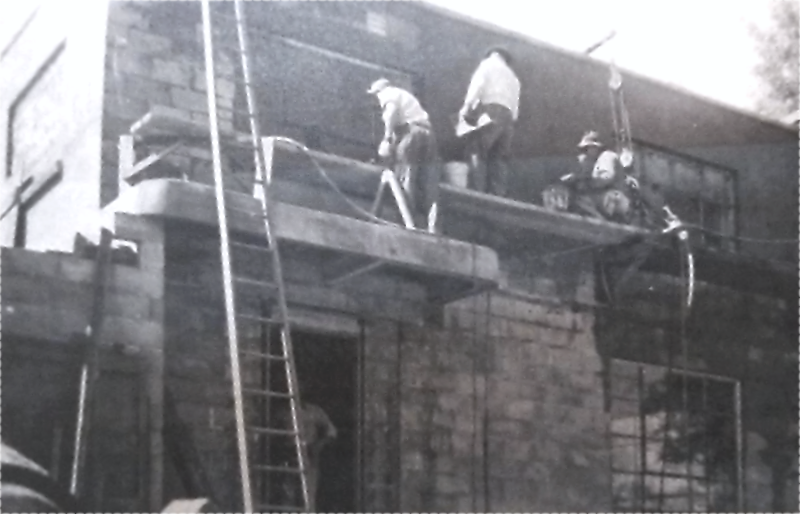 Geri West, daughter of Ed Armock, remembers when she was a young girl going to the Depot on Elm Street (West Railroad), to salvage wood for projects of the Sparta Builders.
Jim Lyals remembers that O.C. Hansen was the engineer, Carl Rowe handled the finances. Each member had shares, some more than others. As the business moved along, things were still tough and some sold their shares. Carl Rowe eventually left the foundry and moved to Wisconsin. Jim got to know some of these people because his mother cleaned homes. Jim remembers Carl Rowe was quite a guy and Oswald Hansen was very smart.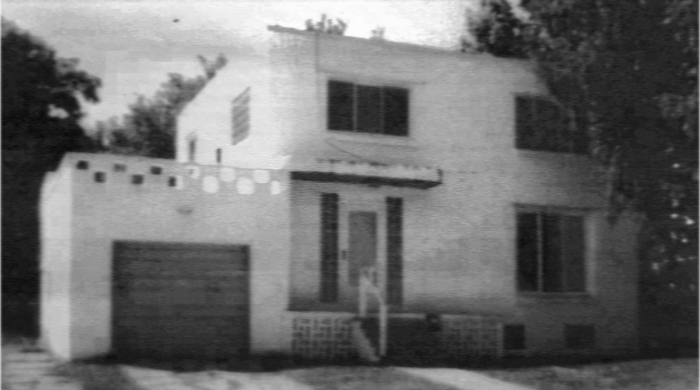 When the men finished their homes, they went on to build several additional homes around the village. One at 36 East Gardner Street, was the home of O.C. Hansen and is typical of some of the concrete homes built in 1947. The home still stands on East Gardner, two houses behind what was once the site of Badergow's Store (now the Admiral Station). Built at the cost of $5,000.00, the house features a flat roof and glass block windows. Originally it had a fireplace, dining room, kitchen and lavatory on the first floor. The second floor had three bedrooms and a bath. A recreation room, fireplace, laundry and refrigeration room were in the basement.
Toward the end of my research, I asked my parents if they remembered these men and the homes they built. I was surprised to learn that not only did they remember, they eventually bought one of the homes. The house were I grew up, 148 Pine Street is one of three homes on that street built by men with a vision for the future. For their work and dedication to their hometown, we can be grateful.
Submitted by
Jim Lyals
Larry Carter
Jayne Heath
JoAnne VanderWerff
Contact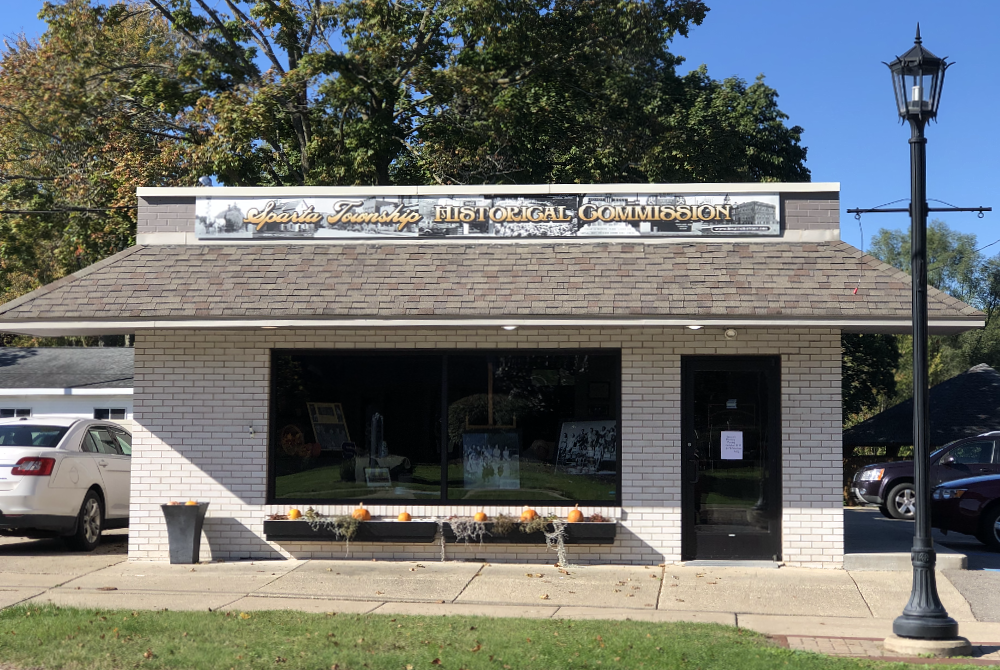 Our History Center is conveniently located at 71 North Union Street in downtown Sparta. Please join us for coffee and lively conversation on Monday mornings. Visits to the History Center can also be scheduled by appointment, for your convenience.
We do not receive mail at the History Center, instead, please use our mailing address, which is:

attn: Sparta Township Historical Commission
Sparta Township
160 E. Division St.
Sparta MI 49345
Our complete archives are now available online for your convenience. Just click STHC PastPerfect Catalog Access and begin your research!
For other inquiries, the Sparta Township Historical Commission can be reached by phone at: (616)606-0765 or via email at the following address: