Sparta Township
The Incredible
Dr. Sexton
What does the War of 1812, a doctor, a shipwreck, and a ghost town all have in common? At Sparta Township, the answer is a man named Dr. Isaiah Bliss Sexton.
Bliss greeted his parents, Charles and Abigail (Butler) Sexton, for the first time on July 18th in 1805 at the tiny town of Lowville, Lewis County, New York.
Shortly after the War of 1812 broke out, Charles entered Captain Moses Water's Company in Z. Carter's 101st Regiment of the New York Militia in March of 1813. Six months later, eight-year old Bliss joined his father as he enlisted to serve as a waterboy in September at Putnam, New York. Charles attained the rank of an "Orderly Sergeant" while Private Isaiah's pension declaration indicated he was a "Waiter". But I'm getting ahead of myself.
As a young man, Bliss lived at Otsego County, then a year later in 1825, he removed to Onondaga County, New York, where he wed Abigail North. He first came to Michigan in 1833 to Washtenaw County where he sought a new life. Sorrow cast a shadow on their home at Ypsilanti as Bliss' wife and two children died.
Back in New York, he married Eliza A. Everett, but Bliss was drawn to the mitten state. A sister, Phyla, and her husband, Simeon Rouse, lived at Alpine Township in Kent County. In 1847, Bliss appeared at Grand Rapids where he practiced medicine. The couple returned to New York where family still lived, and in 1850, he was enumerated as a "Physician" at Orleans in Jefferson County. His father, a "Miller", was nearby.
Charles' record as an officer during the war provided him with multiple parcels of bounty land in Michigan. He and Bliss, along with another sister and brother-in-law, Wealtha and Ichabod Gaylord Field, made the journey to Sparta. On the first of April, 1851, the elder Sexton patented a choice parcel provided for his service in the War of 1812; 40 acres fronting Pine Island Drive and Scott Lake.
Bliss took a job in 1852 herding cattle north on the "Newaygo trail" to Grand Traverse after which, "I embarked on the schooner J.Y. Scammon for Chicago," Bliss recounted in an 1896 interview with The Grand Rapids Press. "The schooner was wrecked in a storm and driven on the beach of South Manitou island. The vessel was driven so far up on the shore that we were eventually able to get on dry land without wetting our feet. The day after the wreck I got my baggage into a row boat and hired an Indian and a white man to row me around into the harbor. From there a passing steamer was hailed and I eventually reached Chicago safe and sound."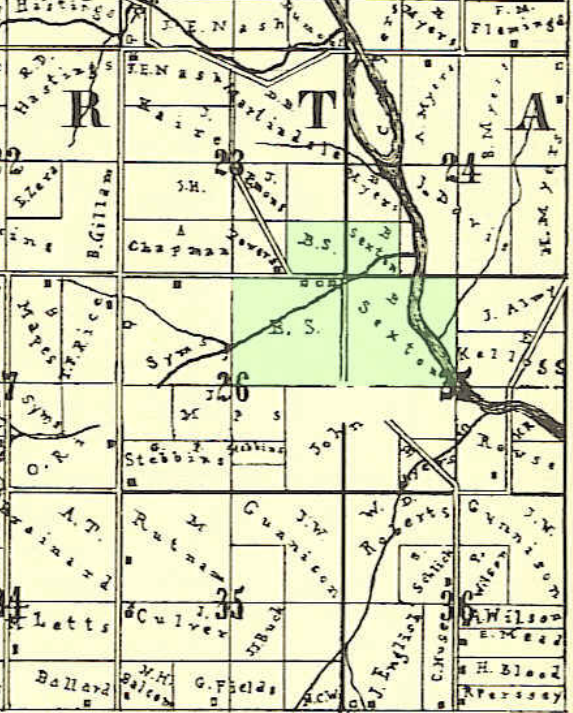 Bliss soon re-established his medical practice and became the Sparta Township tax collector. He acquired two-and-a-half quarter sections at what is now the intersection of Twelve Mile Road and Alpine Avenue, where he made his home. In May of 1855, the doctor purchased 120 acres of land north of what is now 20 Mile Road between Sparta Avenue and Tyrone, at a time just prior to when the townships were separated.
Time moves slowly in Congress. Forty-five years after the start of the "War with Great Britain, declared by the United States on the 18th day of June, 1812," Washington DC approved a "Certificate of Allowance" for his expenses incurred during the war, which included: clothing items, blanket, a musket, bayonet, sword and belt, boots, and transportation. Charles Sexton appeared before L.S. Ballard, Justice of the Peace, on the 5th of November 1857, to certify his claim in the amount of $68.50. On the same day, the son, Isaiah B. Sexton, also filed his declaration for "Twenty one dollars". Charles died several months later.
As the 1860 Federal Census was enumerated at Sparta, Bliss gave his occupation as a "Botanist Physician". In addition to his career in the healing arts, Bliss played a key role in putting Sparta on the map, literally. The doctor envisioned the establishment of roads through the Northern Kent County wilderness; east to west from Muskegon to Cedar Springs, as well as north and south, from Englishville to Croton. During the 1860s, he organized people in favor of the proposal and successfully petitioned the state legislature to get the roadways built.
As Arzie Pinckney wrote in his I Remember column from a 1964 issue of The Sentinel-Leader, "The good Dr. Sexton got angry at some of the businessmen in Sparta and vowed that he would build a town that would take all the business away from Sparta and that the grass would grow on Sparta's Main Street." Exactly what led to the falling out, I cannot say. But Bliss did his best to make good on his threat.
Since he already owned about 400 acres at 12 Mile and Alpine, on both sides of the streets that abutted the Pere Marquette Railroad, he platted it out for development. "He built several small store buildings and houses on the north side of the road beginning at Alpine (where the Gerhardt Seelman and Gene Dancer residences were located in 1964). Some of the buildings were still standing until not too many years ago, but they were left to deteriorate and finally fell down while Sparta continued to do business as usual."
Arzie continued, "The Doctor had given his town a real name... Sextonville. He even had arrangements made with the railroad and they put Sextonville on their time table as a flag station. For a few pennies, you could flag the morning train coming north, to Sparta, do your trading, and catch the 10:30 AM train back home. Or you could flag the 10:30 AM train, go down to Grand Rapids and do your trading, catch the 6:00 PM train at Union Depot or Bridge St. Station and come back home. The railroad even built a small platform where you could wait for the trains."
From the Sentinel-Leader Letter-box:
When Eight Buildings Constituted Importance of Village
Editor, Sentinel-Leader:
"Life's fair illusions,
One by One without a trace
Have come and gone
Like vapors in the air.--Halse

I am not a student of psychology, but I have heard of it. It's a wonderful ology to hear its results explained by its advocates. I experienced a little of its working at one time, (verbally).

Take the road from Sparta southeast down through Sextonville. The doctor's little office with its window-full of bottles and dried herbs. "But meet Dr. Bliss Sexton." He is past the age for active work or visits. But he could pull teeth. He pulled one for me once. It doesn't quite express it to say extracted. He used that old inquisitorial instrument called turn-key on cant-hook power. There is not a fraction of doubt as to their efficiency. The tooth came and I looked up expecting to see the jaw bone with it. But long since then I have become satisfied that I lost none of my jaw bone. I believe that experience was even worse than listening to his lecture of treatment of diseases.

Seven or eight buildings and we are through the city. A large building on the northeast corner was occupied by O. Hoag as a hotel...

...Old Dr. B. Sexton, the good old homeopath, the founder of Sextonville, two miles away, but his ambition for a city never materialized."--H.M. Sleeper
On April 5, 1889, it was widely reported that "Lieut. Sexton served through the war of 1812, and had enrolled as his servant Bliss Sexton, his son. Bliss Sexton is now 84 years old, and a resident of Sparta, Kent county, and his name has just been placed on the pension rolls."--Alma Record
Dr. Sexton passed away at his home on November 20, 1897. His obituary stated Bliss was one of only twelve survivors and pensioners of the War of 1812 on the rolls in Washington, and he was the youngest. He lived an adventuresome life. He lived life with determination. He lived life well.
Contact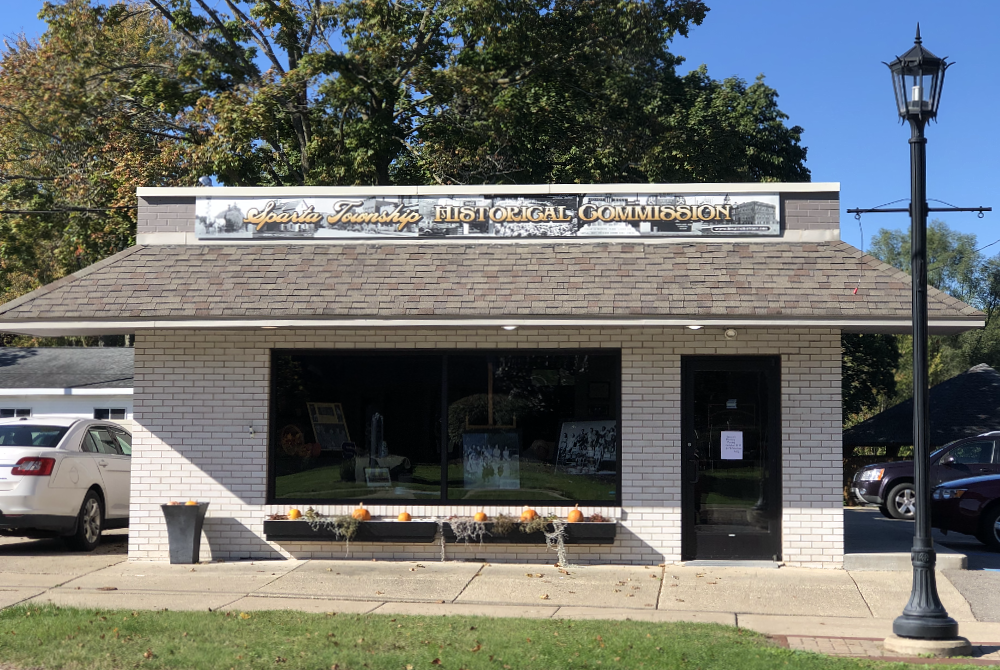 Our History Center is conveniently located at 71 North Union Street in downtown Sparta. Please join us for coffee and lively conversation on Monday mornings. Visits to the History Center can also be scheduled by appointment, for your convenience.
We do not receive mail at the History Center, instead, please use our mailing address, which is:

attn: Sparta Township Historical Commission
Sparta Township
160 E. Division St.
Sparta MI 49345
Our complete archives are now available online for your convenience. Just click STHC PastPerfect Catalog Access and begin your research!
For other inquiries, the Sparta Township Historical Commission can be reached by phone at: (616)606-0765 or via email at the following address: