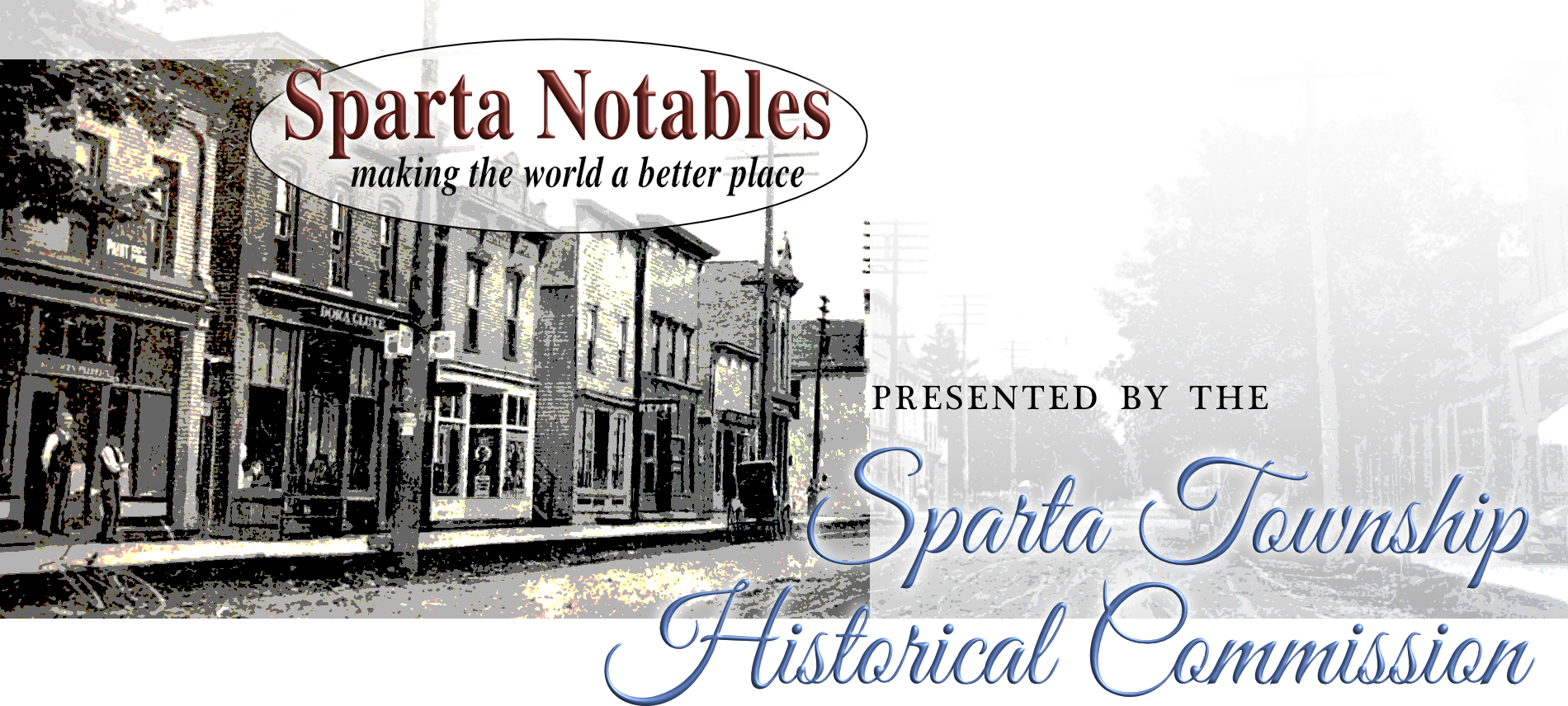 2021
Badgerow | Chapman | Cheslek | Ebers-Franckowiak | Fareed | Parks | Schut | Wolters
John Paul
"Sharkey" Badgerow
Paul was born in the house on the corner of Union and Centennial on October 31, 1923. He had four brothers: Charles (b. 1922), Carlton (b. 1925), James (b. 1927), and Gordon (b. 1932), and they lived at 51 Orchard Drive. His parents, Ray and Ellen, owned a grocery store/gas station at Gardner and State Streets. Paul lived in Sparta all his life, passing away on July 9, 2016.
Paul was held back a grade due to Bright's Disease and graduated from Sparta Schools in 1942. Paul was athletic in football, basketball and track. In high school, he earned the nickname "Sharkey" (after boxer Tom Sharkey) for his 'moves'. Paul was full of antics: he and friend Jack Young would drive Paul's 1933 Ford with a skeleton from science class in the rumble seat. For his 50th class reunion, Paul engraved plaques and attached them to bricks from the old Sparta school building (Central Elementary location) and gave one to each classmate.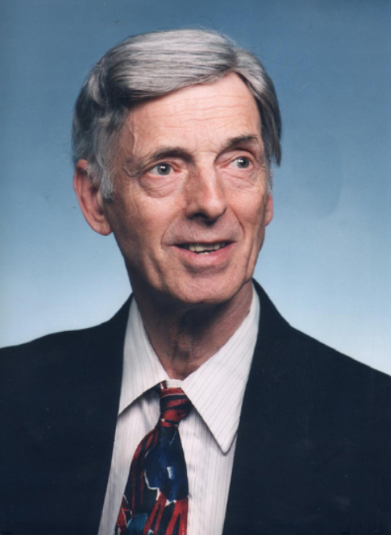 After graduation, Paul was drafted into World War II (1942–46), serving under Deputy Commander Omar Bradley in North Africa. He and Charles were Army. Paul was an expert marksman and became an interpreter. Once the Army learned Paul could speak French, they threw the book at him to learn German so he could interpret that too. Carl was a Submariner in the Navy in WWII; Gordy was an Army corporal in the Korean War.
After being wounded, Paul returned to the U.S. In 1945 he stationed at Camp Shelby, Mississippi, as Military Police guarding German prisoners of war. While at a soldier's dance, he met a southern belle named Nita. She sure liked him. Paul couldn't figure out why, saying she was so pretty, he thought she'd be taken before her nail polish dried!
Once his service to the US Army ended, Paul kept in touch with Nita, and graduated from Ferris Institute, attaining an Associate of Applied Science Degree in Technology, a diploma in Watch and Clock Repair, and was a Graduate Gemologist and Registered Horologist. Paul established Paul Lawrence Jewelry with his uncle, Bill D'Amour. All this between 1946 and 1950, and Paul got his pilot's license as flying planes was a popular pastime then.
In 1950, Paul married Nita and honeymooned to Sparta, serenaded by friends upon their arrival. Soon came daughters Denise, Dena, Toni, and Paula. The family lived at 171 W. Averill since 1956.
Over the years, Paul learned to play the clarinet, and he spoke about eight languages and spoonerisms. He enjoyed having exchange students for Sunday dinner to converse in their language. He continued educating himself with the benefit of adult education. He was of genius caliber some say, able to fix about anything and a memory that didn't quit.
Paul remained active in the community. He umpired the Farmers and Merchants annual baseball games, being brought in a hog crate and let go to entertain the crowd. At one game, Congressman Gerald Ford was in attendance. Players got into a disagreement with Umpire Paul, and his pants fell to reveal his red Bermuda shorts! So he lost his pants in front of the future president, who laughed more than anyone.
Paul was a charter member of Holy Family Catholic Church, the Lion's Club tail twister, American Legion and 40 Club member. In 1969, he bought property on the Chain O'Lakes near Baldwin. Piece by piece, he hauled barn lumber and beams and constructed a large A-frame with the help of friends, family and the Dirty Dingus Gang.
In 1971, Sparta celebrated its QuasquiCentennial. The event needed funding, of course. So business owner Gary DeLange started a rough and rowdy group called the Dirty Dingus Gang, comprised of many business owners at the time. Their attire was anything but business, more like that of the Old West in 1846. They rolled into town to 'rob' the People's State Bank building. The police were called, gunfire was exchanged, and Paul was shot! He was thrown onto the back of the Gang's flatbed truck, and they drove off. The Gang continued appearances that year, with Paul either being shot or hauled off to jail. The Dirty Dingus Gang's capers were so popular, they continued to perform at events all over West Michigan up through our country's Bicentennial Celebration in 1976. Paul continued to die and do it with a flair. When Sparta celebrated its SesquiCentennial in 1996, the Gang was revived with Paul being an integral part of the Dirty Dingus Gang. In 1971 he won the blackest beard award; in 1996 he won the whitest beard. He wasn't shot that summer, but he was still a crowd favorite.
When people remember Sharkey, they often recall first meeting him, maybe in the jewelry store while purchasing a class or engagement ring, or having a watch repaired that he might have thrown on the floor into pieces saying it can't be fixed, when actually he threw coins. To children, however, he offered candy.
Paul cherished sharing Sparta's history. It was important to him to share the remembrance of different businesses and people who lived in Sparta, and he brought a little laugher in all that he did.
Norma Chapman
Sparta, Michigan, a quintessential small town of people , businesses, churches and schools, was the hometown of Norma Jean (Smith) Chapman for all of her 95 years. She was bom on January 26, 1926, to Ellsworth and Marie (Chaffee) Smith. Her early years were spent in small, "one room" country schools in the Sparta area. Her family moved into town when she started 3rd grade and she spent the remainder of her formal education in Sparta. She was an excellent academic student, played basketball "half court, in those days,"was a Cheerleader, and worked part-time for Joe Gas at Ben Franklin's Five and Dime store in town where, she was paid 15 cents an hour, 2 cents of which was taken out for Social Security.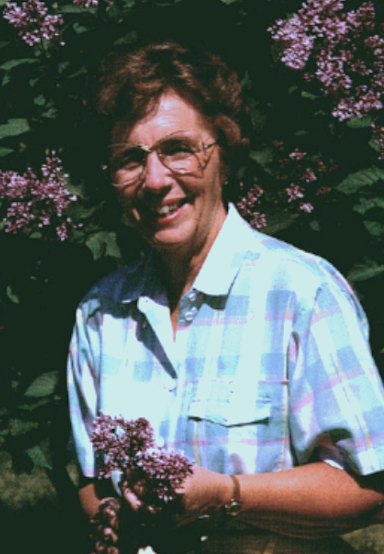 She graduated from Sparta in 1943. In High School, she had met the love of her life, Clarence (Chappie) Chapman. They were married in March, 1944. World War II took so many men and women out of small towns and sent them to places they had only known about in books. "Keeping the home fires burning" was the responsibility of those left at home. Chappie was stationed in Europe in June of 1945 and learned of his daughter's (Rebecca Jean) birth in the STARS AND STRIPES, a newspaper that was prepared daily for Servicemen everywhere. They had their second child, Rod, in October, 1947. Unbeknownst to the couple, until he was born, Rod was an "Rh Negative baby". A condition that Today is usually addressed before the baby's birth with the use of an RhoGAM injection into the womb. In 1947, the only chance of a baby surviving this condition was a total blood transfusion. This had not ever been done on a baby before in Grand Rapids. Two needles were placed in his head, and two needles in the bottom of his feet. Blood was pumped in through the needles in his head, and drawn out of his feet. Miraculously, this procedure worked! In a matter of days, he was fine.
Encouraged by friends, she started attending the Sparta Baptist Church during her High School years. She became a Member and fully engaged in all of the Church's activities that she could. Norma has always been an Historian, a keeper of life's times and events. Never a passive member of an organization, she involved herself in any way that was helpful.
We have her hand written letter composed on D-Day, chronicling that Day in Sparta. Sparta Baptist Church was the recipient of this dedication, as well. Sunday school classes, Chairperson of special events, Vacation Bible School, committee work of all sorts, benefited from her involvement.
Missions and Missionary work became her special interest. She was Chair of Missions at Sparta Baptist Church. She continued in that role at the Baptist Bible Church all of her adult life. She kept in touch with every one of the Missionary Families and Individuals, whether they were in the Field or home. She championed financial, physical and prayer support for everyone of those who served. Her Church bulletin boards supporting missions were literally works of art - epic in scope and interest. CBFMS and CBA were just two of the organizations that knew her and welcomed her participation.
Norma also participated in and was presenter of several other groups:
BISHOP METHOD OF CLOTHING CONSTRUCTION: Member and Presenter
SPARTA TOWNSHIP HISTORICAL COMMISSION : Member, and some times called upon to identify faces in old pictures
CASNOVIA LADIES LITERARY CLUB: Member, officer, and presenter
ELDER HOSTEL PROGRAMS: from Pennsylvania to Oregon, Member
Because of her accounting and record keeping abilities, and her ever pleasant demeanor, she worked as a Receptionist at the General Practice Doc- tors Office in Sparta. She was to fill in for a couple of weeks in the summer and stayed 20 years! When Lee McFall set up his Dental practice in Sparta, he hired Norma to be his Receptionist. She anchored his front desk for 6 years.
Remember "The Daisy Place"? A place for fabric, sewing classes using polyester knits, Ultra Suede and other new fabrics. How to Macramé. How to install a zipper. How to make a dress, a jacket, men's dress trousers and even a swimsuit! She loved being on Main Street with her business. She was an active participant in the Village and Township.
One of her greatest adventures, at age 63, began in 1989, when she signed on to be the bookkeeper for Tyndale Theological Seminary in Badhoevedrop, the Netherlands. Tyndale is an International Seminaary whose students come from all over the world! When Norma arrived at Tyndale in the summer of 1989, 5 Continnents and 21 Countries were represented by the students. One of the tenets of Tyndale was that all students would return to their home country to serve for at least 2 years. While the job of Bookkeeper would include maintenance of all bank accounts, making deposits and withdrawals, have signature authority and maintain petty cash accounts, keep in mind that because students came from all over the world, there were MANY currencies involved. Students were to be provided monthly statements of their individual accounts! Norma tackled this job the way she always did: with enthusiasm, expertise, and kindness. She made lifelong friends and kept in touch with many of them until her death.
Before and after Norma's time in the Netherlands, she spent 20 years at the Grand Rapids Public Museum as a Docent. She volunteered for tours, program development, demonstrations and, in 1994, helped move the Museum from it's 55 Jefferson Ave, location, to where it stands today! The Docents that she met became a very important part of her life after being at the Museum. Lifelong friendships were made and nurtured. Again, forever friends.
Norma's priorities were always faith, family, friends and service. She practiced all of these until her death, April 9, 2021, with love, wisdom, kindness and the ability to think of a light hearted comment or gesture for any occasion.
Norma J. Chapman, truly a Sparta Notable, 2021
Thomas Keith Cheslek
Thomas Keith Cheslek born in Grand Rapids, Michigan on February 7, 1959, to Daniel L. and Barbara E. (Sweatman) Cheslek. We lived in Alpine Township at my grandmother, Jessie Cheslek's home until six months old and then moved to the 1700 block of Walker Ave. in Northwest Grand Rapids (Between Richmond Street and Leonard Street). Moved to Sparta in June of 1964 and started school in September of the same year. I was in the last 4th Grade class to attend what was known as Central High School. Played Rocket football starting at 8 years old, and little league baseball. While in the "New" Middle School Appleview Elementary now) played 78ers football and also wrestled. In the 9th grade played football and was on the wrestling team and that spring had a motorcycle accident which broke several bones in the left knee. Came back to wrestle and do shot put in the Junior and Senior years. (Football was kiboshed by the knee surgeon) graduated in June of 1977. In June of 1977 I finished my E.M.T. training and began working as a volunteer on NorthWest Ambulance as a driver and attendant.
Attended Grand Rapids Junior College the next year and then while wondering about my future got a job at a produce supply company and did that for 6 months. Not feeling any sense of accomplishment in loading produce into semi's I was told by a friend about an opening in a construction company.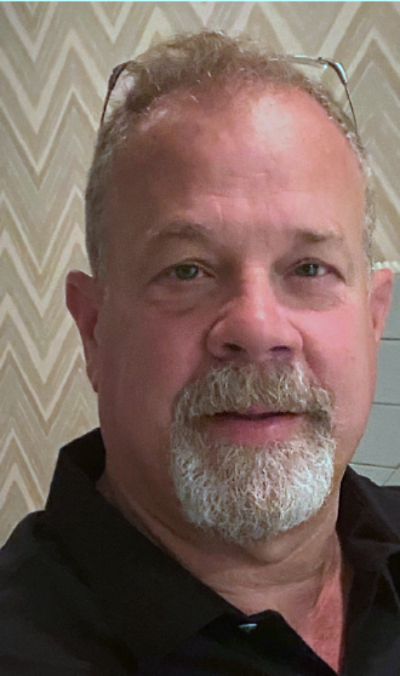 I was hired building pole barns for Morton Buildings and worked for them until Spring of 1982. We were given a set number of hours to complete a building, depending on the size of the building, the extras that might be added, and required more time as well as any difficult working conditions. Each crew was given a rank as to their efficiency and our crew was the number 7 crew of 300 crews in the United States. We won an all-expenses paid vacation to Hawaii in my 2nd year with the company. The following year we again won the trip or we could pick from a number of prizes. I decided to take one of the prizes that was offered and got my mother a new washer and dryer for her Christmas.
When the recession hit, it was about six months later that the building trades had gone through their all their contracts and the layoffs began. I opted to be one of those to be laid off as I had no one to support but myself and didn't have a rent payment or even an auto payment. I had moved back into the funeral home with my parents because I lost my rental house because of a divorce (not my divorce, but my landlord's). Seems he didn't want to hang out with a bunch of young guys, so we were out. I moved home because I would be able to help my dad at night with house calls and work for him on rainy days if he needed me. While I was laid off, I mowed lawns, washed cars, and did any number of things to keep busy as well as make some extra money. I had continued to take night classes at J.C. during my job at Morton Buildings and after a couple of months of being laid off decided that I did enjoy working at the Funeral Home, so I drove to Chicago and signed up for mortuary college. I started Worsham College of Mortuary Science in Chicago in September of 1983 and graduated in September 1984.
While attending mortuary college I was hired by The Roland Home for Funerals as a night visitation worker as well as answer phones at night. We were located on the North Side of Chicago in a less fortunate area of the city and just 4 blocks north of Wrigley Field. Just living in that neighborhood was probably the best teaching tool I had ever had. I was amid some wonderful people. My neighborhood was divided up by streets, literally to my north was the Puerto Rican section of Chicago, to my south was what I called the hillbilly section of town, and just two blocks to the east was the personal home of the Governor of the State of Illinois. To my west just a half a block and just past the L train tracks was one of the largest cemeteries in the city. There was a lot of stuff going on and a lot of stuff to figure out and to avoid. I saw things there that I hope I never happen in my hometown of Sparta. I was offered a portion of the funeral home ownership if I stayed but knew I would regret raising children in that town.
I completed mortuary school in Sept. of 1984 and moved back home to start working for my dad. For the most part we worked fairly well together but there were moments.
I married Susan L. Roemer on February 22, 1986, and together we had four children, Katherine Ann in September of 1987, Christine Elizabeth in June of 1989, Thomas Reynolds in December of 1995 and Garrett Louis in January 2000.
In January of 1986 I was hired in as a Volunteer on the Sparta Fire Department and spent 23 years running calls. I began doing fire prevention for the kindergarten and the first and second grades and one of my favorite things was being known by all the kids in Sparta Schools as Fireman Tom.
My dad and I began working on the idea of the sale of the funeral home to me and that was completed in July of 1991. Susan and I then went out on a limb and purchased the Dry Cleaners/Laundry Mat that was behind the Funeral Home and converted it into a garage as well as enlarging the Funeral Home parking lot by 14 more spots.
I was asked to join the Village Counsel to replace a councilman who was moving to Grand Haven. I spent 6 years on the counsel and enjoyed being on it. I didn't run for re-election the 2nd time because I felt that all my questions and concerns had been addressed and new ideas are usually better for the community. I was asked to be on the Sparta Downtown Development Authority and served as a board member for a number of years. After quite a few years I was voted in as the Chairman and to this day still serve in that position. Being in the Chairman's spot also landed me a spot on the Events Board, and the Chamber of Commerce Board. I can also say that another one of my best memories will be the day we opened the Sports Complex on North State Street. I am so proud of the accomplishments that happened there. It's really not hard to see good people anywhere you look in this town.
I always tried to be part of the community with donations for events, the Chamber, the churches and the Schools. The schools were always one of the most important donations in my opinion. I always though the only thing we have to give any community is a future and the future of any place is their children. Teach your children sports they have a reason to attend class. Give your children challenges, they have goals to attain. During my time at the funeral home I have always said that I only went to work maybe 90 times. I just went to the Funeral Home to hang out until I was done for the day. After that many years it never seemed like a real job and I never got tired of being in my office.
My wife Susan passed away in October of 2019 and shortly afterword came the Covid-19 state shut down in March of 2020. Funeral directing changed dramatically in 1 day. After a long spring and start of summer I tested positive for Covid and spent a couple of weeks in quarantine. The Spring of 2021 I had a couple of Companies as well as some Individuals contact me about selling the funeral home that I had spent most of my life, living and working in. A group of funeral directors who seem to want to be a part of the community not just run a business rose to the top of the folks I had spoken to. I agreed to sell and let go of the reins on July 1, 2021. I Love my town and hope to always be a part of It.
Gay
Ebers-Franckowiak
I was born on Labor Day in 1953. My mother and father brought me home to 1053 Eight Mile Road, which was our Centennial Farm in Comstock Park, MI. Our family continued to grow, I was one of six children and loved being raised on the farm and the rural area that surrounded our home.
I attended a one room school which incorporated grades one thru five. Upon finishing the 5th grade, I went into the Sparta school system for the rest of my education. It was an adjustment for sure! I often walked to my elementary school, (Koon) which was approximately a half-mile from our farm. Going from five children in my class to approximately 205 students in my graduation class was quite different!
Football and basketball games were the highlight of the week. I was Captain of the Varsity cheerleaders and loved the Friday Night games along with the Sparta Marching Band. We had a great class and finished 7th in the State for Football, Class B. I was not a great student, however I aspired to improve! And, as I matured, improvement came from year to year.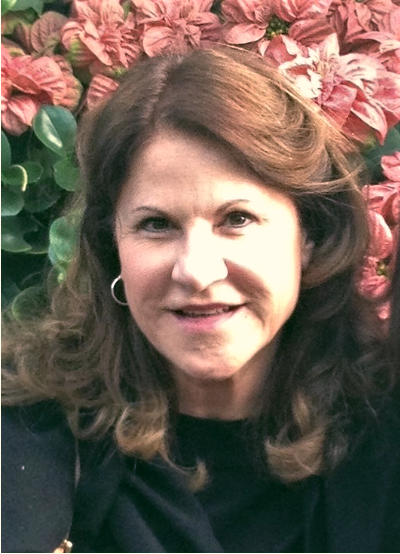 When I was a little girl, my parents used to take my younger sister and me on Sunday rides in the fall after our Apple Crop was harvested. And, if we were lucky, we might even stop for an ice cream cone, which was a very big deal coming from a big farm family where we rarely ventured out for treats, let alone dinner. One Sunday, we stopped in front of this magnificent building. It was beautiful and that memory was forever etched in my mind. I am sure my mother informed me where we were, however, that beautiful building was all that I remembered from that day.
Fast forward about 10 years! Chris Sutter, a classmate of mine, asked If I would like to visit Central Michigan University with her. I said, "Sure, I would love to!" When I saw that magnificent building, Warriner Hall, once again, I knew I had found my new home for the next four years. I fell in love with Central Michigan University the moment I stepped on campus. Those wonderful football games were the highlight of my week. And, the excitement and momentum grew, especially in my senior year. CMU went on to win the Division II National Championship! I fell in love with #4, the Quarterback of that fantastic team and the rest is history - I married him, Michael J. Franckowiak, on June 18th, 1977.
My husband was drafted by the Denver Broncos, 1st player in the 3rd round. He was traded to the Buffalo Bills two years later. After Michael's career with Pro Football, we moved to Long Island, New York, to be close to my sister, Julie, and her husband, Robert. My mother had just passed away, and I was devastated; I could not bear to return home to Michigan.
We both went back to Graduate School. Michael graduated from C W Post and I attended Aldelphi University. Michael worked for Citibank Investment Management and I was with Equitable Investment Management, where I learned about investing in convertible bonds (a hybrid security). I was hired away by Lehman Brothers and then Morgan Stanley in convertible bonds. My career in finance spanned almost 30 years on Wall Street. In 1999, I became the Head of Sales and the first Female Managing Director (Partner) on the Convertible Bond Desk in New York-we were the #1 desk on "The Street."
Our Philanthropic endeavors were really prompted by my dear friend, the late Dick Enberg. We were introduced to Dick at a dedication dinner at Central Michigan University by our friends, Terri and Todd Anson. Dick was an Alumni of CMU. He looked at the Donor Board where he saw our names. As he walked away, he turned around and said, "I like people who give back." It was TRULY a pivotal moment in our lives and it had a tremendous impact on us.
When Michael and I reflect upon our lives and what tugs at our heart strings, it is Central Michigan University. CMU gave us a "platform for success." I believe football allows Central to showcase and highlight the success of its athletes and students both on and off the field.
There are 3 quotes that have defined my life. My mother always told me:
"Gay Gay, The harder you work, the luckier you get."
"When you see a turtle on top of a fence post, remember-they did not get there by themselves."
"Never look down on someone, unless you are helping them up."
Thank you for bestowing this honor upon me. I am truly humbled and honored.
Sincerely,
Gay Ebers-Franckowiak
Ahmed Fareed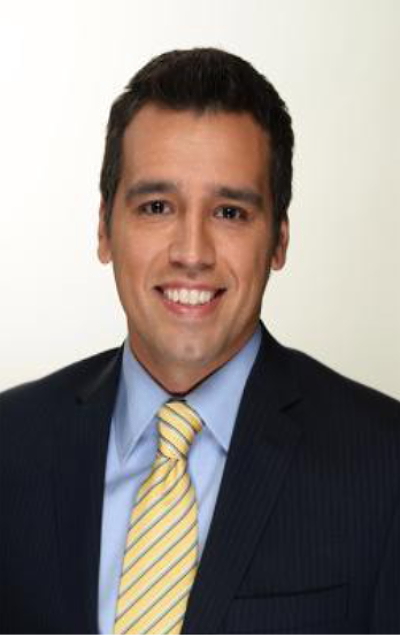 Ahmed Fareed was born on November 3, 1979, in Sparta, Michigan. He is the son of Ann Gardner (SHS class of '70) and Mark Batchelder (SHS class of '77), Ahmed attended Sparta's elementary, middle, and high schools, graduating from SHS in 1998. During his high school years, Ahmed participated fully in the sports that he now reports on at the highest levels.
He played four years of football at Sparta, where he was quarterback, captain, all-area honorable mention, and academic all-State. Ahmed also played four years of baseball, his senior year serving as captain. Outside of sports, Ahmed represented his high school and his small village well as a member of the Student Council & National Honor Society.
After graduation, Ahmed attended Syracuse University's S.I. Newhouse School of Public Communications, earning a degree in Broadcast Journalism. He joined a distinguished Syracuse roster of graduates in broadcasting: Marv Albert, Dick Clark, Bob Costas, Megyn Kelly, Ted Koppel, Floyd Little, and Mike Tirico.
Ahmed started off his career as a weekend Sports Anchor at the FOX and NBC television stations in Lansing. He then moved to WAVY-TV in Portsmouth, Virginia, where he spent five years covering the Washington Redskins, Norfolk Tides, Virginia Tech Hokies, and the Virginia Cavaliers.
In 2011, he moved on to his first national job, covering baseball at MLB Network. He regularly hosted their nightly highlight show Quick Pitch. After that, Ahmed moved out west to San Francisco and worked at the local regional sports network, NBC Sports Bay Area where he hosted the San Francisco Giants pregame and postgame shows and participated in the Golden State Warriors championship parade coverage.
In 2019, Ahmed left his position in the Bay Area to join NBC's national headquarters in Stamford, Connecticut, where he currently lives with his wife, Cathleen, son, and daughter. Ahmed has had the chance to cover the Kentucky Derby, Rugby World Cup, Tour de France, NHL Playoffs, and three Olympic Games, including the most recent Tokyo 2020 Summer Games.
When alerted of this local honor, Ahmed remarked, "I have so much pride about Sparta, and am thankful that you thought of me. I literally wouldn't be doing any of this without the foundation that the town set for me." From the beginning, Ahmed carried around a little red tape recorder, narrating the events of his young life and playing it for anyone who would listen. Now, he's talking to a national audience as a two-time Emmy-award winning sportscaster. The Sparta Township Historical Commission welcomes Ahmed Fareed to the 2021 class of Sparta Notables.
Delton Parks
Delton Parks was born on April 11, 1939 to Earle and Cecelia Parks without a doctor at the family farm. He has two brothers and a sister. By example of his Father, Delton learned at an early age, it was necessary to work on their farm, a work ethic and a compassion for work he carried throughout his life. By age five he was milking the cows at home, a rather inauspicious start to an industry changing career in the dairy business. Delton Parks could not have imagined that his life journey would see him become president of Country Fresh Dairy and one of the "movers and shakers" in the dairy industry.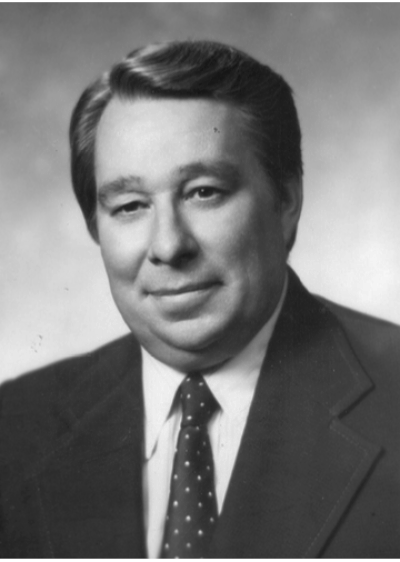 As a 1958 graduate, Delton has fond memories of his years at Sparta High School. Mr James Gardner, the Principal, took Delton "under his wing" and kept in touch with Delton thru his college years and well into his career. He taught him "caring for others" which he has not forgotten and has attempted to practice throughout his life. Another teacher who impacted Delton's life and career was Maynard Blossom, his agriculture teacher. With encouragement from Mr Gardner and Mr Blossom, he earned a "Work as you learn scholarship" to MSU. Delton entered that school's food Science program. He graduated from MSU in 1962 with a BS degree in Food Science and a minor in business.
After his college graduation, Delton's life soon vaulted into the fast lane of the dairy business. After serving in executive positions with Twin Pine Dairy in Detroit and Wilson Dairy in Detroit, then designing a dairy plant for Allied Super Markets, he began his own business, Krown Foods, a frozen food operation with offices on Madison Ave. in New York City. Always an innovator, Delton took an experiment in the family kitchen and developed a "ready to use" pancake batter which he took nationwide. He built that business up until selling it to Sara Lee in 1977.
In 1977, Delton returned to Michigan to manage the Kroger Company's Livonia based dairy plant operations leading to directing the operations of McDonald Dairy, a responsibility involving five plants and over 800 people.
This wealth of experience made him the candidate of choice to take over the reins of Country Fresh Dairy in Grand Rapids. He assumed the position of President in 1980, and built that successful co-op into a company of eight different companies with sales that grew over 80% to $500 million by 1995. Under his leadership, Country Fresh included McDonald Dairy, Frostbite (formerly Thayer Dairy of Clare), Embest Dairy (formerly Delcrest Foods of Livonia), G.R. Best, Bermid Inc. Burger Dairy (New Paris, Indiana), Toledo Milk Processing, London Dairy (Port Huron, MI.), and Southwestern Juice (Chattanooga, Tennessee).
In 1997, Country Fresh Dairy merged with Suiza Foods, a public company. Delton became President of the Midwest Division of Suiza Foods, responsible for 10 food plants in addition to Country Fresh plants.
In spite of a demanding schedule during his tenure, Delton was always looking to expand his company's reach, acquiring more than a half dozen dairy and juice operations. Most important to him: He was always recognized for the high standards of integrity he set for himself and for those he worked with as well as his deft leadership skills and vision to see beyond perceived boundaries.
With all his responsibilities, Delton Parks still found time to serve on many boards and a number of dairy groups all over the country. A well known writer and author of a newspaper column titled "Executive Profiles" Tom McCathy wrote in 1986 that Mr Parks was simply "A businessman with a good feel for what works". What works for Delton Parks has earned him many awards over the years.
Delton retired from Suiza Foods in 2001 and served as consultant to Suiza Foods for many years.
In 1959 Delton married Dianne Frank, a member of his Sparta High School graduating class of 1958. They have 3 sons, Mike (Lynn), Brad (Pat), and Tom (Eleanor). They have seven grandchildren.
Delton and his wife Dianne are most proud of the MSU scholarships they established for students in the Department of Food Science and Human Nutrition.
The State of Michigan, Michigan State University, and the dairy indus- try are all the better for the dedication, the experience, and the energy of our Sparta 2021 Notable Delton Parks.
Warren Schut
This year marks the centennial of the birth of Warren Schut, a farm boy from Zeeland, Ml who spent over 60 years of his life living in and contributing to the Sparta community. Born on Labor Day in 1921, Warren spent the first 18 years of his life attending a small country school and working on his father's farm. He was milking cows when he was 5 years old. Warren was needed to drop out of school at a young age to help on the farm. Evidently city folks valued the work ethic of the farming community because given the scarcity of factory jobs in the 1930׳s, he credits being hired at the G.M. plant on 36th St. In Grand Rapids to his farm boy background.
Shortly after the bombing of Pearl Harbor his parents drove him to Detroit where he enlisted in the U.S. Navy. He trained as a signalman at Butler University in Indianapolis for six months and shortly thereafter was assigned to a merchant ship sailing out of New York with sugar and PT boats. Joined by 18 other merchant vessels of other Allied nations, their convoy to the frigid area of northern Russia earned them the description of the "Forgotten Convoy" to Murmansk. The two month trip involved severe storms, frigid weather, and relentless German air attacks, damaging several of the ships. They then needed to stay in Russia for 8 long months before a return convoy was formed. The special commendation Warren received for that trip of 1943 noted his bravery and endurance. His time in the navy tested him in many ways and provided a perspective that helped him succeed throughout his life.
Upon his discharge in 1946 Warren married Esther Klein from Keno- sha Wl and they moved to Sparta Ml, where he, his older brother Floyd, and Howard Bettes opened a farm implement store in downtown Sparta at the Ace Hardware location. Within the first year of business they had acquired the Toro products line and became the western and northern Ml distributor. Later they became the statewide distributor. Warren was the president and majority owner for the company which was renamed Spartan Distributors for 45 years. The business was moved to the corner of M-37 and 13 Mile Road in the 1960׳s, where it remains today. Spartan Distributor's relationship with Toro has spanned 75 years and has provided employment to hundreds of area residents over the years and has introduced countless statewide customers and national suppliers to Sparta.
Warren and Esther raised 4 children, all graduates of Sparta High School, and they were all active members of the Sparta Baptist Church. Warren was in many leadership roles there and helped spearhead the building of the church's expansion which included a gymnasium that was used for many community activities.
When Warren learned in the 1950's that the Sparta post office wished to relocate, he negotiated a long term lease with them and built their current building. The new post office dedication program and open house in the fall of 1957 was one of many local events that connected the community of Sparta with then congressman Gerald R. Ford, who made the "Dedication Address". The Sparta State Bank (later, Choice One) elected Warren to their board of directors in the 1960's and he served as both a member and chairman, for 25 years. He valued his long affiliation with the bank board as well as hundreds of employees and customers over the years.
Warren lost his wife to cancer in 1967 and then married a Sparta High School English teacher, Maxine Garland. Warren and Maxine remained active in the community and through the Garland Schut Foundation awarded many scholarships to Sparta High School students. After retirement Warren and Maxine moved to Grand Rapids, but many of their close friends and beloved 'coffee times' were still in Sparta.
Warren always considered himself fortunate to live a life that offered him opportunities he could have never imagined growing up. But his favorite times and memories were of a simple variety; a good hunting dog with which to walk "The Ridge" hunting pheasants, hitting golf balls at Rogue River Golf Course with his buddies, singing a favorite hymn, teaching his children to swim at Olin Lake, ice skating in his back yard, or his morning coffee with the 'locals' at Cnossens. Predeceased by his wife Maxine, and his 5 siblings.
Warren passed away at the age of 96 and is buried in the veterans section of the Zeeland Cemetery. His graveside service included Dale Bergman, Sparta Township Supervisor and saxophonist, who played 'Amazing Grace', a fitting connection to Sparta.
Dennis Wolters
Dennis Wolters was born on April 19, 1946, the second child born to Laura and Peter Wolters-his siblings being Pete, Cheryl, Deb, and Jan. Denny lived all of his 64 years either at 354 Gardner or 143 White Street in the village of Sparta and he attended Sparta schools until his graduation in 1964.
Denny had a passion for sports, though he never participated in them while attending Sparta High. His involvement was as team man- ager for the football, basketball, baseball, cross country, and track teams. In high school, he also was a part of the student council, the junior class play, and was on the Echo staff (school newspaper).
After high school, Denny first served his country in the Army. Upon returning home, he eventually became the football announcer and, at home games, you could hear his familiar voice over the loudspeaker all over town! This earned him the nickname "Voice of the Sparta Spartans." He would also work at both league and state track meets as well as announce at wrestling matches and baseball games. He kept score at many games as well and saved league standings and sports articles for 45 years.
Not only did Denny involve himself in Sparta sports, he also loved to keep many OK League scores and information on other teams. He was known by many for his love of area sports, but his first love was the Sparta Spartans and was inducted into the SHS Sports Hall of Fame in 2007. Denny and another local Sparta sports historian, Jim Tuinstra, made a pact whoever passed away first, the other would then receive the deceased's sports possessions. After Denny's death on June 8, 2010, he left thirty-six tubs of primarily Sparta sports information much of it currently residing in the Historical Commission's archives.
Retirement after thirty-eight years at Meijer, Inc., gave Denny more time to follow (for some unknown reason) the Northwestern Wildcats. He was once asked for words of encouragement for those following after him, a large number of them nieces and nephews. "One person can make a difference, but one person cannot make a team." Denny made many friends along this path of interest in high school sports, keeping track of Sparta athletes even after their graduation. It was an accurate nickname, because of his love of SHS sports, to call him MR. SPARTAN. One need only to look at the license plate on his car which simply read "SPARTA." Dennis Wolters, a 2021 Sparta Notable.
Contact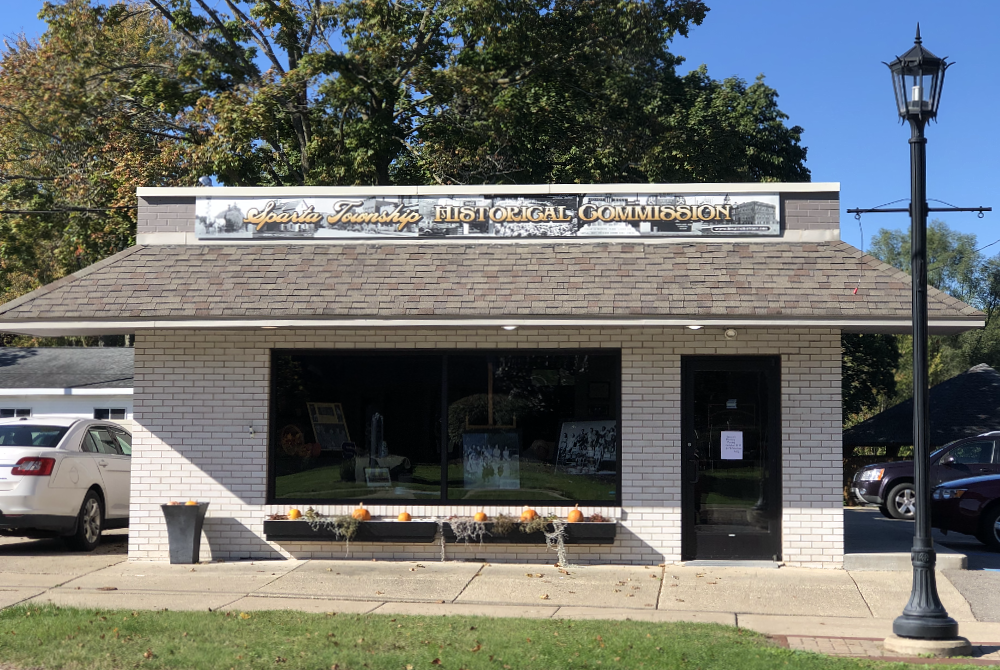 Our History Center is conveniently located at 71 North Union Street in downtown Sparta. Please join us for coffee and lively conversation on Monday mornings. Visits to the History Center can also be scheduled by appointment, for your convenience.
We do not receive mail at the History Center, instead, please use our mailing address, which is:

attn: Sparta Township Historical Commission
Sparta Township
160 E. Division St.
Sparta MI 49345
Our complete archives are now available online for your convenience. Just click STHC PastPerfect Catalog Access and begin your research!
For other inquiries, the Sparta Township Historical Commission can be reached by phone at: (616)606-0765 or via email at the following address: