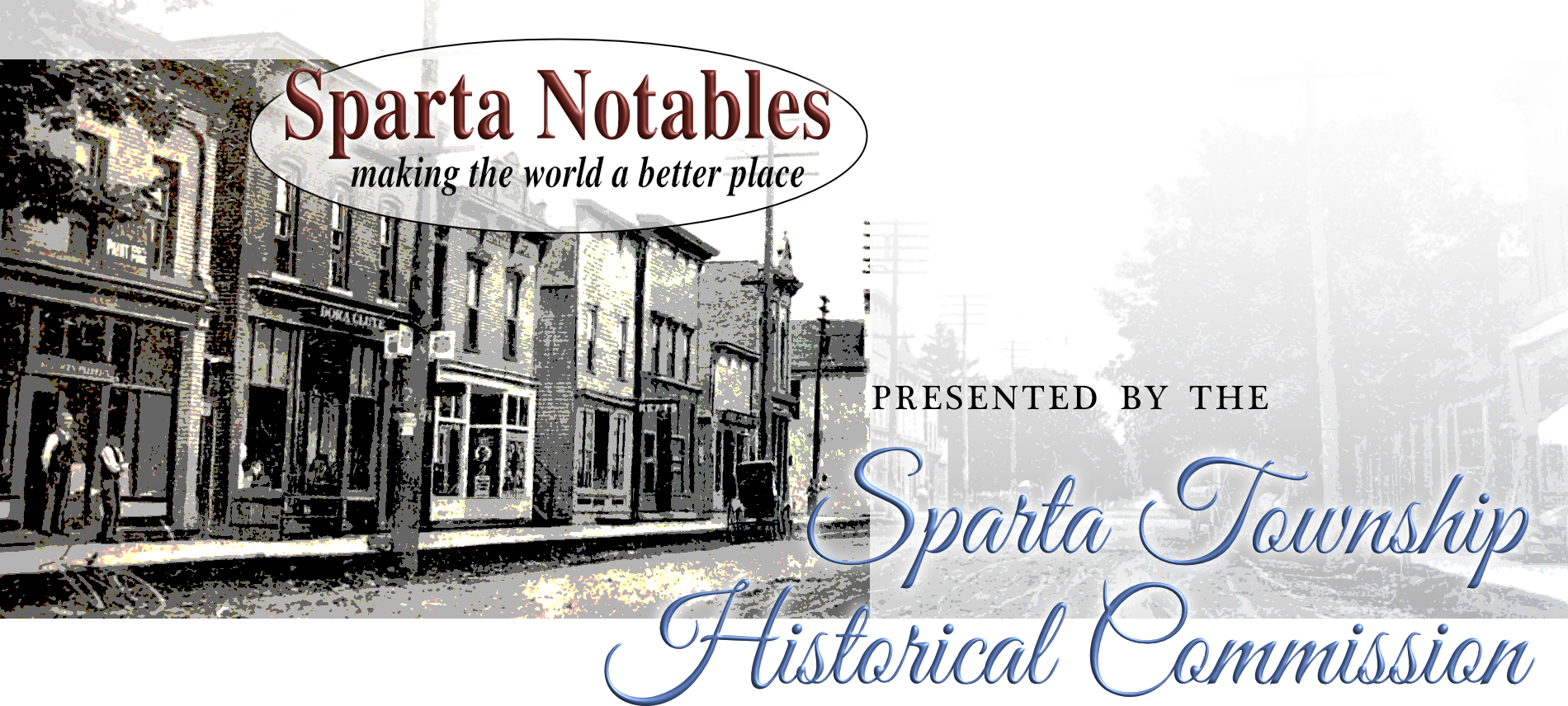 2014
Andrus | Balyeat | Bettes | Burgett | DeYoung | Lamoreaux | Line | Maynard | McFall | Nash
Leonard V. Andrus
Leonard Vern Andrus was born on May 20, 1917, to Vernie George Andrus and Clara (Bonter) Andrus. He attended kindergarten through twelfth grade at Sparta, graduating in 1935. Leonard was captain of the debate team and senior class president. Hunting, fishing, and trapping were outdoor activities he loved.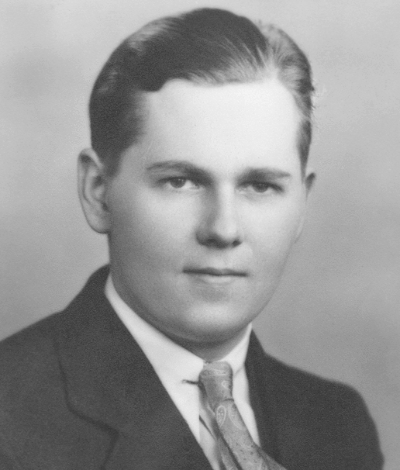 A graduate of Davenport College, Len could do math in his head faster than a cashier could run a cash register. He married his high school sweetheart, Kathryn L. Clark, June 26, 1938. They bore six children, three boys and three girls. The Andrus family enjoyed fourteen grandchildren and twelve great-grandchildren.
His first job was that of a Deputy Clerk in the Kent County Court House. He was elevated to the county's first Comptroller and held that position for 30 years. Governor Milliken awarded him the Governor's merit of Honor for outstanding civil service in 1973. Bragging that while he was Kent County's controller, it was the only county in the State of Michigan that was in the "black" at the end of the fiscal year.
Building a new home on the east side of Lime Lake meant that fishing was a matter of walking out Len's front door. He owned two homes in Florida while living there. Mr. Andrus helped establish the Calvary Christian School in Englewood, Florida.
Leonard Andrus died in Florida Aug 3, 1990, at age 73 and was buried in Greenwood Cemetery, Sparta, Michigan.
O. E. Balyeat
Orley Edmund Balyeat was born on January 6, 1877, in Lake Odessa, Michigan. Because that area did not offer education beyond the grade school level, he went to live with his grandparents in Van Wert, Ohio, and graduated from high school there.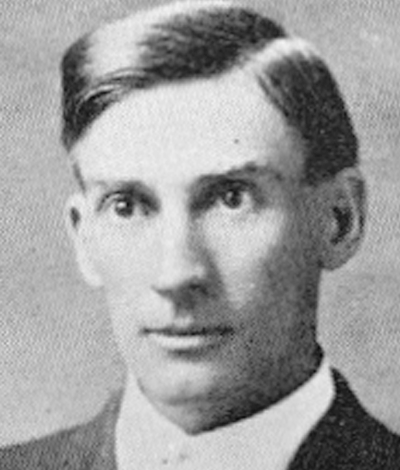 An educator of the "school-master" type, he applied for and received a teaching certificate while a senior in high school. After graduation, he taught several years at Cook's Corners School near Belding and worked on a farm to earn his college tuition.
He was awarded his degree from Ypsilanti Normal College, now Eastern Michigan University, and returned to teaching, first at Freeport, then in Middlebury, Indiana, and again at Freeport. He was married to the former Mabel Landis on November 24, 1905, and they established their first home in Middlebury. A year later they moved to Freeport where both of them were members of the faculty.
The Balyeats came to Sparta from Freeport in 1909 where, in O.E.'s autobiography, "there was to be a vacancy in the superintendency, so we went up the next weekend. The board had a meeting on Saturday evening. I was elected by one vote over the only other candidate. This was the beginning of our long term of thirty-four at Sparta."
His obituary, from which much of this biography has come, reads, "He possessed a keen mind, a subtle sense of humor, and the ability to make lasting friendships. His strong influence as head of the Sparta School system will be felt for many years to come."
George W. Bettes
George W. Bettes will long be remembered by his many friends and acquaintances in the Sparta area and across the country for a sincere and profound interest in people and events, an inventive mind, and his rugged individualism.
Born on June 24, 1887, to William and Lucetta Bettes, George and older brother Jesse grew up on their farm at Peach Ridge and 13 Mile Road. At age 17, George built a steam-powered racing car which he raced at a local track. The car was featured in a Grand Rapids newspaper article.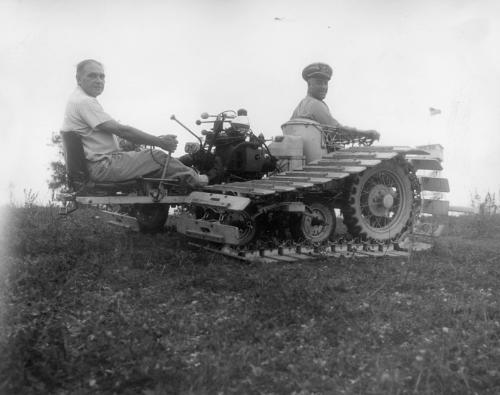 After graduating from Sparta High School 1907, George owned an auto repair shop in town, then another in Antigo, Wisconsin, for a short time. He also worked for a number of area auto dealers in the early 1900s, among them Kent city Ford and a Cadillac dealer in Grand Rapids. An article in the Muskegon Chronicle reports that George drove a brand new Cadillac from Grand Rapids to Traverse City to deliver it to the new owner. This was before there were official highways, so he had to drive through all kinds of terrain and streams on his long trek up north. He built a "boat tail" auto which was featured in the Sparta Sentinel. For a short time he also owned a Stanley Steamer.
George moved on to work for Mr. Ballard's furniture & undertaker business in Sparta until he eventually bought it. Bettes Funeral Chapel operated until 1947 when he sold it to Bernard Hessel.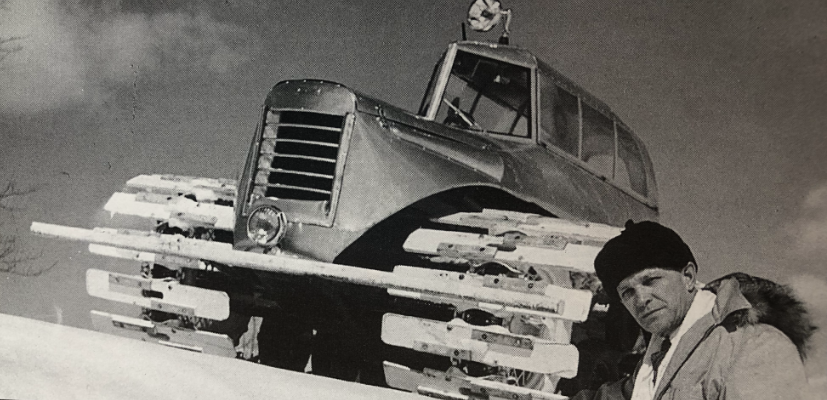 Throughout his life, George had a love for airplanes and was active in the Grand Rapids Flying Club. He and Paul Miller were instrumental in the development of the Sparta Airport with George donating the land where it continues today. He took many movies of air shows throughout the Great Lakes area, including Lindbergh's visit to Grand Rapids. That love of flying was passed on to his nephew, Howard, and great-nephew, Paul Bettes.
The Polar Exploration Society was another organization to which Mr. Bettes belonged. He built several models of a "Snow Jeep" which he tried to sell to the military during WWII. In late 1939 he and his movie camera followed the gigantic "Snow Cruiser", built by Pullman Manufacturing in Chicago, as it was driven from Chicago to Boston where it was then shipped to the Antarctic to be used on Admiral Byrd's second Antarctic expedition. His friend, Commander Jack Bursey of White Lake, Michigan, took George's movie camera along to the South Pole and filmed the "Snow Cruiser" being unloaded from the ship. Bursey went on four trips to the Antarctic and Arctic, two of them with Admiral Byrd. Another invention, tied to his raising of sled dogs, was a motorized dog sled made with maple wood from his brother, Jesse's woods. That sled was taken on a 1939 or 1940 expedition to northern Canada and the Arctic where it was eventually lost through the ice.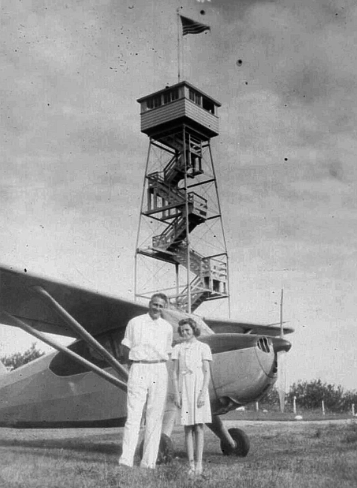 Another result of George's inventive mind was the creation of one of the first road markers in the world as he marked the first center lines of roads in the Sparta area. Kent County Commissioners were filmed as they walked along inspecting the paint lines on the road. His daughter, Georgia, said that George had a special room in the basement of Bettes Funeral Chapel where he constantly worked on his inventions.
Mr. Bettes's huge interest in movie making resulted in many hours of footage taken throughout the Sparta area, West Michigan, and anywhere his interest and travels took him from the 1920s through the 1950s. George and his movie camera and projector were well-known in the Sparta area. He often showed movies to the public at the band shell located downtown. Sparta High School football at Balyeat Field, homecoming parades, Decoration Day parades, and sled dogs are examples of subjects and events recorded for posterity. Many of those movies still exist today and are owned by great-nephew Paul.
A member of the Sparta Methodist Church, George was also a Life Member of Sparta Lodge No. 334, Masons, an honorary and charter member of the Sparta Rotary Club, and president of the Sparta Board of Education.
George had two daughters from his first marriage Marjorie and Evelyn. He married Greta Hayward, a school teacher, in 1923 and had two more daughters- Georgia and Joanne. The family lived on West Division in Sparta for many years. Although George had been in failing health for a number of years, he enjoyed to the end a many-faceted life. He had visited the day before his death one of this favorite spots, Bettes Tower Hill, the area west of town with an observation tower which bore his name. The tower became unsafe and was torn down in the late 1970s. George Bettes died at the age of 75 on June 29, 1962, at his home in Sparta. He was buried in Greenwood Cemetery.
Glenn Burgett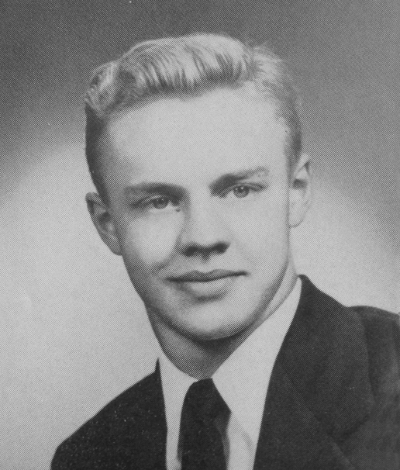 I was born in Sparta August 8, 1936 to Roy and Nellie Burgett. My father owned a grocery store, was very active in the community and eventually became the Sparta Village Clerk. My mother was a stay-at-home, behind the scenes, do everything mom, and my younger sister was as athletic as a girl could be at that time, is to this day a church organist and scholarly enough to graduate MSU early now is Loralynne Clark. I married Patricia Waldron, a Grand Rapids girl on July 11, 1958 and we have three beautiful daughters; Ronell Scheller, Pamela Stanley and Kylelyn Lagrois, and six grandchildren.
Attended Sparta School from 1941-1954 (all in one building), enjoyed it much - enough to motivate me into teaching. I remember many good times and I often have heard Mr. Tuttle's voice (my science teacher at Sparta High) when discussing physics projects with my own students. Nobody can forget my Latin teacher, Mrs. Sirrine.
Balyeat Field comes to mind, in the early 50's when Sparta won 3 straight conference football championships and 1953 when Don Bradford quarterbacked us to nine straight wins and a rating of 2nd in the State polls and a legendary beating of Rockford. As a 9th grader out for track, I heard Superintendent DeHart say, "If we don't get more boys out for track, we will drop the sport." When our class were seniors, we still had a team and a Conference Championship, several regional individual champions, team Regional Championship, as well as a nice group proceeded to the State Meet.
I selected Michigan State University because of a quality academic program and an athletic program I wanted to be a part of, as well. While at MSU I was a fraternity member, officer and lived in the House. I also was a Varsity Club member. In Football I received the Freshman Award, and Varsity my sophomore years, but after 3 surgeries, that ended. I was sent with the team as an injured player to the 1956 Rose Bowl. My surgeries did allow me to run track my freshman, junior and senior years on the Varsity team, but only in straight lines, no sprinting the curves. 1958 I received my Bachelor of Science in Education; 1959 Master of Art, Administrative and Educational Services. 1964-65 I spent a year at The Ohio State University on a N.D.E.A. Grant, Ph.D. program Counseling and Guidance.
1959-1964 Taught physics, biology, and general science at Creston High School. Coached the football, basketball, and varsity track teams. Served as senior class advisor. 1965-1966 Appointed head counselor at Northeast Junior High during its first year of operation. 1966-68 served as head counselor and athletic director at Creston High School. 1968-1971 Served as principal at the brand new West Middle School. 1971-1983 Was an assistant principal at Creston High School where I developed and initiated the on-site early enrollment program with Grand Rapids Junior College. 1983-1993 Occupational Support Group Program at GRJC and 1993-1998 Counseling Department Chair.
1998 — Present, Retired
Aletta "Letty" &
Thies De Young
Aletta Wyngaarden was born in Firth, Nebraska, in 1897, the fifth of eight children of Rev. Jacob and Johanna Tien Wyngaarden. Both Jacob and Johanna were second generation citizens, their grandfathers having arrived in the U.S. in 1858, settling near Zeeland and in Graschap, respectively.
The Wyngaarden and Tien families, and their descendants, have been very prominent in the Christian Reformed Church, and in many other very responsible positions, locally, statewide, and nationally. Rev. Wyngaarden was one of the early Christian Reformed Dominies (preaching only in Dutch).
After churches in Wisconsin, South Dakota, and Nebraska, the family came back to Michigan, Jacob pastoring in New Era, South Olive, Eastmanville, and Walker Station (now just Walker). Letty completed eighth grade in New Era, then spent a year each at Calvin Academy and Hope Academy.
Letty then taught for several years in eight-grade country schools near Berlin (now Marne). In 1917, when her older brother, who was principal of the West Michigan Christian Schools in Muskegon, was drafted, Letty was appointed to take his place. When he returned from the army, he took back his job.
After spending a year at Davenport-McLaughlin Business College, she was hired as the first business subjects teacher at the brand new Grand Rapids Christian High School. She taught there for two years, until she and Thies De Young were married (by her father), in Walker Station in 1922. Letty did not work again professionally until many years later, but she did tutor children and gave piano lessons in her home, especially when living in Chicago, from 1924 to 1928.
In Sparta, beginning in 1929, since there was not Christian Reformed Church at that time, she became very active in the Methodist Church. She sang in the choir for many years, and was president or chairman of one or another of the ladies' organizations, right up to her death at age 80. She kept Thies' financial books, of course, and helped him in his medical practice in many ways, since he did not have a nurse.
After Thies died in 1956, she needed something on her own to enable her to be active and involved, so she became the Township Librarian, a position she held for 20 years, until her death. During the 21 years she lived after her husband's death, she travelled the world over. She visited Africa, Europe, and Asia, Hawaii, and many parts of the continental U.S.
Letty De Young was a very cultured woman, very well read, talented in music, socially very active, and involved. She was also a wonderful homemaker, as mother, cook, seamstress, knitter, quilter, etc… Letty died in 1977 of pancreatic cancer.
Thies ("Tice") De Young and his twin Ella were born in Grand Rapids in 1893, children of Dutch immigrants Meindert and Gertrude Van Til De Jong. Meindert worked in a furniture factory, then became a farmer, also doing odd jobs whenever he could. They lived near Grant, Ada, Allendale, and Walker.
By age 12, Thies did most of the farming. He dropped out of Coopersville High School after his sophomore year, and worked on farms in Michigan and Kansas, in logging camps in the Upper Peninsula, and in factories until drafted at age 24.
He was in the army two years, and was a champion boxer at one time. He was in the trenches in France at the time of the Armistice, then spent a year in Army hospitals.
First attending Michigan Agricultural College (now MSU) and medical school at Loyola in Chicago, Thies graduated from both schools with all A's, and held one or two jobs simultaneously to earn his way. He obtained the highest score in the state on the Illinois Medical State Board exam, the first Loyola graduate to do so.
Thies interned at St. Mary's Hospital in Grand Rapids. He had married Aletta Wyngaarden in 1922, and they came to Sparta in 1929 with three children. The stock market crash made life very difficult for them, as few patients had money to pay him for his services. During WWII he examined draftees two afternoons a week in Grand Rapids, in addition to his heavy workload in Sparta and surrounding areas.
Known as an expert diagnostician among fellow physicians, Thies took care of most of the farm families in the area. He loved talking farming with them. He bought an Aerocar house-trailer in 1937, replacing a tent in which the family had earlier camped. This was one of the first fifth-wheel trailers ever made. He used it for deer hunting, and the family spent summers in it in various state parks on Lake Michigan.
The purchase of a large farm near Cedar Springs in 1939 reflected a love for agriculture and Thies worked very hard on it himself whenever he had the chance. He loved new equipment and bought the most modern equipment he could afford. His dairy herd was made up of 26 registered Holsteins. Ultimately the farm consisted of 345 acres, sold in 1958. Thies had purchased a cottage on Lake Michigan in 1943, but he was always so exhausted that he mostly slept during cottage visits. It remained in the family until 2007.
Hunting pheasants and deer was another of Thies' pursuits. He was a crack shot, often hitting 25 of 25 clay pigeons at the Sparta trap shooting range. He loved to read, anything and everything, reading almost as fast as he could turn the pages.
Most of his friends were non-medical people: Babe Meyers, Frank Cnossen, Bunch Van Den Hout, and, early on, Floyd Schut. He had no interest in church, country clubs, golf, or anything he thought elite. He was an earthy person, a heavy smoker, a non-drinker, and he was strong as a bull. He often assisted his friend (policeman) Bunch on dangerous calls. Thies died from a heart attack in April, 1956, at the age of 62.
Al, Don, & Howard
Lamoreaux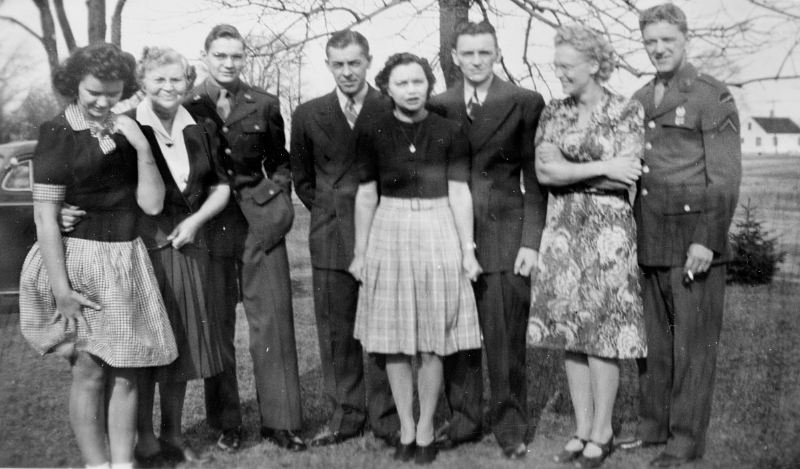 A long time ago, or so it seems, when the war was in its beginning, there were three blue stars hanging in the window of the home of Mr. and Mrs. Clare B. Lamoreaux. They were proud of those blue stars, the Lamoreaux family, parents and two sisters, Mrs. Frances (Edna) Topping, Joanne and brother Arnold.
A long time ago, but it actually was only a year ago that the first telegram came. It said that Private Donald C. Lamoreaux, 21, second son, had been killed in action. The telegram arrived on February 23, 1944. Don had been dead a month then, buried somewhere in war-torn Italy. Just about everyone in Sparta knew Don, remembered his cheery smile when he met them on the street or waited on them in the bank. Everyone said that it was a shame about Don, for he had been the last of the brothers to go away. A gold star replaced one of the blue stars. Two blue stars, one gold star hanging in the window.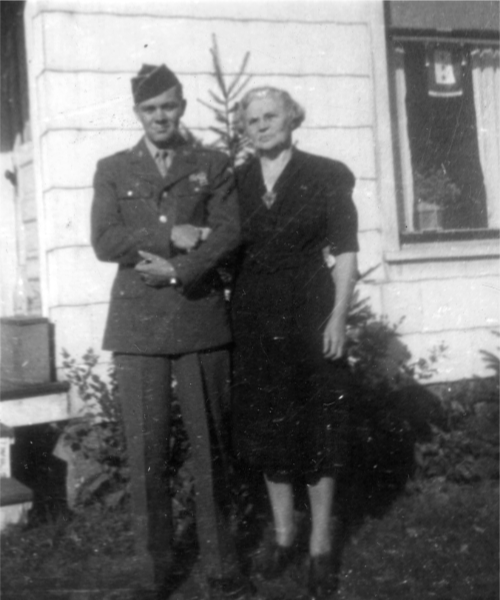 Spring and summer came, and then it was fall, and the Lamoreaux family breathed easier again. Once more there was laughter in the house, for the letters came steadily from the two other sons who were overseas-Pvt. Howard, 20, and Sgt. Al, 26. Then the letters from Howard ceased. He must be on his way to another part of the world, the Lamoreaux family said.
Yes, Howard had traveled far. To Leyte. And there he died. He was killed in action on November 10, 1944 while the Lamoreaux family were talking about plans for the next day, Armistice Day. A gold star replaced another of the blue stars. Two gold stars, one blue star, hanging in the window. Everyone remembered Howard, too. He had worked for the Carnation Milk Company, then had shifted to the Sparta Foundry, where his father also worked, just before he was called into the service. Everyone said it was a shame about Howard. He was the youngest.
Nothing more can happen to us, the Lamoreaux family said. But always there was that fear. And only recently, Maj. Waldo P. Fuller, of the sixth service command stationed in Grand Rapids, wrote to Washington in an effort to have Sgt. Al, of the last blue star, relieved from front line duty. Such a request was in accord with a ruling that no family should be called upon to make repeated sacrifices.
Sgt. Al was fighting in Belgium. He was fighting, although he had been wounded and hospitalized some time before, then sent back to duty. Two weeks ago he wrote his parents and his wife, Anita, all about it. He was very cheerful.
Tuesday the third telegram arrived. Sgt. Al was killed in action in Germany on February 6, 1945, almost two years after he went into the service, March 23, 1943. He went with a hearty "see you soon" to his fellow workers at the Michigan Art Craft Company in Grand Rapids. Sometime on Wednesday the service flag of the Lamoreaux family will be taken down. Then it will be returned with another gold star replacing a blue star.
Three gold stars hanging in the window...
Les Line
Les grew up in Sparta where he was a newspaper reporter and photographer from the age of 12 with his own outdoor column ("A Line from Les") in his hometown weekly.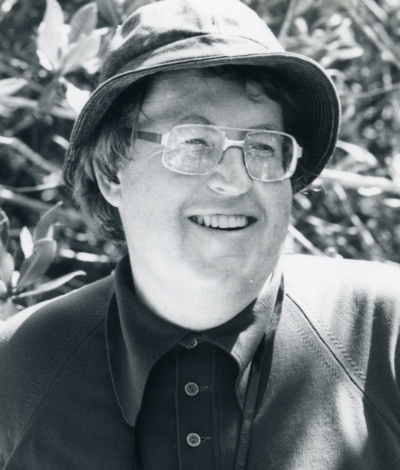 He was chief photographer and conservation editor for the Midland, Michigan Daily News from 1958 to 1965. He was active in Michigan Audubon Society affairs as newsletter editor and conservation chairman before joining the National Audubon Society staff in 1965. He was editor of Audubon Magazine for 25 years from 1966 to 1991. Thereafter, he was a freelance writer for several outdoor magazines - National Wildlife, Smithsonian, National Geographic, Natural History, and Audubon.
Les wrote, edited or photographed some 35 books on natural history and wildlife conservation, including several with Hal Borland and Frank and Ada Graham. His honors include a doctorate in literature from Bucknell University; being named a fellow of the Rhode Island School of Design; the Jade of Chiefs Award from the Outdoor Writers Association of America; the Hal Borland Award; and a Lifetime Achievement Award from the North American Nature Photography Association.
Les was married to the former Lois Anderson of Midland. They lived in Amenia, New York. They had two children - Michael Line of Laurel, MD. and Heather Line of Yonkers, NY; and three grandchildren, Connor, Michael and Jacqueline Gibbons.
Rev. John Maynard
Rev. John H. Maynard, the venerated and eloquent pastor of the Free Will Baptist church at Sparta, Kent County, Mich., was born in Seneca County, N.Y, Nov 29, 1830, and is the son of Rezin and Mary Maynard, whose marriage was blessed with eight children.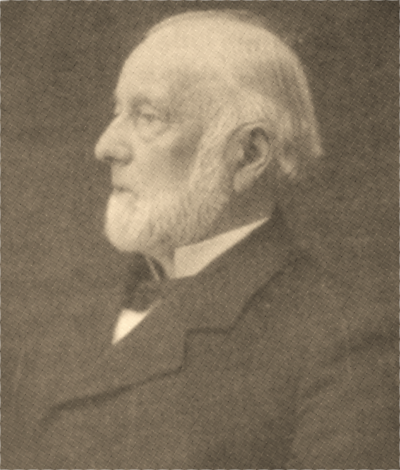 John was reared on his father's plantation, but in the meanwhile received an excellent education, which enabled him to teach school, from time to time, for 14 to 15 years, in conjunction with agricultural pursuits. In his early manhood he united with the Free Will Baptist Church and, filled with piety and gifted with remarkable powers of oratory, he was soon selected a preacher and began his evangelical work in Hillsdale County, Michigan and 1853, where for 11 years he most satisfactorily filled the pulpit and brought many souls to salvation. The next eleven years he did as effectual good gospel work in Lenawee County, and thence came to Sparta, arriving in January, 1875, and almost immediately assumed his present pastorate. He began his work here by attending to the temporal affairs of his congregation. He remodeled and rearranged the church edifice at a cost of $3,500-$4,000, beautifying it in every respect and increasing its seating capacity. He then began his clerical work in the pulpit and his labor in this is so well known that comment here is unnecessary.
The Baptist Church is a handsome frame and is decorated interiorally in an effectively yet modest manner, and the premises are worth about $5,000. The congregation numbers about 300 and over these the reverend pastor holds a sway that results from his piety and eloquence that is irresistible, and a profound knowledge of the doctrines of the Baptist faith as it has descended from St. John the Baptist.
The Rev. Mr. Maynard was joined in the holy bonds of matrimony at Tyre, on the 21st day of April, 1850, to Miss Mary A. Williams, daughter of E. Williams, a native of the state of New York. This happy marriage has been blessed with three children.
Fraternally, the Rev. Maynard is an Odd Fellow and a Good Templar, and in politics a strong and earnest prohibitionist. His genial manners, amiable disposition and sincere piety and devotedness to the cause of Christ, have won for him the love of all who know him.
(selected portions of the above text are copied from The City of Grand Rapids & Kent County Michigan)
Rev. Maynard later admitted that he was only going to stay for five years, yet remained in the pulpit for thirty-five years before his death in 1905.
A humorous, but at that time very serious, issue was the pastor's love for croquet. It was soon resolved and he started his ministry. His influence spread far beyond Free Will Baptist into the community. The church grew from a few dozen to a few hundred and he was so respected in the community that he baptized over 200 people, preached in over 1,000 funerals, and conducted more than 1,200 marriages. He was so appreciated by the community that, in 1906, a monument was erected in his honor that still holds a prominent place in Greenwood Cemetery.
T. E. McFall
Thurlow E. McFall was born March 1, 1888 in Milan, Michigan, the son of Edward Lewis and Edith McFall. Not unlike others during this time in our nation's history, Mac left home and school at age 14 (he never completed 8th grade).
From 1908 through 1912 and 1914 through 1915, he served in the U.S. Navy as a ship fitter. Mac lied about his age to join the Navy and, while enlisted, as part of his ship fitter duties, he learned to be a molder. Mac was a natural mechanic and these and other skills acquired in the Navy played a significant role his entire life. From April through December of 1918, at age 30, Mac joined the U.S. Army, serving as a sergeant in Europe with the 167th Aero Squadron.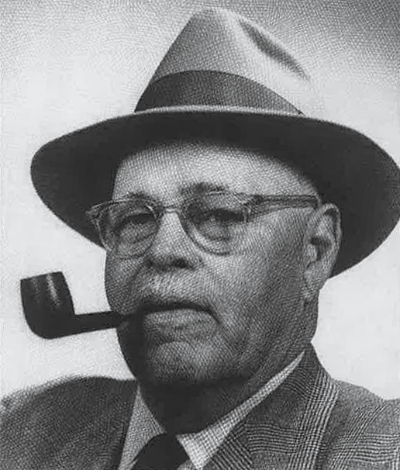 On April 5, 1919, Mac married Henrietta (Henny) Vanderstelt of Muskegon Heights, Michigan. The McFalls had one son, H. Paul.
Founded in 1921, the Sparta Foundry Company was established to supply piston ring castings to the emerging auto industry as well as for use in trucks, tractors, and airplane motors. In 1926, Mac moved to Sparta and became Superintendent of the Sparta Foundry. He was instrumental in growing the company from 8,000 ring castings daily in 1923 to an estimated production of 100,000,000 in 1929. Over the years, the foundry grew and prospered and, in 1936, merged with the Muskegon Piston Ring Company of Muskegon, Michigan. In 1937, Mac was elected president of the Sparta Foundry Company, continuing in that office until his resignation in 1953. He served as chairman of the board until his death. The Muskegon Piston Ring Company, or as it was known locally, "the Foundry," once employed many Sparta residents, the financial anchor in this village.
"Mr. McFall was an enthusiastic industrial promoter, and once the Piston Ring plant had attained a strong position in the automotive picture, he assumed the leadership in conjunction with the establishment of another industry in the community," according to H.J. Kurtz, publisher of the Sparta Sentinel Leader. At the time, the Welch Folding Bed Company was one of the community's oldest and most active industries. When it discontinued local operations, McFall "started on another industrial idea and, under his able direction, plans were formulated to re-establish another industry within its walls. A trailer factory was the first objective, followed by the manufacturing of an x-ray machine and a line of small fixtures. None of these ventures proved satisfactory, but McFall kept on plugging against almost insurmountable obstacles until the "Extensole" table was placed on the market. Its success was eminent from its conception." It was advertised in the nation's foremost furniture magazines and other popular periodicals of the day.
Mac also served as President of Sparta State Bank and oversaw the construction of its new bank building in 1951, "which promises to be one of the most modern in Western Michigan," according to the Sentinel-Leader. Additionally, in 1951 Mac was named "Citizen of the Year" by the Sparta Sentinel-Leader for his contribution to the general welfare of Sparta.
Mac was a true entrepreneur and renaissance man. A sportsman, inventor, holder of many patents, husband, father, grandfather, and leader in our community and, as described by his grandson, Dr. Lee McFall, he was "a self-made and "savvy" businessman, master gardener, hunting and fishing enthusiast, musician, and environmentalist." He was also civic minded, a Boy Scout leader, a mechanical genius and he raised world champion homing pigeons. A practical joker, Mac often gave homing pigeons to his friends as gifts.
Mac died on May 27, 1959. The Sparta Sentinel-Leader was filled with tributes to the man who gave so much to our community. Quoting a friend and co-worker C.J. Lonnee, "I enjoyed every minute I worked with Mac, I enjoyed him and Henny as close neighbors for many years. I enjoyed golfing, fishing and hunting with Mac. The things that stand out in my mind, however, are, he came to Sparta a poor man in dollar terms. He had a vast amount of knowledge gained by working in all capacities in many foundries throughout the country. Through the use of this knowledge and hard work, he acquired enough worldly goods so that he could live at ease. But Mack's hat never got too small for him. He was a humble man and never forgot his fellow employees and friends who worked with him to build up a successful business."
Jonathan E. Nash
Jonathan E. Nash, one of the most prominent and well known of the early settlers of Kent County, traces his ancestry back to the date of the settlement of Connecticut. Nash's parents were Quartus and Mary (Wills) Nash of Greenfield, Massachusetts-he is the youngest of five children, born May 28, 1820.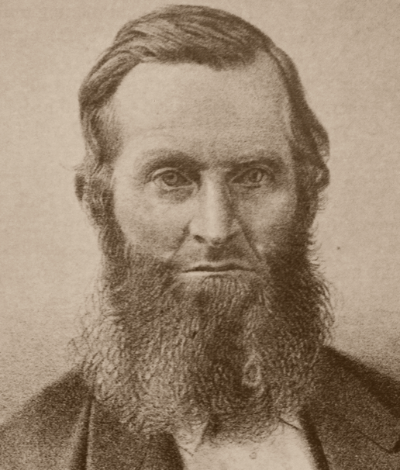 He was brought up on a farm; his father died when he was but five years of age, but the family affairs were managed by his mother, with whom Jonathan remained until 26 years of age.
In 1846, he came to the portion of Kent County now known as Sparta Center, then a wilderness comparatively unknown to the white man, and located 200 acres on secs. 23 and 14. He cut the first tree where Sparta Center now stands, and his first abode was a log house, where he kept bachelor's hall for a number of years and improved his land.
In 1848, he built a saw-mill on 'Nash's Creek' on sec. 14, the first saw-mill in the township, and located near the present site of Mr. Olmstead's steam mill. Mr. Nash sold the mill in 1865, and since then has devoted himself to clearing and managing his farm, which now includes 160 acres adjoining Sparta Center.
He was married in 1855 to Augusta Waite who was born in 1840 in New York. They had four children-Edmund, Elvin, Warren, and Worthy. Augusta died January 17, 1872. Mr. Nash was married a second time, in December, 1873, to Lita Gardner. This marriage produced three children-Mary, Harry, and Guy.
Several lots in Sparta Center are owned by Mr. Nash. He belongs to the Masonic fraternity, has been supervisor for 11 years, highway commissioner several terms, and has held most of the minor township offices. He is a democrat in politics, and has been nominated by his district three times for (state) representative, and received a full party vote.
Jonathan Nash named the settlement Nashville, after himself. It was later changed to Sparta as the state legislature noted that a Nashville already existed in Michigan. His second home was built in 1866 in the area of Washington and East Division streets. The structure still stands, but was moved to Martindale St., just north of Twelve Mile Road.
In 1866, Nash returned to Greenfield, Massachusetts, where he passed away at his home on May 25, 1912, at the age of 92. It has been said that Nash was generous to a fault, and though he was once quite wealthy, he died financially crippled because he could not turn down a friend in need.
Contact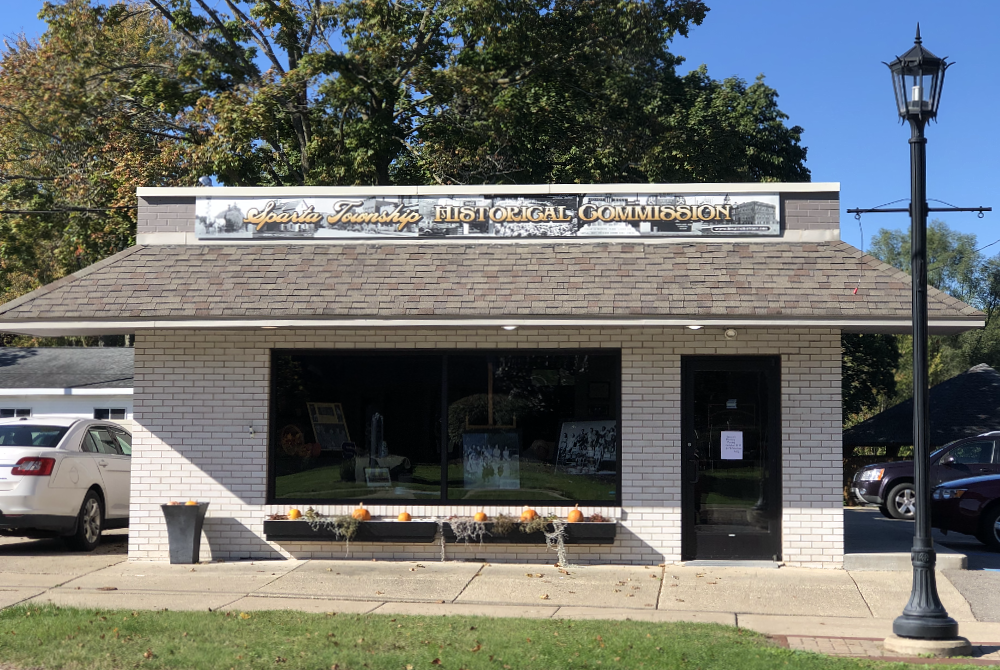 Our History Center is conveniently located at 71 North Union Street in downtown Sparta. Please join us for coffee and lively conversation on Monday mornings. Visits to the History Center can also be scheduled by appointment, for your convenience.
We do not receive mail at the History Center, instead, please use our mailing address, which is:

attn: Sparta Township Historical Commission
Sparta Township
160 E. Division St.
Sparta MI 49345.
For inquiries of all types, the Sparta Township Historical Commission can be reached by phone at: 616.606-0765 or via email at the following address: