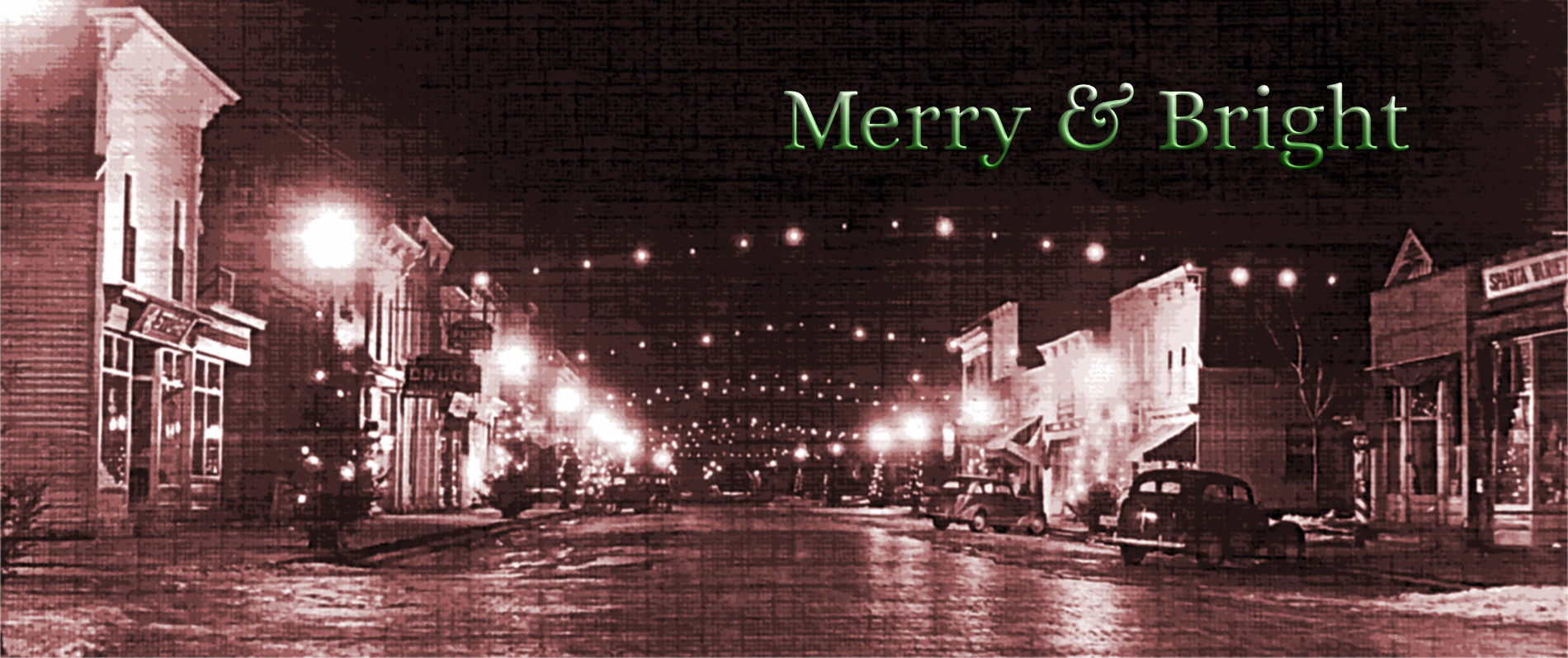 A Very Sparta
Christmas
Christmas in Sparta is a time of merrymaking and reflection for people of all ages. In good times and bad, the community has always made an effort to spread joy of the season with a message of peace and goodwill to all.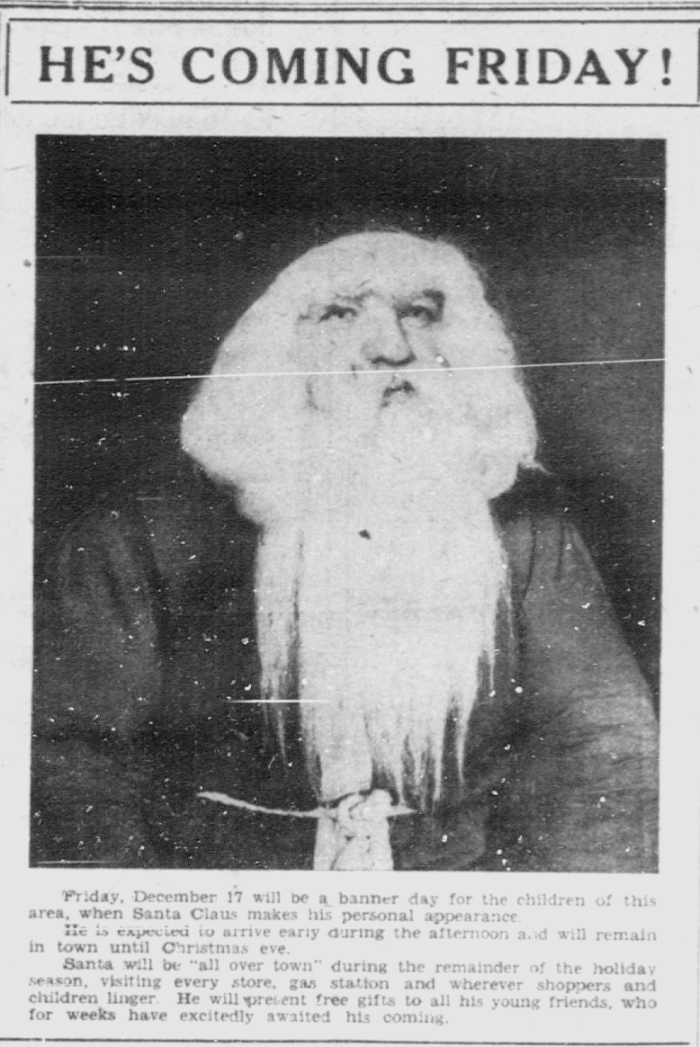 I Remember: Santa Claus is Coming to Town
by Arzie Pinckney
published in The Sentinel-Leader
When Santa came to Sparta the first time was around 1925-26 and was a one day event. Santa and his wife with 2 little helpers. Arzie Pinckney was Santa, Mrs. Claus was Bill Axford, and Don Warren & Merlin Robinson were helpers.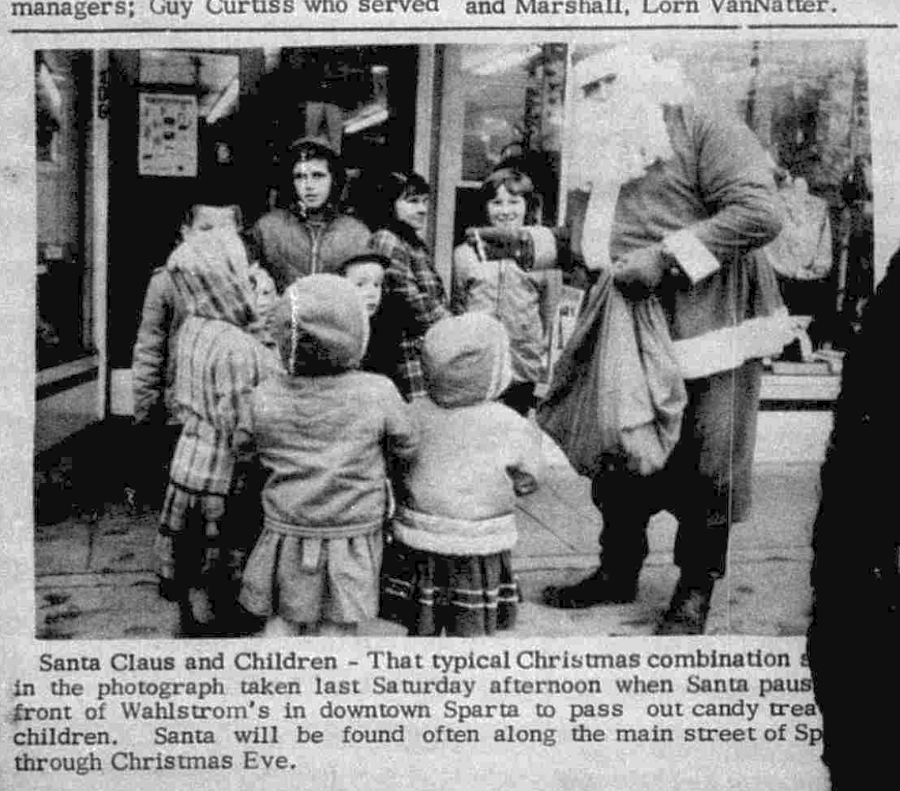 The idea was from the American Legion & Sparta Chamber of Commerce. Adrian Finch's little grocery store was where the Bow Tie is at 10 Mile & Alpine and they all dressed up there and waited for the afternoon Greyhound coming from Grand Rapids and loaded on to Union Street and Division at the bus stop. A truck met them and drove them around the Village and came back to the corner and handed out candy and nuts, went back to Finch's to change clothes.
Next year, Santa came for one day and George Bettes took the job of Santa but there was no snow so he flew in on an airplane. West of South State Street and South Street there were very few homes and a lot of open land to set the plane down and take off.
The next year the committee decided to have Santa come for a week before Christmas and be on the street each night. That caused a problem in finding a Santa to work that schedule. Ivan Walcott was Sparta's next Santa for two years.
Some of the other Santas were Bert A.C. Nokes for a number of years. Others: Warner (Pops) Sigel, Lenys Straight, Pete Prenger, Bill Fitzgerald, Jim Fales, and Dudley Planter. Dudley was from Conklin so he came with a pair of ponies.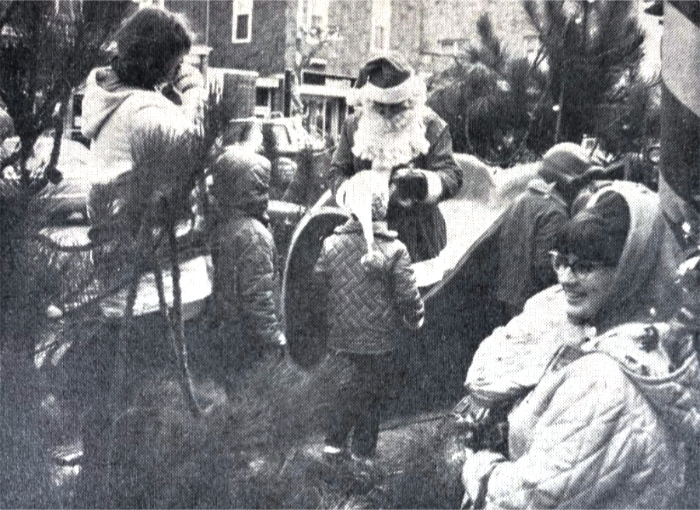 Editor's note: Nearly a century has passed since our first Santa, Arzie Pinckney, came to town. Over the years, local men and women took on the role of Sparta's jolly old St. Nick and Mrs. Claus as they brought candy canes, gifts, and joy to thousands of area children. some of the others who carried on the tradition, wore Kris Kringle's boots, and put on the red suit were Lowell Heath and Bill Traxler.
I can still hear the sound of bells around town as Santa exclaimed, "Ho-ho-ho! Merry Christmas!" (If you know of another Sparta Santa, please let us know.)
Currently, Sparta's official Mr & Mrs Claus are Skip & Mary-Ann Meyers. Paul Rogers asked Skip to take on the role about fifteen or twenty years ago when Santa's house was a wagon parked outside of Choice One Bank. These North Pole visitors arrive for Sparta's parade and make special appearances around town during the Christmas season.
Ned Rouse, brought Santa Claus to children since the mid-1980s in many venues around the state, often singing and performing. His wife, Sara, accompanied him for several years and the jolly couple have been seen at local home visits. Both are Sparta graduates.
A Letter from Santa Claus
Hi Boys and Girls:
Do you believe in Santa Claus? Well, if you don't, you will be next Saturday because I am coming to Sparta in person that day and you will see me in my red suit with my white whiskers, and do I look swell! O, boy!
I am coming a whole week before Christmas because I happen to be near Sparta on business and will be glad to stop off and see all my little friends that day. But don't worry, I'll be back again Christmas eve, only perhaps you won't see me because you will be sound asleep.
The most exciting part about this trip is that I am coming by airplane and will arrive about 2 o'clock Saturday afternoon in the landing field near the Lone Elm.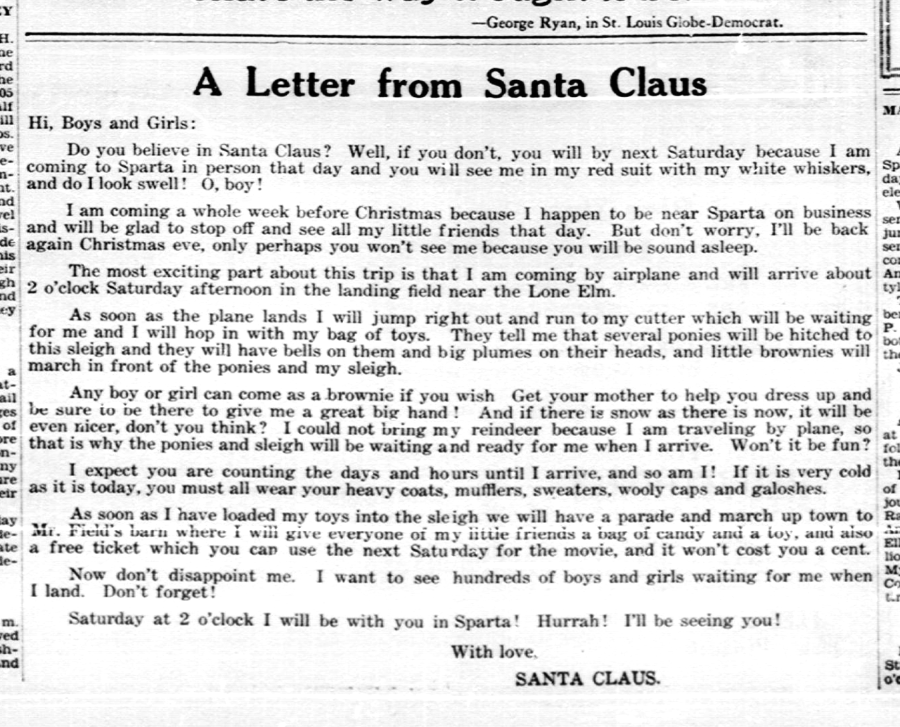 As soon as the plane lands I will jump right out and run to my cutter which will be waiting for me and I will hop in with my bag of toys. They tell me that several ponies will be hitched to this sleigh and they will have bells on them and big plumes on their heads, and little brownies will march in front of the ponies and my sleigh.
Any boy or girl can come as a brownie if you wish. Get your mother to help you dress up and be sure to be there to give me a great big hand! And if there is snow as there is now, it will be even nicer, don't you think? I could not bring my reindeer because I am traveling by plane, so that is why the ponies and sleigh will be waiting and ready when I arrive. Won't it be fun?
I expect you are counting the days and hours until I arrive, and so am I! If it is very cold as it is today, you must all wear your heavy coats, mufflers, sweaters, wooly caps and galoshes.
As soon as I have loaded my toys into the sleigh we will have a parade and march up town to Mr. Field's barn where I will give everyone of my little friends a bag of candy and a toy, and also a free ticket which you can use the next Saturday for the movie, and it won't cost you a cent.
Now don't disappoint me. I want to see hundreds of boys and girls waiting for me when I land. Don't forget!
Saturday at 2 o'clock I will be with you in Sparta! Hurrah! I'll be seeing you!
With love,
SANTA CLAUS
Big Santa Claus Parade
Sparta
Saturday, December 22, at 2 o'clock
Highlights of the Parade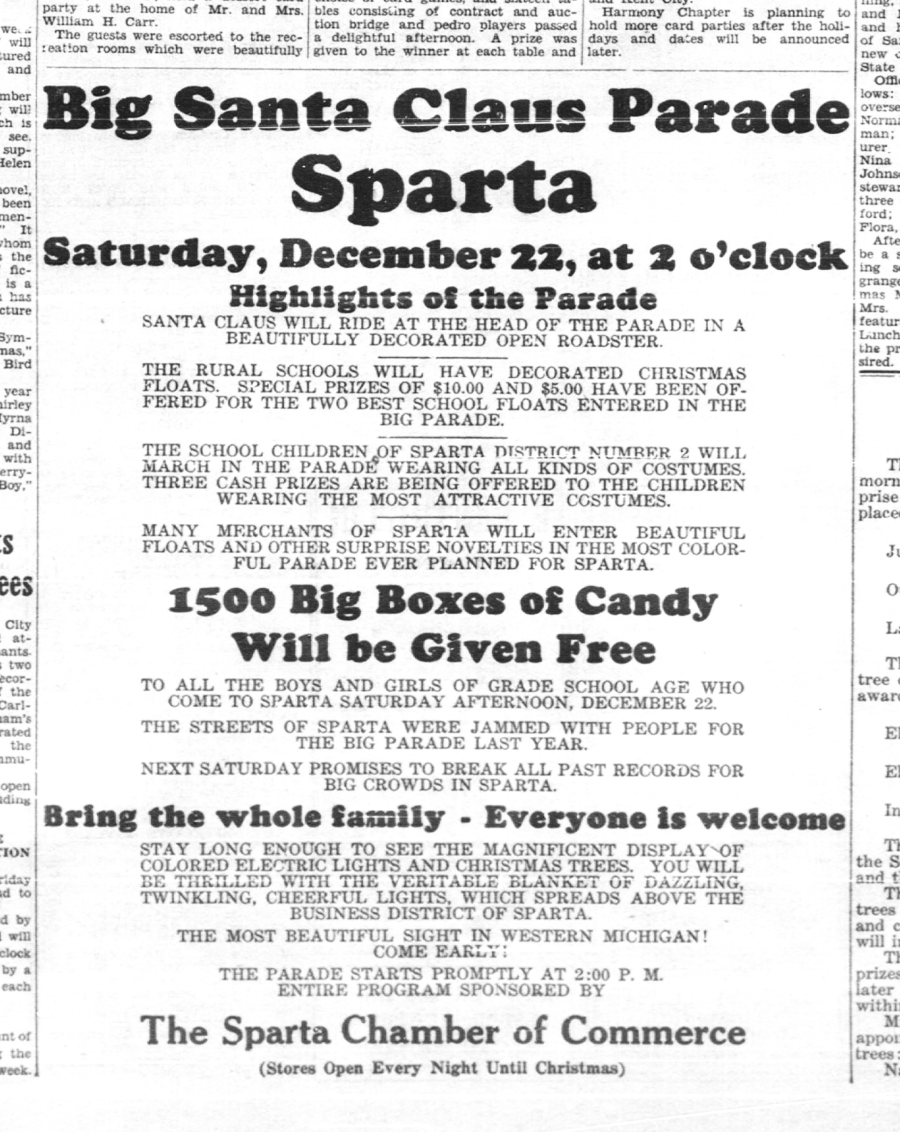 Santa Claus will ride at the head of the parade in a beautifully decorated open roadster. The rural schools will have decorated Christmas floats. Special prizes of $10.00 and $5.00 have been offered for the two best school floats entered in the big parade. The school children of Sparta District Number 2 will march in the parade wearing all kinds of costumes. Three cash prizes are being offered to the children wearing the most attractive costumes. Many merchants of Sparta will enter beautiful floats and other surprise novelties in the most colorful parade ever planned for Sparta.
1500 Big Boxes of Candy Will be Given Free to all of the boys and girls of grade school age who come to Sparta Saturday afternoon, December 22.
The streets of Sparta were jammed with people for the big parade last year. Next Saturday promises to break all past records for big crowds in Sparta.
Bring the whole family - Everyone is welcome
Stay long enough to see the magnificent display of colored electric lights and Christmas trees. You will be thrilled with the veritable blanket of dazzling, twinkling, cheerful lights, which spreads above the business district of Sparta.
The most beautiful sight in western Michigan! Come early!
The parade starts promptly at 2:00 P.M. Entire program sponsored by The Sparta Chamber of Commerce (Stores open every night until Christmas)
How successful was the Santa Claus event in 1933? It was a resounding success. The Chamber of Commerce's promotion of their 1934 extravaganza described expectations it would top the ginormous turn out from the year before. Keep in mind, these efforts took place during the Great Depression, a time when the average national unemployment rate was at 26%, but the hardest hit state was Michigan with a 34% jobless rate. In spite of these circumstances, the people and businesses of Sparta created a memorable celebration and brought the priceless gift of joy to the area children.
My Christmas
Memories
by Adele Bradford Jones
He sees you when you're sleeping,
He knows when you're awake,
He knows when you've been bad or good,
So be good for goodness sake!
Sparta has always been a very special place to live and grow up. Christmas was especially so. The holidays brought colored lights strung across main street downtown. The Sparta Theater had a Santa and sleigh above its doors. Store windows were decorated and full of ideas for Christmas gifts. There was an automated Santa that waved from the window at Sherry's Furniture and Gifts. In fact, there is an exciting rumor that Santa may appear again soon in a window at the Sparta Township Historical Commission Research Center across from the Sparta Library.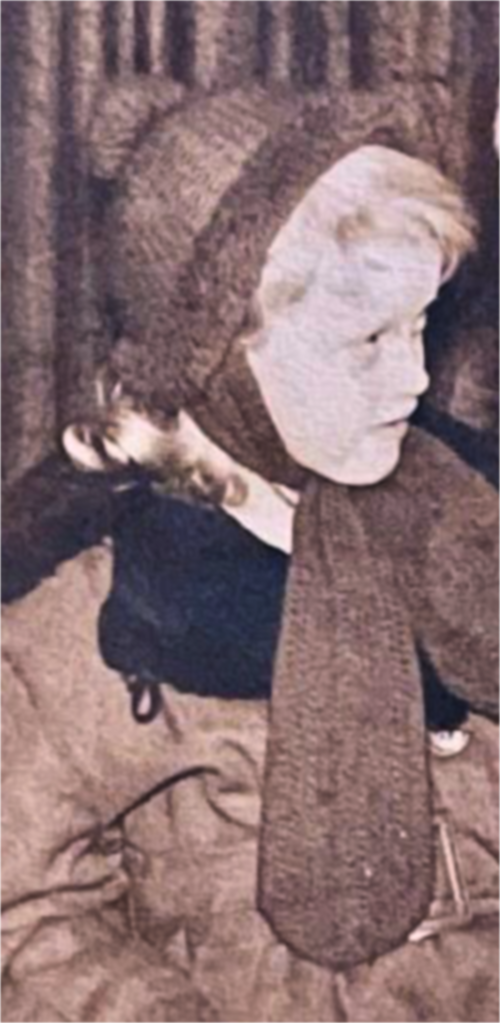 One of my reasons for writing this story is in response to the song lyrics I started with. When I was about five, I remember feeling Santa was keeping an eye on us during the Christmas season. After all, he was spotted occasionally downtown walking the sidewalks of Sparta and glancing in our windows after dark to see if we've "been bad or good so be good for goodness sake"! We were probably listening to Christmas music on the radio or watching a Christmas special on our little 9" TV after we got it in 1950. That little TV is now on display at the Sparta Meyers Schoolhouse Museum. It just might appear in the window with Santa this holiday.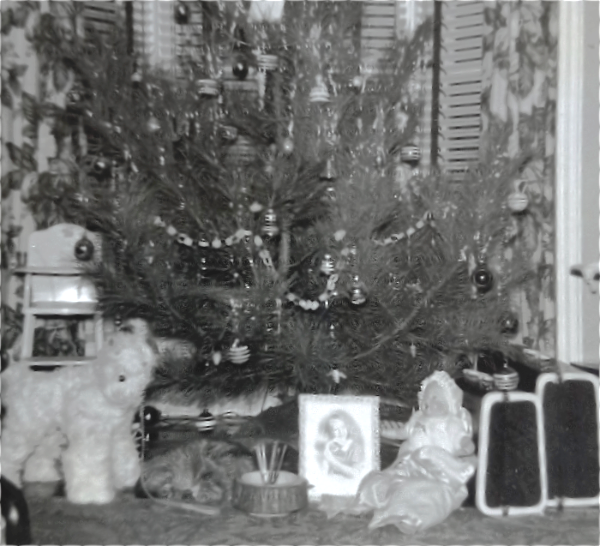 Back in the 50s, we always had a real Christmas tree with colored lights including some bubble lights. We likely picked out our fresh tree at Montgomery's tree lot behind Badgerow's store (a favorite hangout for kids to get their candy and ice cream treats). Dad would let us get our tree one week before Christmas and it stayed up in our front bay window until New Years. Going to bed on Christmas Eve, I remembered being concerned Santa would try slipping down our chimney, which would land him right into our coal furnace in the basement! Dad would always comfort us by saying Santa knows when to use the front door that would be unlocked.
Christmas mornings, we could first check our stockings that Santa had carefully filled. There was always an orange in the toe and a candy cane. One of my favorite mornings, I received a 1950s style Ginger doll with clothes. Christmas dinner might include some Swedish potato sausage from Finch's Meat Market, our decorated cut-out cookies, homemade mincemeat pie, and Grandma Bradford's whipped cream cake.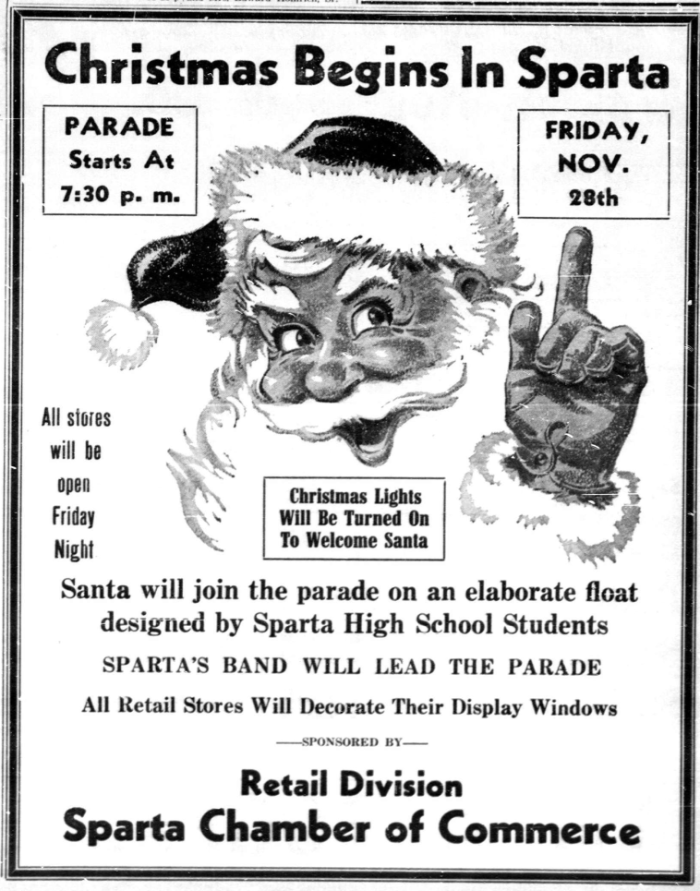 In my early teens, my best friend Marilyn Miller and I enrolled in a Christmas Club at the Sparta State Bank. Fifty cents a week led to getting a $25 dollar check about Thanksgiving. At that time, there was a Greyhound bus that came to Sparta mornings and traveled to downtown Grand Rapids, coming back to Sparta around 6:00 pm. We would take our $25 and catch the bus next to Wolf's Drugs (maybe fifty cents round trip). The department stores like Wurzburg's and Herpolsheimer's had automated holiday window scenes, but we especially loved the old dime stores like Kresge's and Woolworth's! We would shop for family Christmas gifts and catch the bus home. Looking back, that $25 sure could go a long way. These were such great adventures years ago!
Shopping in Sparta might include Christmas cards from Momber's, perfume from Wolf's Drugs, a poinsettia from Ostman Floral, rolls and bread from Paris Bakery, maybe something special for dad from Western Auto or Roger's Hardward, and something sparkly from Paul Lawrence or Hammer Jewelry for mom. Lunch might have been burger, fries, and cherry coke at the B & T or Bob's Lunch. There were gifts for everyone at Carl Wahlstrom Federated or the Ben Franklin 5 & 10. Wouldn't it be delightful to be able to visit that Ben Franklin store one more time! These are only a few of our favorite places in Sparta in the '50s.
My dad's last Christmas in 1994, we had the Sparta Santa visit to Mom and Dad's house. Dad said, "Santa, I haven't seen you in a long time." We had him bring a box of Russell Stover chocolates just like Dad would bring home every Christmas from the Muskegon Piston Ring in Sparta for many years.
I still remember those feelings of security and love right here in our little town of Sparta. I am so blessed, that in my seventies, I still have these wonderful memories.
Contact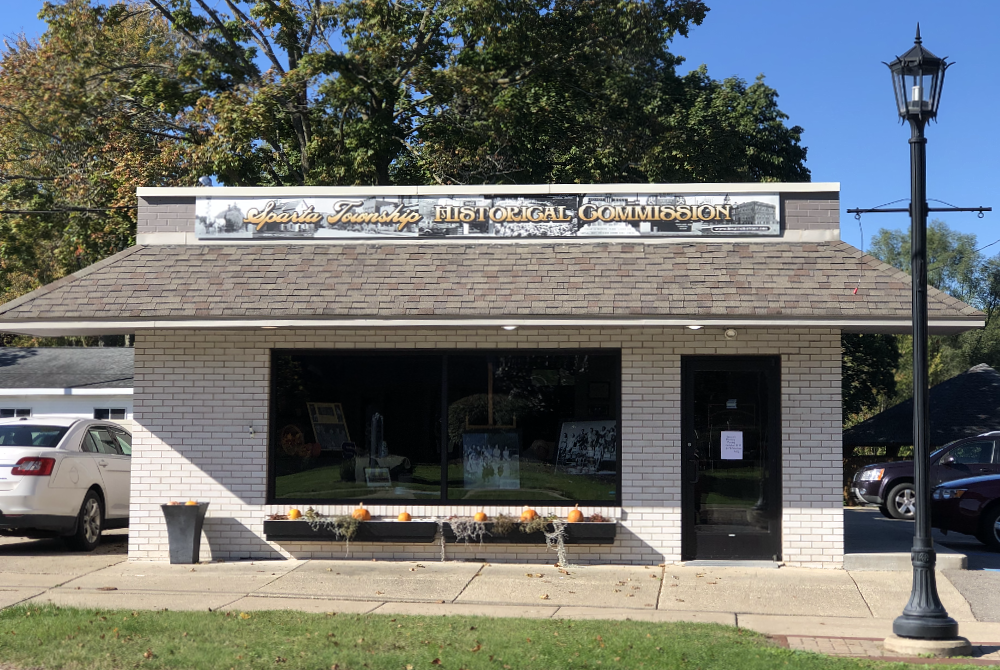 Our History Center is conveniently located at 71 North Union Street in downtown Sparta. Please join us for coffee and lively conversation on Monday mornings. Visits to the History Center can also be scheduled by appointment, for your convenience.
We do not receive mail at the History Center, instead, please use our mailing address, which is:

attn: Sparta Township Historical Commission
Sparta Township
160 E. Division St.
Sparta MI 49345
For inquiries of all types, the Sparta Township Historical Commission can be reached by phone at: 616.606-0765 or via email at the following address: